Environmental Management
Basic approach
The Toyota Boshoku group implements environmental management activities on an on-going basis that include convening sessions for the safety, health and environmental committee in the respective regions worldwide to confirm progress on environmental initiatives, verifying cases of improvement via genchi-genbutsu (Go, see & study) and actively implementing cross-organizational deployment best practices. In addition, we are providing education to people inside and outside the organization focused on environmental protection.
Promotion system
In January 2022, we established the Carbon Neutral Environment Center directly under the President in order to further promote our carbon neutral initiatives.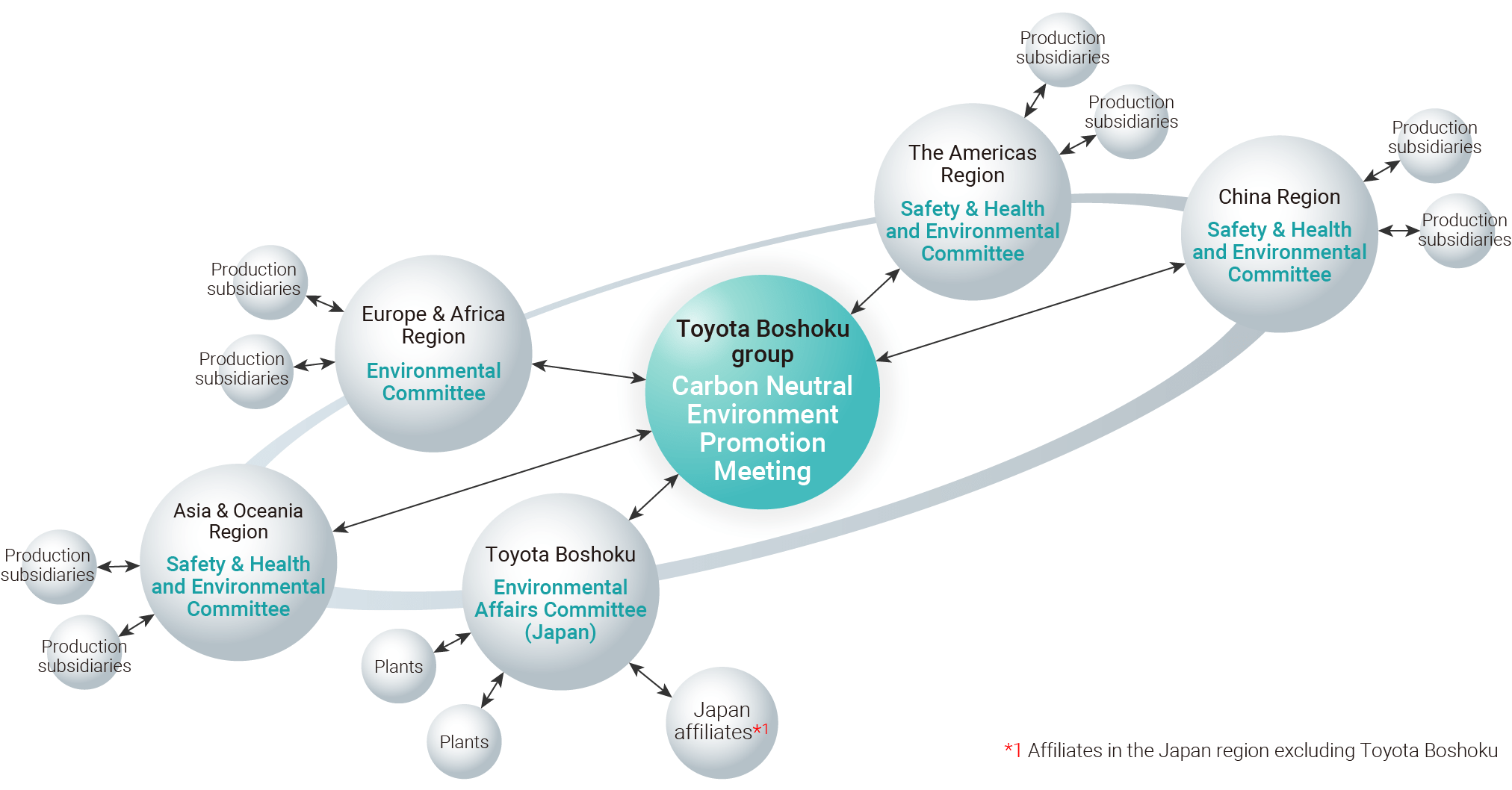 Carbon Neutral Environment Promotion Committee
This is a committee for implementing the Toyota Boshoku group's carbon neutral initiatives, setting targets and conducting follow-ups, aiming for net zero emissions.
Safety, Health and Environmental Affairs Committee (Toyota Boshoku)
This committee makes on-going efforts aimed at strengthening production environmental activities and checks the environmental activities being undertaken at each plant via genchi-genbutsu with a view to achieving the goals of the 2020 Environmental Action Plan.
As a result, all of the targets under the 2020 Environmental Action Plan were achieved.
From fiscal 2022, we are pushing forward with activities to achieve the 2025 Environmental Action Plan.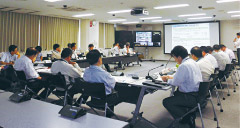 Status of activities by committee
Committees in each region promote environmental activities with the following four areas marked as priorities.
Activities to ensure zero abnormalities and complaints*
Activities to reduce environmental impact
Activities for the management of chemical substances at plants
Activities related to ISO 14001 certification
Although the environmental issues being dealt with at the state and regional level differ, the Toyota Boshoku group has set high standards for all of its activities, which can be managed and implemented by each committee.
Abnormalities: In case oil, etc., has leaked into a public waterway at a level that exceeds legal, by law and agreement standard values
Complaints: In case of contact from a local citizen, government, etc., alleging physical damage or psychological effects on account of the company
Initiatives for Legal Compliance / Environmental abnormality
In order to prevent environmental accidents and pollution, we conduct environmental risk management based on voluntary standards that are stricter than regulations require. In addition, we conduct risk management with value placed on the perspective of local people. Our environmental risk map is used in this regard. An environmental risk map is a tool to visualize risk around a plant and on premises, strengthen inspection standards and enable environmental patrols.Responsible persons at each plant carefully visualize risk and conduct patrols so that the latest information is always incorporated into the risk map.
In fiscal 2021, there was one incident of a drainage abnormality*. In response, we completed the necessary countermeasures and implemented those countermeasures throughout our company in order to prevent recurrence.
In case oil, etc., has leaked into a public waterway at a level that exceeds legal, bylaw and agreement standard values.
ISO14001
All business entities in Japan completed the transition to ISO 14001:2015, the new version of the standard, in fiscal 2019. Business entities in regions outside Japan made the shift to complete the process in fiscal 2021.
ISO 14001:2015 certification activities
Toyota Boshoku:100%
Japan affiliate's production sites:100%
Sites outside Japan:100%
External audits
Audits were carried out by a certification body in each country and region in a systematic manner in fiscal 2021 as well, with all plants subject to the audit evaluated as having zero non-conformance items and operating all required ISO 14001 items appropriately.
Environmental risk management
Creating a management system for chemical substances
The Toyota Boshoku group is taking steps to manage chemical substances in all business activities from development and design to production and packaging.
manegement area
Product
Packing/packaging materials
Work environment
Surrounding environment
Product development and Design
Mass-produced products
Material classification
With indications on drawing

Component

Raw materials making up product

Without impact on the environment
(Used in a solid state)

With impact on the environment
(With change of property and generation of by-product associated with the use)

Without instructions on the drawing
Secondary materials

Possibility of mixture in product, added to product

Possibility of mixture in product not added to product

Packaging, and packaging materials
(For supply/overseas use)
Activities to reduce emissions of chemical substances
Regarding substances which are designated as VOC*1 and PRTR,*2 the Toyota Boshoku group has reduced emissions by switching to water-based paint and by starting to transition to release agents made from components with low amounts of VOC and PRTR. Moving forward, we will continue to promote activities aimed at reducing the amount of chemical substances used and the amount of emissions from our plant.
Furthermore, the Group prohibits the use of CFCs, which are ozone-depleting substances, and does not use them.
VOC: Volatile Organic Compounds (covers 100 substances designated by Japan's Ministry of the Environment)
Pollutant Release and Transfer Register: Pollutant Release and Transfer Register
PRTR substances / VPC emissions [Toyota Boshoku]
Soil and groundwater purification at the Kariya Plant
At the Toyota Boshoku Kariya Plant, based on the "Provisional Guidelines for Soil and Groundwater" issued in 1994 by Japan's Ministry of the Environment, we have been conducting annual inspections for soil and groundwater contamination and are working to purify these resources since 1995. Purification of soil contamination started in 1996 and was completed in 1998. Purification of groundwater contamination continues with levels maintained below standard values.
Results of trichloroethylene measurements in fiscal 2021 (Environmental standard: 0.03mg/ℓ)
(Unit: mg/ℓ)
Name of plant
Concentration in groundwater within grounds
Current status
Kariya Plant
FY2019:ND–0.012
FY2020:ND–0.011
FY2021:ND–0.008
Below standard values
Continuing to maintain
ND: Not detectable; under minimum quantity value (less than 0.002)
PCB treatment status
Polychlorinated biphenyls (PCBs) are now designated as prohibited substances. PCB wastes now being stored must be treated at designated treatment facilities no later than the end of March 2027.
There was no disposal of PCB wastes in fiscal 2021. In fiscal 2022, we plan to dispose of four ballasts, thereby completing the treatment of PCB waste.
Our Business Activities and the Environment (Resource Consumption for Business Activities and Emissions Causing Environmental Impact)
Resource consumption for business activities and emissions causing environmental impact in fiscal 2021
Energy consumption and CO2 emission data (Scope 1, Scope 2) within the Toyota Boshoku group released on our website have been independently assured by KPMG AZSA Sustainability Co., Ltd. Please see the Independent Assurance Report for more detailed information.
Emissions excluding the effects of co-generation in reducing CO2 totaled 288,458 t-CO2.
Direct greenhouse gas emissions from a company's own fossil fuel combustion and industrial processes. Scope 1 emissions from the Toyota Boshoku group occur from the burning of city gas, LPG, kerosene, heavy oil and light oil.
Indirect emissions from the generation of electricity, heat and steam purchased from other companies. Scope 2 emissions from the Toyota Boshoku group occur from the generation of purchased electricity.
Waste that is recycled for a fee
CO2 emissions data that has been assured by an independent assurance provider is marked with this
assurance symbol (click here for details).
Environmental Accounting
The Toyota Boshoku group believes that it is important to assess the effectiveness of our investment and cost in terms of environmental conservation in order to improve the efficiency of administration and make rational decisions.
Cost of environmental conservation
In fiscal 2021, environmental accounting recorded investment of 1,615 million yen, costs of 3,332 million yen and economic effects of 2,640 million yen.
Economic effects of environmental conservation measures
The economic effects of our environmental conservation measures were calculated from three ascertained items that were based on a sound rationale. Deemed effects such as risk avoidance effects are not taken into account.
(Unit: Millions of yen)
Environmental accounting
Toyota Boshoku
Japan affiliates
Regions outside Japan
Investment
amount
Cost
amount
Investment
amount
Cost
amount
Investment
amount
Cost
amount
Business area cost
Pollution
prevention
32
114
10
61
222
756
Global
environmental
conservation
676
154
132
96
324
167
Resource
circulation
0
285
0
168
17
242
Administration cost
0
283
0
24
0
274
R&D cost
202
686
0
3
(Included to Toyota Boshoku)
Social activity cost
0
4
0
1
0
14
Environmental remediation cost
0
0
0
0
0
0
Total
910
1,526
142
353
563
1,453
2,436
495
2,016
Aggregate
Investment
amount
1,615
Cost
amount
3,332
Depreciation and amortisation is not included in the costs.
(Unit: Millions of yen)
Economic effects
Toyota Boshoku
Japan affiliates
Regions outside Japan
Cost reduction through energy conservation
237
46
113
Resource saving & reduction of waste disposal costs
511
57
1,275
Profit on sale of recycled materials
325
19
57
Aggregate
2,640
(Unit: t-CO2)
| Material effects | Toyota Boshoku | Japan affiliates | Regions outside Japan |
| --- | --- | --- | --- |
| Energy conservation | 6,749 | 1,318 | 3,235 |
(Unit: t)
| Material effects | Toyota Boshoku | Japan affiliates | Regions outside Japan |
| --- | --- | --- | --- |
| Waste disposal | 959 | 553 | 2,855 |
Strengthening Environmental Education to Pass Environmental Conservation Activities on to Future Generations
Environmental education
In fiscal 2020, the seventh year of the project, Toyota Boshoku provided an opportunity to have fun learning about the environment by conducting on-site education at a local elementary school. On the day of the education, we introduced our environmental efforts and conducted experiments on wastewater treatment. Through group work, children deepened their understanding on the three themes of conserving energy, reducing trash, and valuing water.
(Held seven times up until fiscal 2020; not held in fiscal 2021 due to the coronavirus pandemic)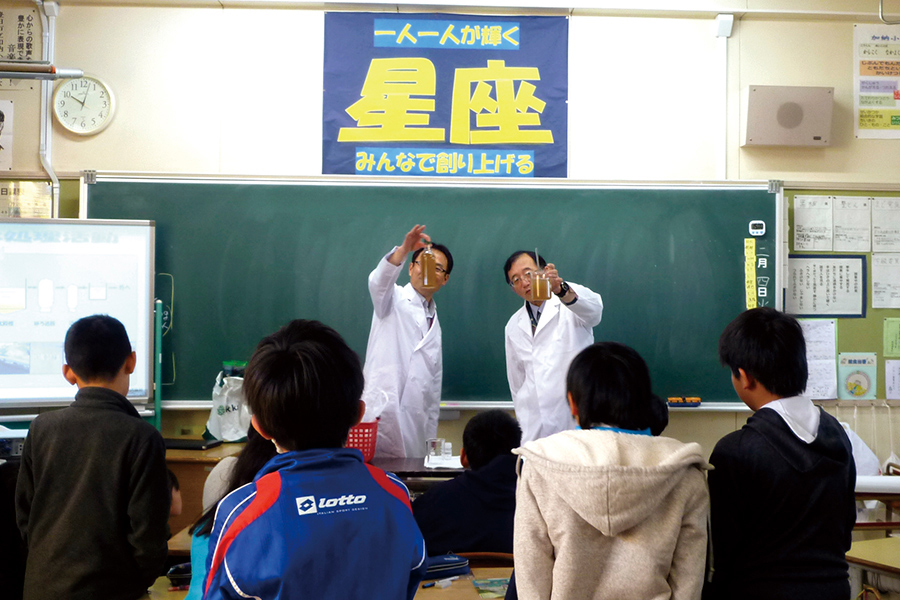 Initiatives in the local community
Toyota Boshoku holds eco-tours of our Sanage Plant sponsored by Toyota City. Parents and children living in the city of Toyota tour facilities such as wastewater treatment plants.
During the tour, we introduce the current state of worldwide water shortages worldwide. Participants also take part in experiments introducing the wastewater treatment process and water quality analysis method at Toyota Boshoku. It is an outstanding opportunity for conveying the importance of water.
We will continue to deepen our understanding of the environment and aim for a sustainable global environment together with members of the local community.
(Held twice up until fiscal 2020; not held in fiscal 2021 due to the coronavirus pandemic)