Fine Hold Stamping Method
Press manufacturing engineering boasting high quality and world-class high-speed production
The FHS method* is a form of precise stamping manufacturing engineering developed with a combination of engineering from specialty makers and MONOZUKURI knowhow cultivated in the production of round recliners (a seat component that regulates the reclining of seats).
Compared to conventional methods that hold both edges of a piece of sheet steel with hydraulics during stamping, the FHS method instead uses press die forms to hold the sheet steel. This prevents material shifting during stamping, ensuring high quality.
The FHS method made world-class production speed possible, allowing for stamping of over 100 pieces of 4mm+ sheet steel per minute.
Looking to make the FHS method our sole form of stamping engineering, we are applying it to various product development processes throughout the company.
Fine Hold Stamping Method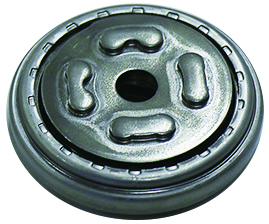 Toyota Boshoku's Strengths
Consistency all the way from press die production to product manufacturing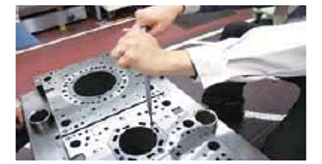 In order to make high-quality stamping manufacturing components we must focus on press dies, with a strong requirement for sophisticated press die production, assembly, and maintenance engineering.
We treat press die engineering as a core field of engineering, and are actively pushing for advancements. Additionally, we are working to share and transfer technical skills and knowledge, and strengthening the systems that let this happen. Our consistent, high-precision press die engineering, including development, manufacturing and maintenance, is contributing to the evolution of the FHS method.
Helping change the world
The precise stamping manufacturing engineering and press die engineering used in the FHS method is being applied to electric vehicles via the development and production of hybrid electric vehicle motor cores and fuel cell stack separators.
Thus, with the ultimate goal of helping build a truly sustainable society, we are contributing to worldwide efforts to achieve carbon neutrality through the application and evolution of our core engineering.