Message from the President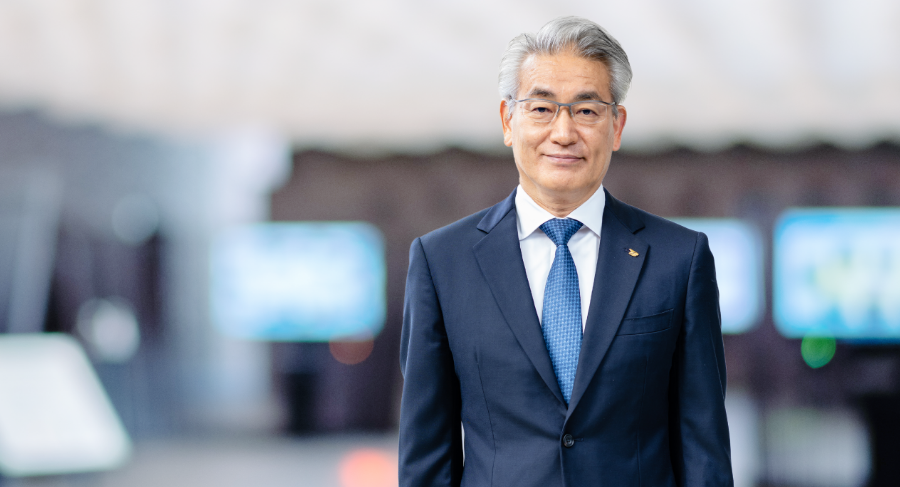 Realizing the value proposition of Toyota Boshoku's "Quality of Time and Space" through advanced R&D and high-quality MONOZUKURI
*

.
Manufacturing and craftsmanship
Development and adoption of electric vehicles is rapidly progressing around the world in response to the increasingly important issue of climate change, as well as the movements towards regulation of gasoline-powered cars in various countries. Additionally, dealing with the "new normal" brought about by the coronavirus pandemic has become a matter of urgency.
COVID-19 infection prevention measuresWe are working on various measures, such as development of partitions which can be attached to the rear of driver's seats to prevent the spread of droplets, and, at a time when Genchi Genbutsu-led switches to new products are particularly challenging, the outfitting of manufacturing facilities with smart glasses to both enable transmission of work instructions as well as sharing fields of vision between company members in real time.
Our 2020 Business Plan and our 2025 Mid-Term Business PlanOur 2020 Business Plan has enabled us to strengthen our profitability. In order to structure our approach to solving remaining issues, however, as well as addressing future societal problems, we have established our materiality, and in November 2020 announced our 2025 Mid-Term Business Plan in November 2020.
Strengthening the competitiveness of our core businessWe will continue expanding our business on a global scale, including our pursuit of the next generation of seat devices, to our capacity as an interior systems supplier to plan for the entirety of a vehicle.
Future-facings activitiesWith the aim of realizing our status as an Interior Space Creator at the forefront of creating new value in comfortable mobile spaces, we plan to evolve our creation process, from initial concept to the final product. At the same time, we plan to continue steadily expanding our electric vehicle parts business, including the production of separators for FC stacks, motor cores, and lithium-ion batteries. At all times we will place safety and the environment at the core of our business,
Alongside our efforts in technological innovations, we aim to continue improving our manufacturing competitiveness by strengthening the foundations of our global production and supply system. In terms of carbon neutrality, we are aiming to reduce by 50% compared to fiscal 2014 by 2030, and realize our 2050 Environmental Vision through the promotion of actions built on improvements to our everyday processes, innovations in technology, and the adoption of renewable energy.
To ensure we reach the targets listed above, we are strengthening the foundations of our management in a variety of ways. We are working to bring together a diverse range of talented people, and establish a working environment that makes different ways of working possible. As well as this, we will continue utilizing digital transformation, and building an information base to centralize information used in design, manufacturing and management. Additionally, through our actions aimed at securing the Deming Prize*, we are aiming to elevate the quality of work done by each company member, as well as build a training and cultivation program to help empower our company members to contribute the world.
Aiming for a management that is effective at global governance, we have introduced the Chief Officer system, and have focused on diversity in our board of directors. Our intention is to continue building a management system that can make decisions transparently, fairly, and speedily.
Thanks to the above efforts, we will continue improving Toyota Boshoku Group's mid-term corporate value, using advanced R&D and high-quality manufacturing to realize the value proposition of our aimed-for "Quality of Time and Space", while simultaneously improving our economic performance and aiming to help solve social problems by offering mobility space solutions that put people first.
An annual award presented to an organization that has found considerable success implementing TQM (Total Quality Management).