Message from the President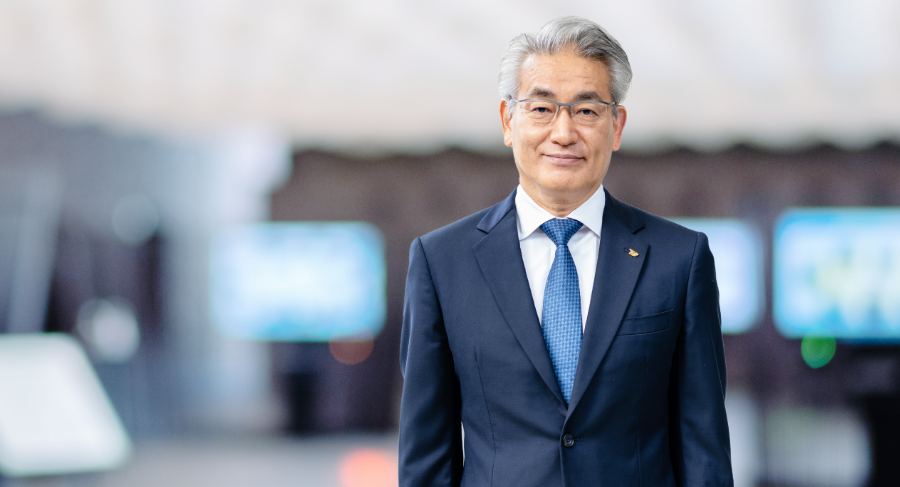 Strengthening our global competitive advantage and realizing QUALITY OF TIME AND SPACE — the value we provide
All around the world, there is a growing need to address climate change, and measures to achieve carbon neutrality are gaining momentum. The automotive industry needs to strengthen its response to CO2 emissions reduction and electrification throughout the supply chain, from a life cycle perspective.
In light of this environment, we are promoting CSV management by conducting business activities in line with our corporate philosophy and Toyota Boshoku group's Materiality based on the Principles of Toyoda, which bring together the ideas of our founder Sakichi Toyoda. Furthermore, in November 2021 we formulated our Sustainability Policy and Human Rights Policy to ensure respect for the human rights of all the people involved in our business. We have also formulated the Business Portfolio Policy to promote the strategic allocation of management resources toward realizing the business structure we aim to achieve in 2030.
2025 Mid-Term Business Plan
In fiscal 2022, the first year of our mid-term business plan, there were severe volume fluctuations resulting from shortages of semiconductors and other components caused by the spread of new COVID-19 variants. Under these conditions, we strengthened our capability to respond to demand fluctuations and improved our ability to generate earnings by making loss-free new product launches, implementing measures to ensure profitability, and improving fixed cost efficiency by promoting operational enhancements.
2025 Target: As an interior system supplier, becoming a company that serves as "Home"
To expand our business fields, we have positioned automakers that are partners of Toyota Motor Corporation as strategic OEMs, and are promoting activities to win orders. In addition, to improve our competitive advantage throughout the value chain, we are aiming for integrated development and production from the design stage, and are working to become self-sufficient in selecting and procuring seat cover material, which is currently the domain of automakers.
Desired status for 2030: Creating new value as an Interior Space Creator
To achieve carbon neutrality over the life cycle, we have formulated a new target comprising a 50% reduction in CO2 emissions by 2030 (compared to fiscal 2014), and in January 2022, the Carbon Neutral Environment Division became a Center in order to draw up and implement supply chain strategies.
We are also working to strengthen information disclosure based on the recommendations of the Task Force on Climate-related Financial Disclosures (TCFD) and are conducting scenario analyses.
We are promoting sales expansion of motor cores, separators, and other products in response to the electrification of automobiles. Additionally, we will accelerate open innovation to create new businesses, and our newly established Business Incubation Department will begin investing in startup companies.
To strengthen our management foundation in support of the above activities, we are developing an information infrastructure and are aiming to accelerate decision-making through increased monitoring of financial and non-financial KPIs. In addition, to recruit and develop innovative human resources, we are establishing systems and conditions that allow everyone to challenge themselves and play an active role.
We will also strive to further improve the operational quality of all work, extending to the entire company what we have learned in the process of winning the FY2022 Deming Prize at the Kariya Plant and the Unit Components Production Engineering Division.
Through advanced R&D and high-quality manufacturing, we will provide solutions for human-centered mobility spaces and thereby enhancing our economic value while solving social issues at the same time, as we aim to remain a company that is needed by society.