Diversity and Inclusion
Basic stance
We are working to establish a system befitting respective roles and contributions that respects diverse career types and work styles (independent choice) and embraces diversity irrespective of nationality, age, gender or physical/mental disability. We are also developing systems and an environment in which anyone can take on challenges and roles at any time. We also recognize that ensuring diversity is the foundation for fostering innovation, and we have formulated a diversity promotion plan and a portfolio of human resources that will be required by our future business, and we will promote these activities.
Work-life balance
Toyota Boshoku has been striving to improve the workplace environment in various ways. For example, at production sites, we have introduced production lines that make it easier for employees who are raising children to work, while in administrative and technical workplaces, we have introduced flextime without core hours and teleworking systems. We have also set up an in-house day care center, operate a day care center shared by the five Toyota Group companies, and introduced a shortened work hour system. We will further enhance flexible working rules and our office/IT environments so that our diverse human resources can work vibrantly and maximize their individual skills.
Users of childcare leave system and shortened work hour system [Toyota Boshoku]
| Fiscal year | 2017 | 2018 | 2019 | 2020 | 2021 |
| --- | --- | --- | --- | --- | --- |
| Childcare leave system (persons) | 169 (6) | 197 (8) | 178 (8) | 205 (20) | 196 (19) |
| Shortened work hour system (persons) | 111 | 142 | 132 | 167 | 195 (3) |
Figures in parentheses represent the number of males out of the stated total using the systems. The return to work rate for users of the childcare leave system is 100%.
Promoting active roles for female members
We are striving to create a framework and workplace environment that is both satisfying and motivating and encourages continued service through support of career development and work-life balance, and by changing the awareness of both female members and their supervisors.
Initiatives to advance women in skilled professions
We took this step to reflect the opinions of female employees in skilled profession into our workplace measures and to create an even more vibrant workplace.
From August 2020, we introduced regular daytime/first shifts (regular nighttime/second shifts) at workplaces and also expanded the scope of systems for reduced working hours. Any concerns and opinions regarding the workplace are also shared, as necessary, between each plant and HR, and further measures are then implemented.
Activities of the Working Group for the Advancement of Women
Skilled professions working group
In order to create a workplace where women in skilled professions can play an active role over the long term, in 2021 we launched the "LADY GO! Working Group," which is led by female skilled workers. The goal is to improve the working environment by listening to the opinions and concerns of female technicians in the workplace and making recommendations.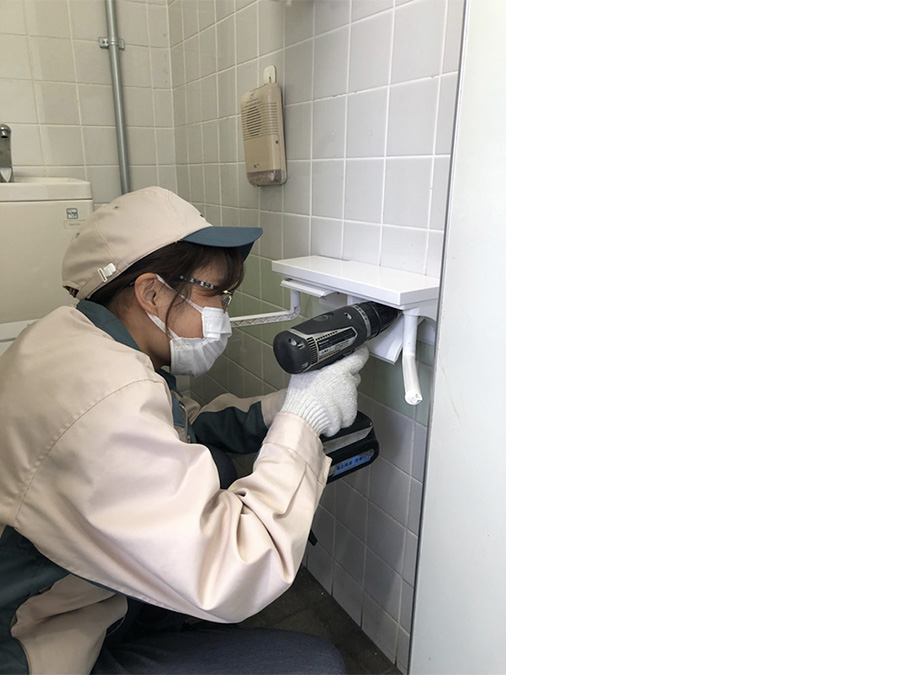 Administrative and technical professions working group
In order to reflect the voices of female employees in our measures and make the company a rewarding place to work, in fiscal 2018 we launched the "Kagayaki Working Group" to hold forums for supervisors and women and to support career development.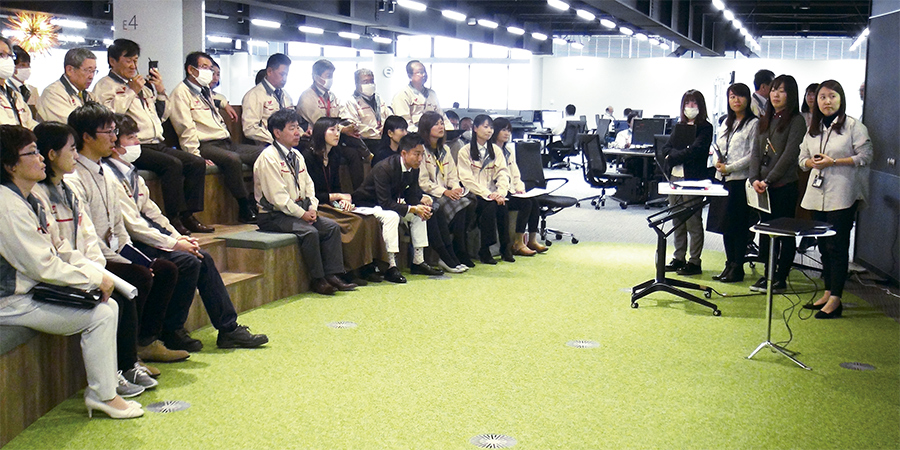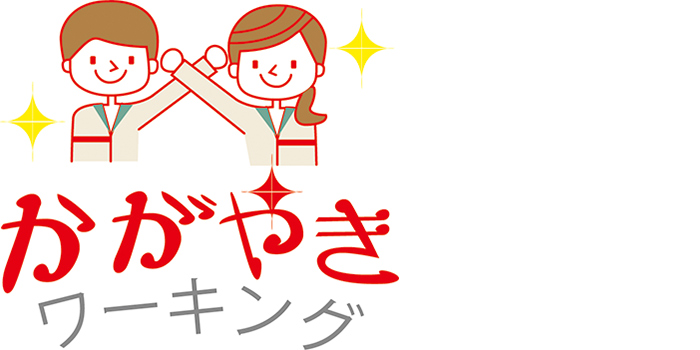 Registration and training of priority training individuals
In order to systematically develop each female company member from an early stage so that they can take on challenges and play an active role with a higher level of motivation, we register priority individuals for training, draw up individual training plans, and train them in each workplace.
Trend in the number of female managers [Toyota Boshoku]
Our goal is to expand women representation in management positions by 2030 to at least five times the number as of October 2014 (13).
| Fiscal year | 2017 | 2018 | 2019 | 2020 | 2021 |
| --- | --- | --- | --- | --- | --- |
| Number of female managers | 16 | 17 | 20 | 23 | 24 |
Employment of persons with disabilities
Toyota Boshoku is promoting the creation of a workplace environment in which people with various disabilities, including physical, hearing, visual, intellectual and mental disabilities, can work comfortably. Upon acceptance, orientation sessions are held at a special needs school and at the workplace to facilitate effective work after joining the company. We also make active use of services such as job coaches provided by government agencies.
Employment rate of persons with disabilities [Toyota Boshoku]
| Fiscal year | 2017 | 2018 | 2019 | 2020 | 2021 |
| --- | --- | --- | --- | --- | --- |
| Employment rate of persons with disabilities (%) | 2.04 | 2.19 | 2.20 | 2.21 | 2.33 |
Employment of foreign nationals
In line with the globalization of our operations, we are promoting the globalization of management and are actively promoting the appointment of local members to senior management positions. In addition, we allocate company members returning to Japan to the optimal positions and encourage their reassignment in order to realize the development of local members.
Ratio of local members who are executives in regions outside of Japan
| | April 2018 | April 2019 | April 2020 | April 2021 |
| --- | --- | --- | --- | --- |
| Ratio of local employees (%) | 14 | 19 | 23 | 25 |
Promoting active roles through the recruitment and optimal allocation of human resources from a global perspective
We are promoting active roles for diverse human resources by accepting trainees from group companies outside Japan, embracing movement across regions and actively accepting and employing internships from universities overseas. In order to enable foreign personnel to play an active role, internal manuals in Japan have been translated into English, and Japanese language training and other programs have been implemented.
Responding to sexual diversity (LGBTQ + community)
We provide training for managers to promote understanding of sexual diversity, such as gender identity, sexual orientation, and gender expression. Furthermore, we have established an internal consultation system.
Moving forward, we will continue to create an environment where members of the LGBTQ + community can also work at ease, promote company members awareness and understanding activities, and foster a culture where all members are respected regardless of their sexuality.
Drawing on the expertise of older personnel
In 2004, Toyota Boshoku introduced a system for re-employing those who wish to work until the age of 65. We provide a place where people can pass on their experience to future generations and make use of their skills and expertise even after retirement.
Reemployment of retirees [Toyota Boshoku]
| Fiscal year | 2017 | 2018 | 2019 | 2020 | 2021 |
| --- | --- | --- | --- | --- | --- |
| Reemployment of retirees (persons) | 193 | 219 | 267 | 314 | 354 |
Creating people-friendly processes and environments
We are designing people-friendly processes, systems and environments as well as educating managers and supervisors so that members with disabilities, female members and older personnel can work easily and vibrantly.