Respect of Human Rights
Human Rights Policy
Toyota Boshoku Group Human Rights Policy was formulated with the approval of the Board of Directors in November 2021.
In accordance with the Universal Declaration of Human Rights and other international norms, and with the United Nations Guiding Principles on Business and Human Rights serving as an implementation framework, we will promotes activities to respect human rights.
We expect that this policy not only applies to officers and employees, but also expect that all stakeholders, including suppliers involved to the Toyota Boshoku group's products and services, to understand and uphold this policy.
We will emphasize the following matters as priority themes in human rights compliance.
●Diversity ● Discrimination and Harassment ● Forced Labor and Child Labor ● Occupational Health and Safety
Using this as a guideline, we will promote efforts to respect human rights and report on the progress and results.
Basic stance
Respect for humanity
The Toyota Boshoku group strives to ensure that the individuality and humanity of our members is respected in accordance with our corporate philosophy to be shared by each member and the TB Way, which express our values and behavioral principles. We prohibit discrimination, defamation or other such improper conduct based on race, gender, age, nationality, religion, disability, sickness or injury. At the same time, we strictly respect the laws and social regulations of other countries and regions, as well as forbid the use of child or forced labor.
Promotion structure
The Human Rights Working Group is in operation, with the CSO(Chief Strategy Officer) in charge of Corporate Planning Segment as the leader. The Corporate Planning Division serves as the secretariat, and members are elected from the HR Strategy Division, Supply Chain Business Strategy Division, General Administration Division, Legal Division, and Health & Safety Promotion Division. The Human Rights Working Group organizes human rights risks and promotes the Toyota Boshoku group's approach to human rights and initiatives. The results are discussed at the CSV Promotion Meeting and reported to and deliberated by the Board of Directors.
Human Rights Due Diligence Implementation Status
The Toyota Boshoku Group aims to deepen each and every company members including executive officer's understanding of human rights, and to build on the Toyota Boshoku Group Human Rights Policy to contribute to the realization of a free and fair society that respects human rights. As well as this, our approach to implementation of due diligence is clearly outlined in the Toyota Boshoku Group Human Rights Policy, and we began carrying out concrete initiatives in 2022. The Toyota Boshoku Group is continuing to carry out these initiatives aimed at building a sustainable value chain, in order to fulfill our duties as an organization with responsibility for guaranteeing human rights, as laid out by the UN Guiding Principles on Business and Human Rights.
Human Rights Due Diligence Post-Implementation Roadmap
After carrying out our human rights due diligence process, we will set out a plan to address identified risks, and establish a PDCA (Plan, Do, Check, Action) cycle to create a fixed system that works to reduce human rights risks. We will also publicly disclose the risks we have identified.
In the future, we will further expand the scope of our human rights due diligence, carefully evaluate the extent to which human rights guidelines are being adhered to throughout our entire value chain, and continue our initiatives aimed at reducing, or otherwise responding to, any negative impacts of human rights issues.
Initiatives to raise company members' awareness
Internal training
We promote education and training activities to raise company members' awareness of human rights and to create a corporate culture of respect for human rights.
We hold lectures and training sessions on human rights for officers, division general managers and above, as well as presidents of subsidiaries, including those at sites outside Japan, to enable them to understand human rights initiatives as "their own business" and to be able to lead initiatives on their own. In addition, we provide training on human rights to promoted and new company members based on our Corporate Philosophy, the TB Way and the Code of Conduct for company members.
Human rights workshop
In July 2021, an attorney was invited to give a lecture entitled, "Understanding and Implementing Business and Human Rights: Realizing Stakeholder Engagement and Value Creation" to directors, general managers and above, including those from sites outside Japan, as well as presidents of subsidiaries. The attendees learned about the importance of addressing human rights in business and especially in the supply chain.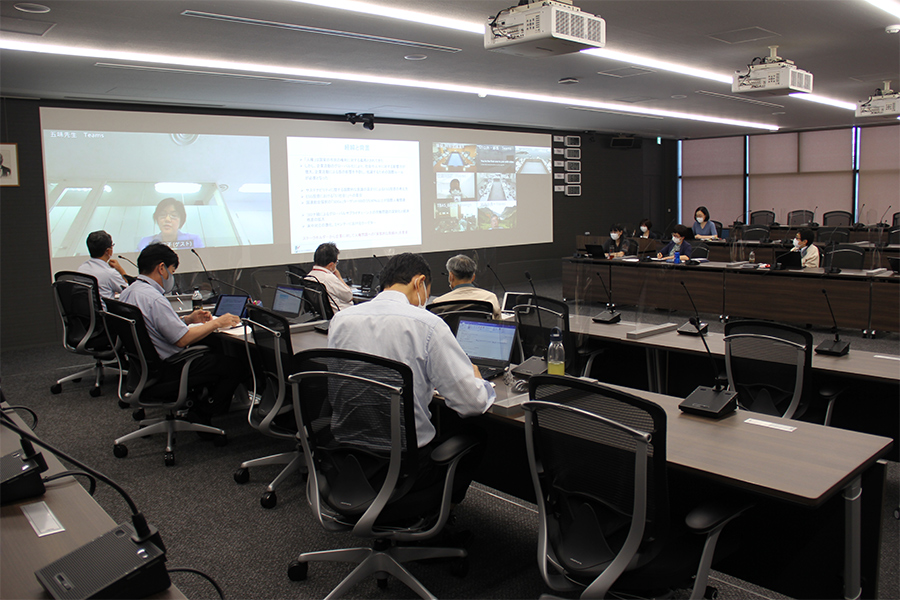 Consultation and reporting desk
We have set up the Anything Goes Counselling Window as an internal consultation and reporting desk, which is also available to group companies in Japan, and a consultation and reporting desk at a law office. This creates an environment in which it is easy to for whistleblowers to consult on issues. We have also established contact points in regions outside Japan, and therefore have a global system in place.
Dealing with harassment
We have included items on harassment in our ethics survey (company members awareness survey) to help understand the current situation and resolve issues. In addition, meetings called "MEET" are held three times a year in each workplace to disseminate company policies, as well as to prevent harassment and promote the use of consultation services.
Initiatives for respect of human rights in the supply chain
We have established theToyota Boshoku group Supplier Sustainability Guidelines in May 2022, based around the Toyota Boshoku Group Human Rights Policy, in order to prevent violations of human rights from occurring, and to build a sustainable supply chain. We expect all of our stakeholders, including suppliers related to our group's products and services, to understand and support these guidelines.
Protecting Human Rights and Maintaining Fair Working Conditions
In our basic trade agreements and Supplier Sustainability Guidelines, we request all our suppliers to respect human rights.
Initiatives related to the following items, which are based on the Toyota Boshoku Group Human Rights Policy, are being spread and adopted not only within the company itself, but also throughout the entire supply chain:
(1)Non-discrimination, respect for diversity and inclusion
(2)Prohibition of harassment
(3)Prohibition of child labor
(4)Prohibition of illegal migrant labor, forced labor
(5)Wages
(6)Appropriate management of working hours
(7)Freedom of association
(8)Creating a safe and healthy working environment
Additionally, we request an annual self-check sheet from our suppliers, which enables confirmation of various important matters, such as the state of various initiatives, the extent to which human rights guidelines are being adhered to, and how guidelines are being adopted and implemented.