Driving Simulator
Accelerating the development of autonomous driving cars and other next-generation interior spaces
A driving simulator is a piece of equipment for performing tests and evaluations, and is used for verifying and evaluating products in development.
Toyota Boshoku owns and makes extensive use of a proprietary proving ground, but introduction of our driving simulator has given us the ability to freely replicate weather, road conditions and other environments that are rarely encountered, or where live evaluation would be unsafe.
Thanks to this, we can perform evaluation and verification in conditions close to that of a real car. This can help reduce our environmental footprint by reducing the number of prototype parts that need to be produced. Additionally, the resulting reduction in development time can also give us a competitive market edge.
Through our driving simulator, as well as other efforts, we are accelerating the development of human-centered autonomous driving cars and other next-generation interior spaces.
Main Specifications and Application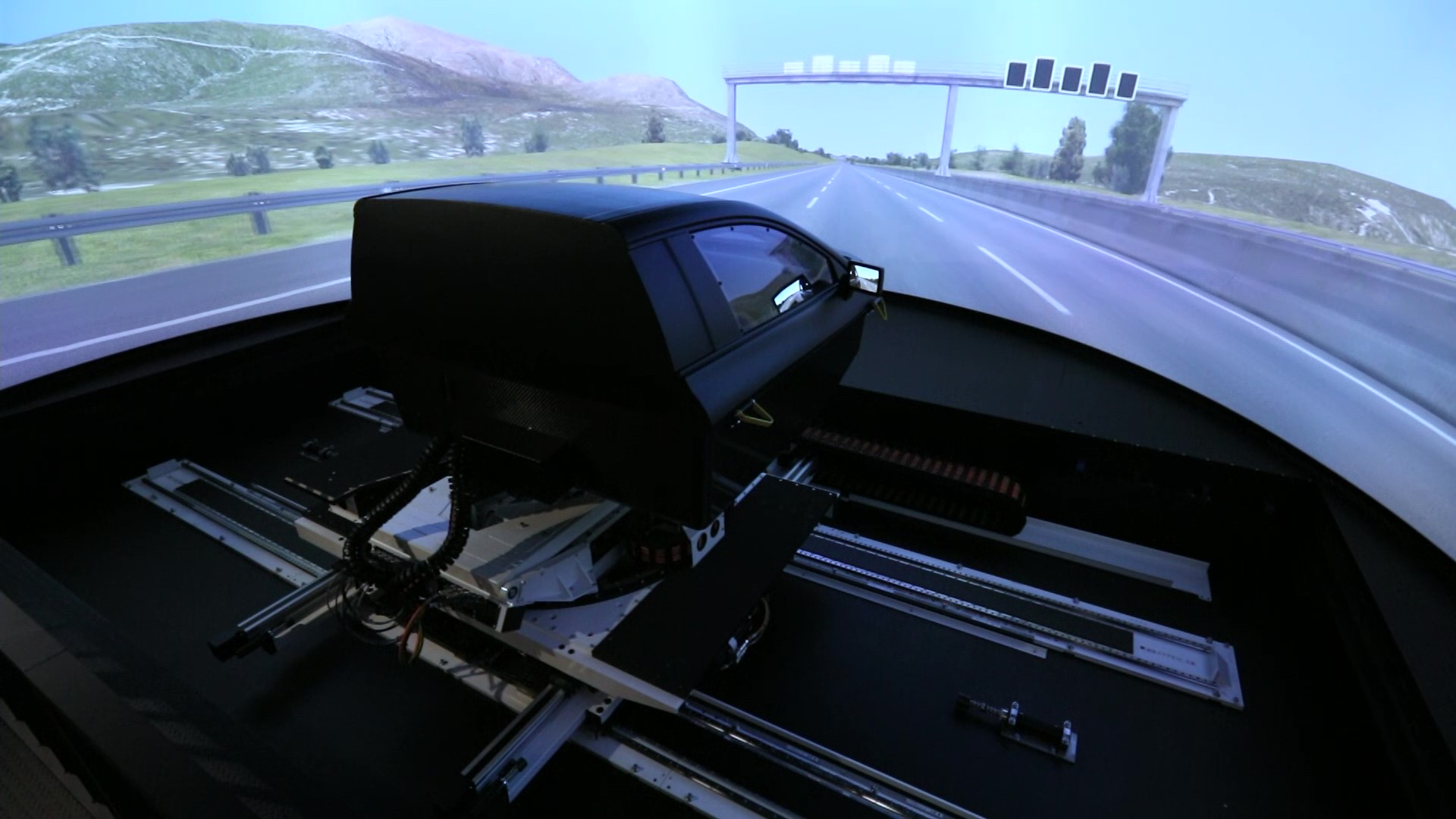 Building a simulator environment closer to a real car
By equipping the simulator's moveable cockpit with Toyota Boshoku products, such as seats and door trims, and by reproducing various aspects of the driving experience and transportation conditions, including weather, we are able to evaluate products in a simulator environment much closer to that of a real car.
Applications for the development of autonomous driving cars and other next-generation interior spaces
There are many factors that cannot be easily tested in a real car, either because they entail unacceptable risks, or else because they are difficult to reproduce. These include situations directly related to autonomous driving, such as drowsiness and maintaining alertness, fatigue from long periods of driving, motion sickness due to autonomous driving, as well as other issues such as sudden changes in weather conditions, pedestrians suddenly entering the roadway and interactions with other vehicles. However, these factors can be reproduced in our driving simulator, allowing for the collection and analysis of driver biometric data in real time
Driving Simulator Explanatory Video
Merit
Cockpit: Interchangeable between passenger cars and others
Dynamic movement range: forward-back: ±0.5m, up-down: ±0.145m, left-right: ±2.0m (can reproduce changing lanes on two lane roads for seat evaluation )
Response frequency: supports up to 25Hz in each axis
Field of vision: a total field of vision of 360 degrees, combining front screen's 230-degree field of vision with cockpit's interior rear-view and side-view mirrors
Simulation: car: CarSim, driving environment: rFpro (built model-based development environment. Compatible with human-driven and autonomous driving)
Cueing: Toyota Boshoku proprietary method that uses vestibular model cueing as a base