Safety
Our Basic Safety and Health Philosophy, and our Basic Safety and Health policy
Based on a Basic Safety and Health Policy, the Toyota Boshoku group implements safety and health activities as labor-management cooperative efforts in order to establish a corporate culture that places priority on safety and health at work. We also work globally to enhance safety and health at work through activities based on an Occupational Safety and Health Management System (OSHMS).
Furthermore, in order to absolutely prevent the occurrence of fires, we conveyed Toyota Boshoku's stance on fire prevention and conducted management-led inspection in each area, held emergency preparation drills using fire extinguisher and fire hydrants for all members, and worked to raise awareness towards fire prevents.
Basic Philosophy for Safety and Health
Safe work
Reliable work
Skilled work
Safe Work is "the gate" to all work
Let us pass through this gate
Basic Safety and Health Policy
To foster a "Safety First" culture, we declare that we will not produce, handle, transport, or dispose of products or materials unless people's safety & health, and the environment are protected. Additionally, we will conduct ourselves in line with the following basic principles.
Policies for safety management
Don't hesitate to stop producing
It is impossible to produce without the solution of the safety problem.
Accident has to be "Zero" even if it is non-absence accident.
Safety is at the basis of the workplace.
Safety and Health Promotion System
Safety and Health Activities Index
Accidents at Toyota Boshoku group over time
Frequency Rate (Lost time or above)
Promotion of Occupational Safety and Health Management System (OSHMS) Activities
Based on a Basic Safety and Health policy, in order to establish a corporate culture that places priority on safety and health at work, the Toyota Boshoku group is continuing labor-management consultations and cooperative efforts aimed at building a pleasant working environment that guarantees the safety and health of company members.
In accordance with ISO 45001 standard requirements and Occupational Safety and Health Management System (OSHMS) legal requirements, we have established the Toyota Boshoku Occupational Safety and Health Management System (Toyota Boshoku OSHMS). And we built a unified, more efficient occupational safety and health management system, and announced it globally.
We grasp occupational safety and health issues and secure both human and financial resources to improve both safety and health at workplaces.
Developing Human Resources Who Can Act Safely and Building a Safe Working Environment
Using risk assessment (machines & equipment, chemical substances, work) to build an environment that is kind to workers.
As part of Toyota Boshoku's Occupational Safety and Health Management System, we have introduced risk assessments for machines and equipment, chemical substances, and work operations, based on government guidelines regarding harmful or dangerous substances.
As a result, we are identifying possible sources of risk throughout the various steps of our manufacturing processes and taking measures to limit such risks to within acceptable limits, while enacting appropriate measures to manage any risks that remain.
Additionally, when installing new machines and equipment, company members with responsibility for production engineering, manufacturing, maintenance and safety make visits to the relevant manufacturers. We then perform checks based on the findings of previous risk assessments, while at all times carrying out uncompromising safety measures.
These risk assessments are performed not only for the benefit of our company members, but also to address any possible risks that may be encountered by visiting customers or business partners.
Finally, we are also taking appropriate safety measures regarding conditions and quantity of all harmful chemical substances used in our production processes.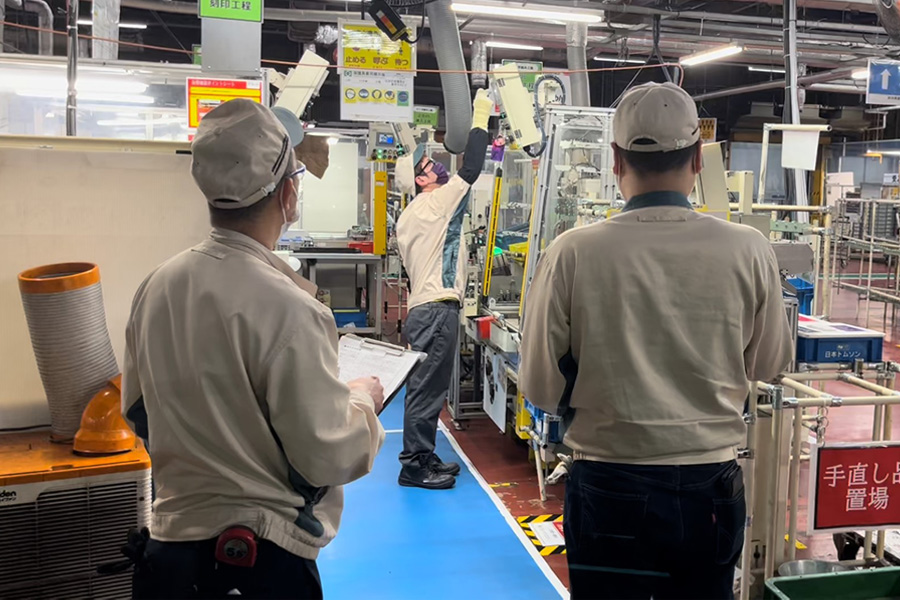 Developing human resources who can take Safety Basic Behavior
In addition to preventing occupational accidents, we are working to establish a "culture of taking things for granted" by having company members observe and follow the established rules in terms of manners and morals. For instance, we are continuously implementing "Poke-Te-Na-Shi Activity*" common to Toyota Group, raising the level of awareness by calling out to company members at standing patrols and poster contests, and creating workplaces where mutual enlightenment can take place.
Five basic safety guidelines to prevent accidents while walking, including keeping hands out of pockets, and avoiding using one's phone while walking.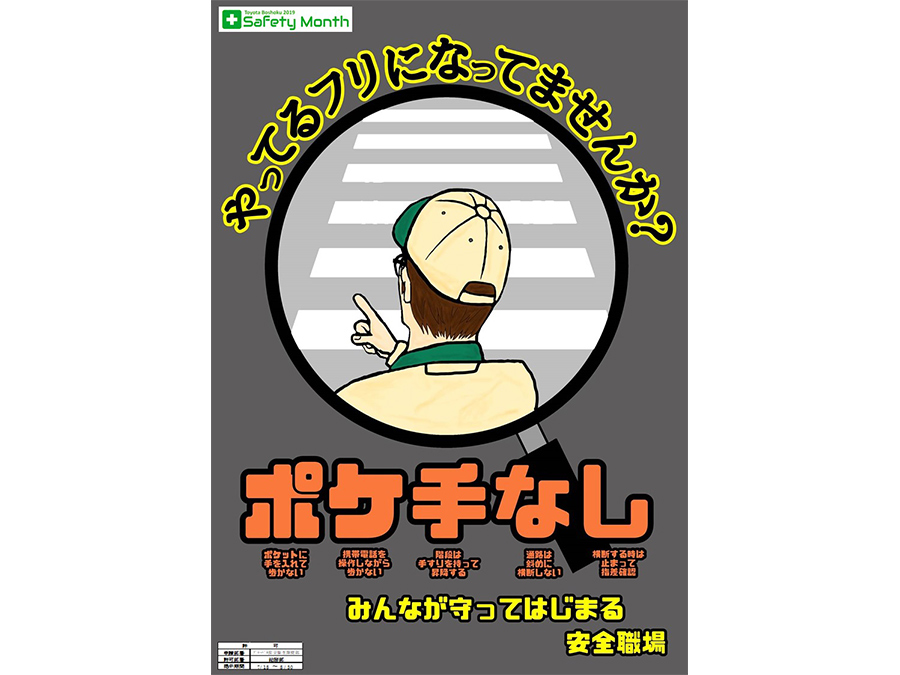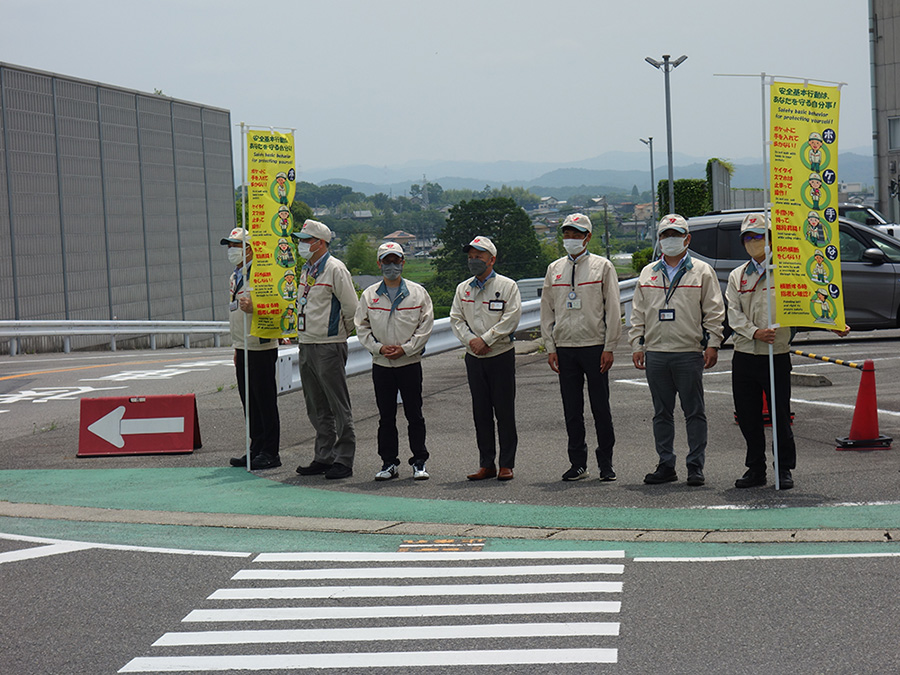 Safety inspections for equipment and operations
In fiscal 2023, we continues to work together to prevent STOP6 accidents which may lead to fatal accidents.
The inspections are mainly conducted for crane operations, equipment troubleshooting, and logistics operations. We share information on accidents occurred both inside and outside the company, and Chief Manufacturing Officer (CMO) who is the head of the manufacturing division and Deputy Center Chief of Health and Safety Center inspect each plant monthly to promote activities to prevent accidents from occurring.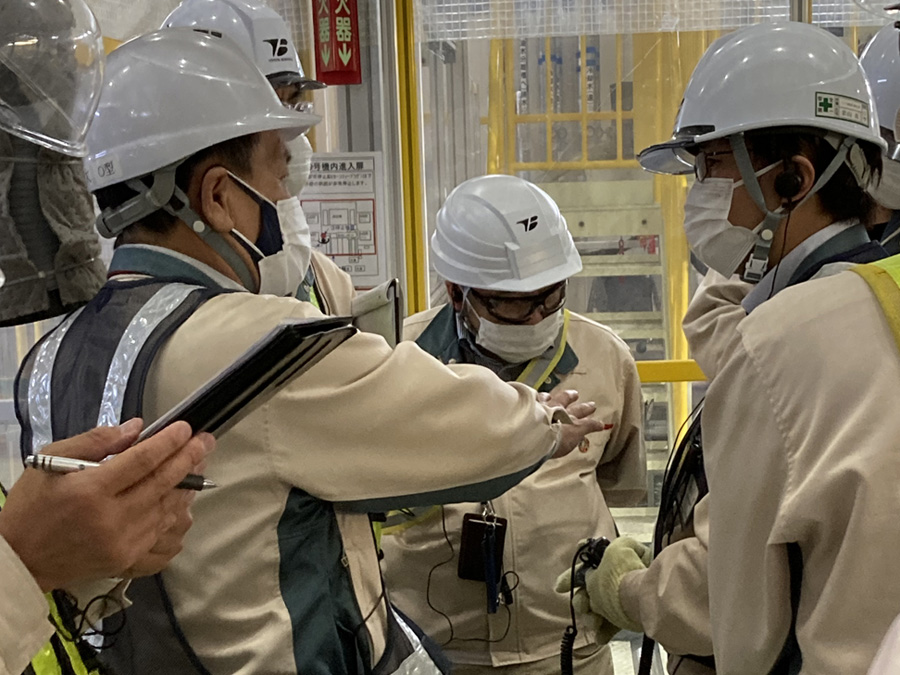 Safety education
We believe that education is a key to safe behavior.
In order to promote the development of safe human resources and workplaces in which fatal accidents do not occur, the Toyota Boshoku group is systematically implementing relevant activities on a global scale, such as enhancing education for acquiring knowledge and skills, holding safety inspections, and conducting activities to entrench a culture of risk assessment.
Moreover, in FY2021, we established the Safety & Health and Environment fruitful Think and Act Center (SHE-TAC) within the MONOZUKURI Innovation Center with the aim of promoting the development of people who know the background and causes of past occupational accidents, consider countermeasures, take individual responsibility for matters of safety, and take initiative to implement preventive measures.
The Safety & Health and Environment fruitful Think and Act Center (SHE-TAC) fosters the development of safety and accident prevention-focused company members, carrying out training at various levels, including for newly-hired and newly-promoted company members.
Comments from participants
There were many accidents that I did not know even though they were serious. It was a good opportunity to strongly realize how scary an accident can be.
Seeing many cases, I realized that if I was not careful, I might cause serious injuries or accidents. So I was also able to alert people around me.
The horror of accidents was clearly demonstrated. I was able to have a strong mindset about safety.
Layout of the Safety & Health and Environment fruitful Think and Act Center (SHE-TAC)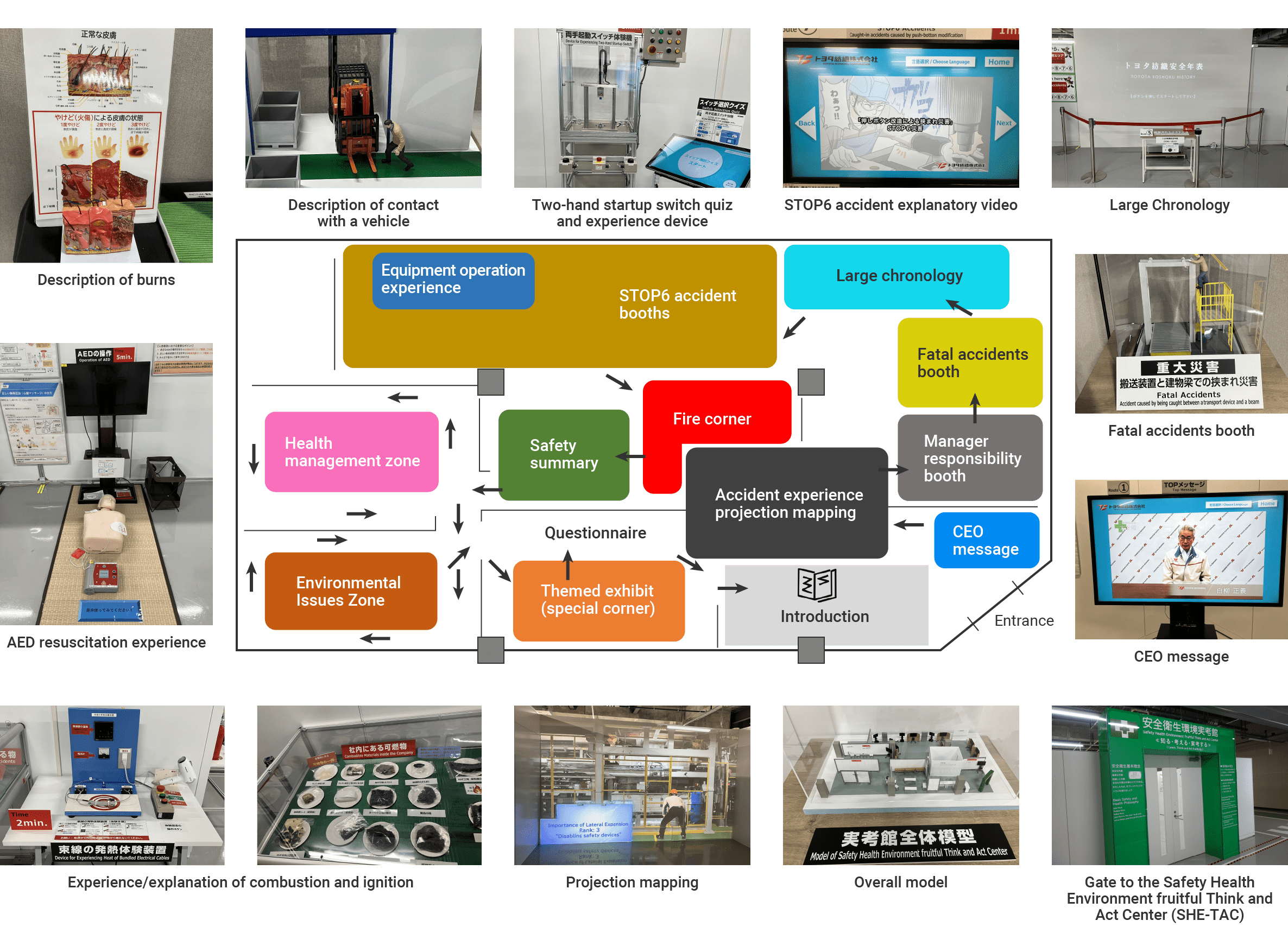 Ensuring safety in outsourced construction
Toyota Boshoku conducts activities together with the Toyota Boshoku Safety and Health Association (including 47 companies) with the aim of ensuring safe construction management where there is no fatal accident on premises for anyone.
Outsourced construction Patrol
Plant Safety & Health Administration, the Toyota Boshoku Safety and Health Association, and the Construction planning department work together, each taking their own role in outsourced construction patrol activities. Patrols don't simply involve identifying unsafe behavior, but also listening to concerns, and creating an even better environment for construction workers.
System for Construction Observer Qualification
Outsourced construction is observed and managed for safety by holders of internal qualifications, each of whom has received specialist training.
Observer training (recalling and reflecting training)
Goal: to improve observers' awareness of safety-related issues
Result: raising of danger awareness, identifying important issues for suppliers, cultivation of talented personnel capable of instilling caution
Examples:

Was the number of work supervisor appropriate?
Were the measures resulting from the risk assessments appropriate?
Do you know the appropriate way of using this protective equipment?
Safety Education Academy for Construction
The SEAC (Safety Education Academy for Construction) was launched in order to prevent accidents involving visitors and construction workers at our company sites. At the SEAC those in charge of construction work are offered the chance to handle equipment identical to those used in real worksites, and so get accustomed to the worksite environment. Participants who undergo this training develop a practical understanding of potential risks, and will be able to identify and perform kaizen on any issues or flaws they may encounter when actually visiting a worksite.
Comments from participants
It was a good experience for me because there are not many hands-on training programs that allow me to see and point out the actual worksite.
I strongly felt that I had to take into consideration the safety of not only myself, but also of the construction workers and others.
It was practical and easier to understand than just thinking only in my mind. It was helpful.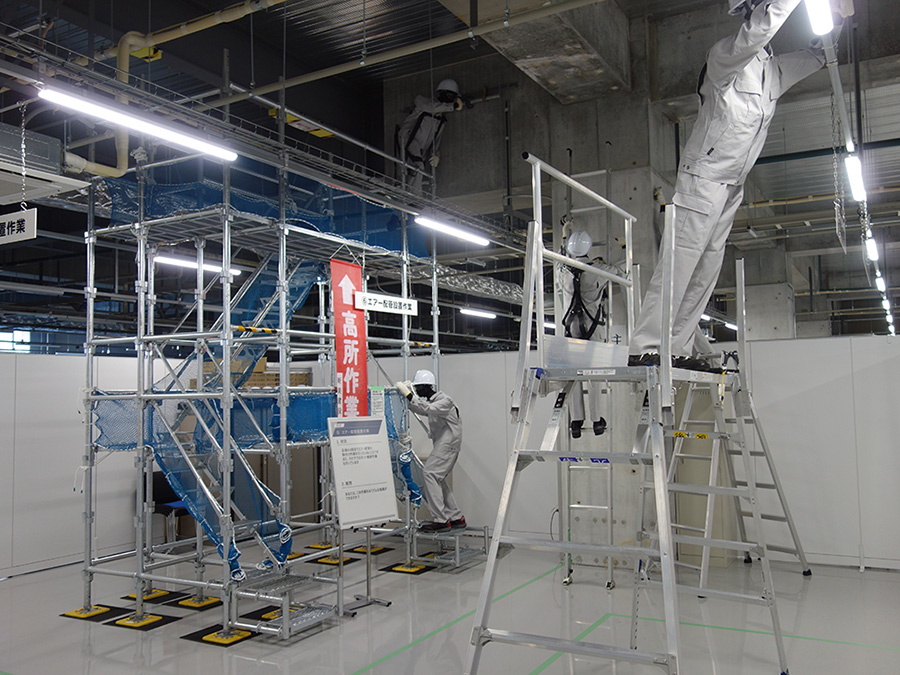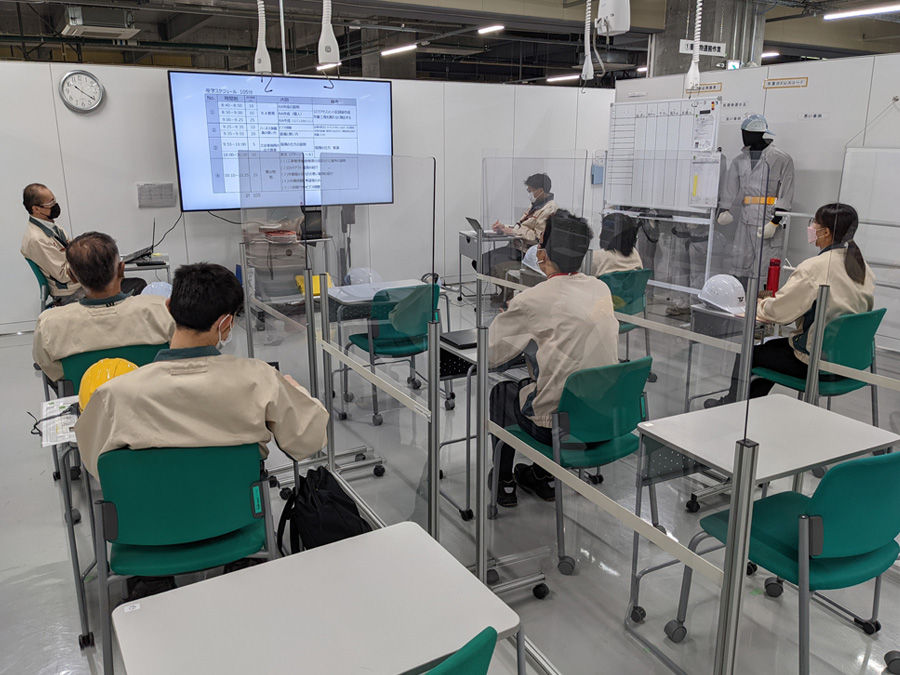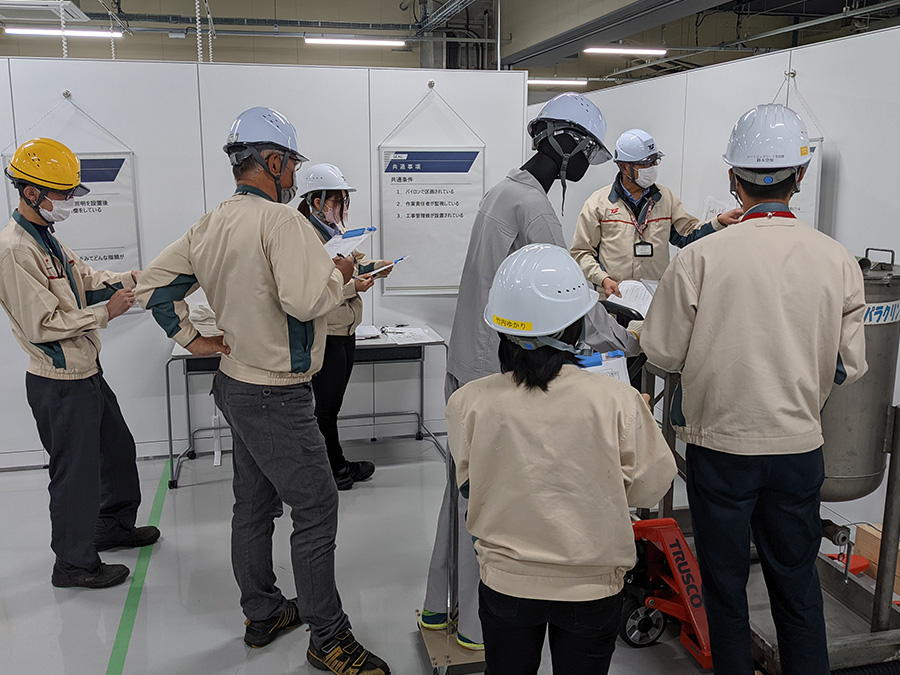 Introduction of Five-step Toolbox Meeting
We are introducing five-step toolbox meetings (TBM) with the aim of preventing accidents resulting from changes during construction or awkward-to-perform work.
Toolbox meetings consist of five meetings held throughout the day (after morning greetings, at 10am, after lunch, at 3pm, and after work has finished), which allows confirmation of the contents of work instructions, sources of potential danger, as well as changes to company members' physical conditions and other similar issues.

Fire Prevention
Past fires
At 2pm on April 29, 2018, a large-scale fire broke out at Tsutsumi Plant, causing a great deal of trouble and concern for the local community, our business partners and our shareholders. To ensure this kind of issue does not reoccur we hold the worldwide Toyota Boshoku Group Fire Prevention Day annually on April 29.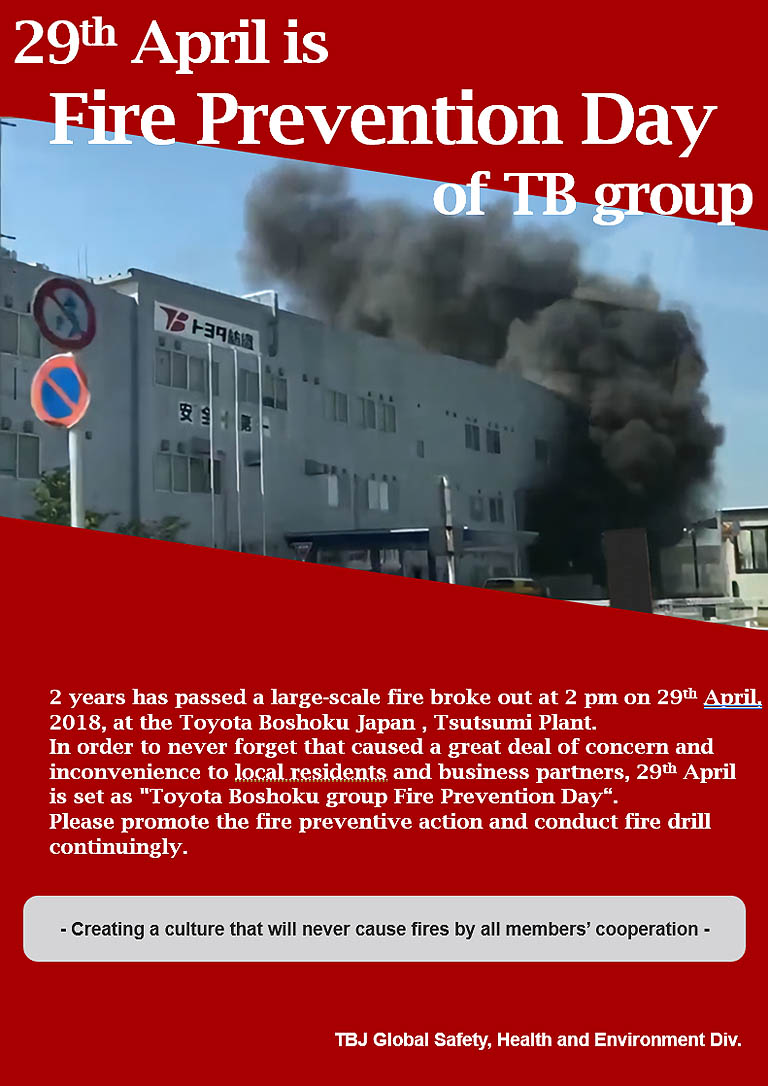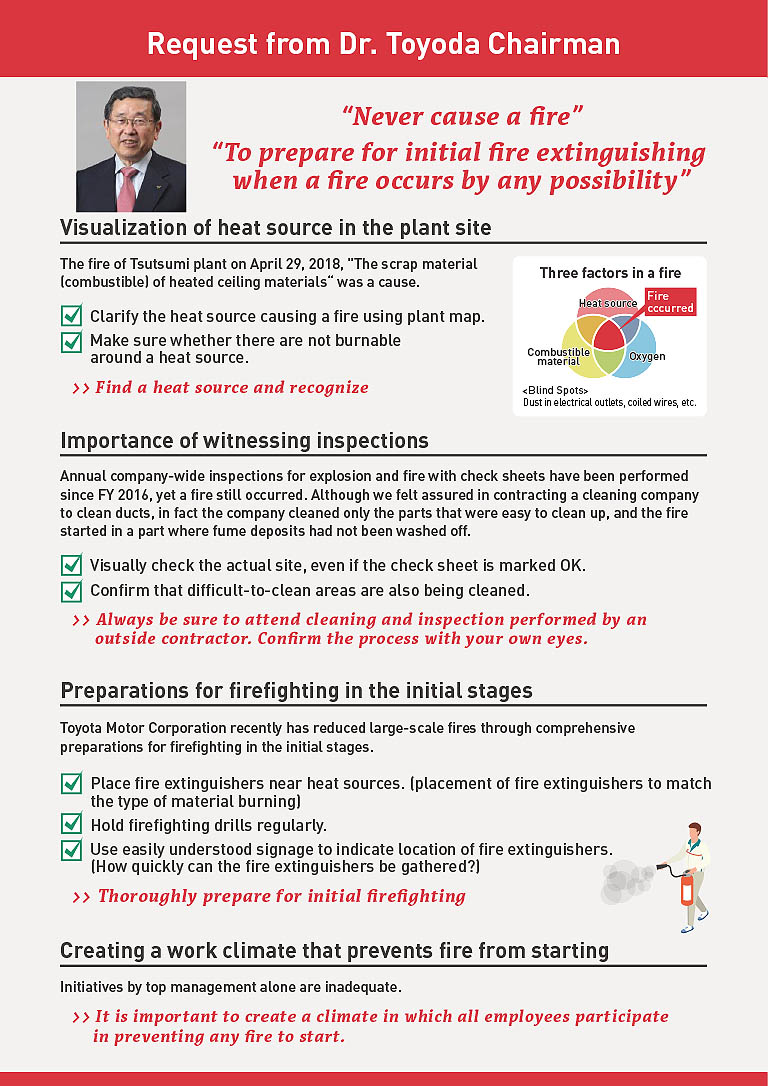 Fire safety inspections performed by top management
In response to the 2018 fire at Tsutsumi Plant, we have created heat source maps to identify any potential fire origin points for all our plants. Company presidents and chief plant general managers at all our plants, as well as at domestic affiliated companies, perform fire safety inspections on a continuous basis to check the handling and conditions of heat sources and other areas of potential danger.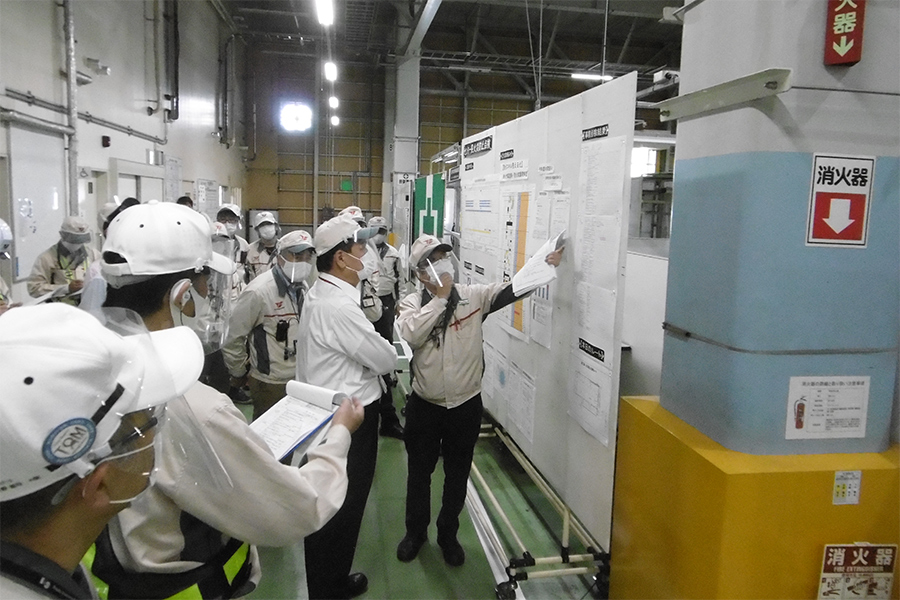 Fire extinguisher training using VR
When performing fire extinguisher training, there is naturally a limit to the number of fire extinguishers that can be made available. However, by making use of VR during training, we are able to increase the number of people participating in this important training.