Safety and Health
Our Basic Safety and Health Philosophy, and our Basic Safety and Health policy
Based on a Basic Safety and Health Policy, the Toyota Boshoku group implements safety and health activities as labor-management cooperative efforts in order to establish a corporate culture that places priority on safety and health at work. We also work globally to enhance safety and health at work through activities based on an Occupational Safety and Health Management System (OSHMS).
Furthermore, in order to absolutely prevent the occurrence of fires, we conveyed Toyota Boshoku's stance on fire prevention and conducted management-led inspection in each area, held emergency preparation drills using fire extinguisher and fire hydrants for all members, and worked to raise awareness towards fire prevents.
Basic Philosophy for Safety and Health
Safe work
Reliable work
Skilled work
Safe Work is "the gate" to all work
Let us pass through this gate
Basic Safety and Health Policy
To foster a "Safety First" culture, we declare that we will not produce, handle, transport, or dispose of products or materials unless people's safety & health, and the environment are protected. Additionally, we will conduct ourselves in line with the following basic principles.
Basic Principles
Policies for safety management
Don't hesitate to stop producing
It is impossible to produce without the solution of the safety problem.
Accident has to be "Zero" even if it is non-absence accident.
Safety is at the basis of the workplace.
Safety and Health Promotion System
CMO: Chief Manufacturing Officer
Safety and Health Activities Index
Accidents at Toyota Boshoku group over time
Frequency Rate (Lost time or above)
Promotion of Occupational Safety and Health Management System (OSHMS) Activities
Based on a Basic Safety and Health policy, in order to establish a corporate culture that places priority on safety and health at work, the Toyota Boshoku group is continuing labor-management consultations and cooperative efforts aimed at building a pleasant working environment that guarantees the safety and health of company members.
Due to the publishing of ISO 45001, and reforms to the Occupational Safety and Health Management System (OSHMS) enacted in July 2019, we amended the Toyota Boshoku Occupational Safety and Health Management System (Toyota Boshoku OSHMS) during the same year. Thanks to the Toyota Boshoku OSHMS, we are building a unified, more efficient Occupational Safety and Health Management System.
We are making improvements to occupational safety and health on a continuous basis, with the aim of making issues relating to occupational safety and health easier to grasp, as well as reducing both economic and human resource costs.
Building a safe working environment
Using risk assessment (machines & equipment, chemical substances, work) to build an environment that is kind to workers.
As part of Toyota Boshoku's Occupational Safety and Health Management System, we have introduced risk assessments for machines and equipment, chemical substances, and work operations, based on government guidelines regarding harmful or dangerous substances.
As a result, we are identifying possible sources of risk throughout the various steps of our manufacturing processes and taking measures to limit such risks to within acceptable limits, while enacting appropriate measures to manage any risks that remain.
Additionally, when installing new machines and equipment, company members with responsibility for production engineering, manufacturing, maintenance and safety make visits to the relevant manufacturers. We then perform checks based on the findings of previous risk assessments, while at all times carrying out uncompromising safety measures
These risk assessments are performed not only for the benefit of our company members, but also to address any possible risks that may be encountered by visiting customers or business partners.
Finally, we are also taking appropriate safety measures regarding conditions and quantity of all harmful chemical substances used in our production processes.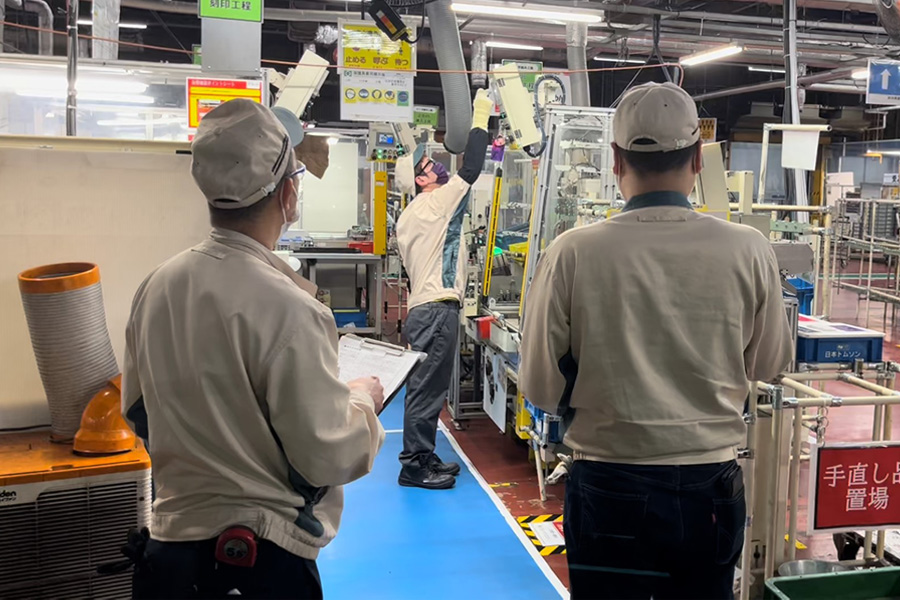 Safety Basic Behavior
In order to prevent occupational accidents, we believe it is important to foster good manners and morals among company members, and by doing so foster a culture where safety rules are followed instinctively.
As part of our efforts to do so, we continuously enforce the Toyota group-wide "Po-ke-te-na-shi" policy*, and are aiming to further raise awareness about safety through such means as in-person safety guidance activities and poster contests.
Additionally, we are distributing safety-promotion patches to be worn on company members' persons, with the aim of spreading further awareness and understanding in the workplace.
Five basic safety guidelines to prevent accidents while walking, including keeping hands out of pockets, and avoiding using one's phone while walking.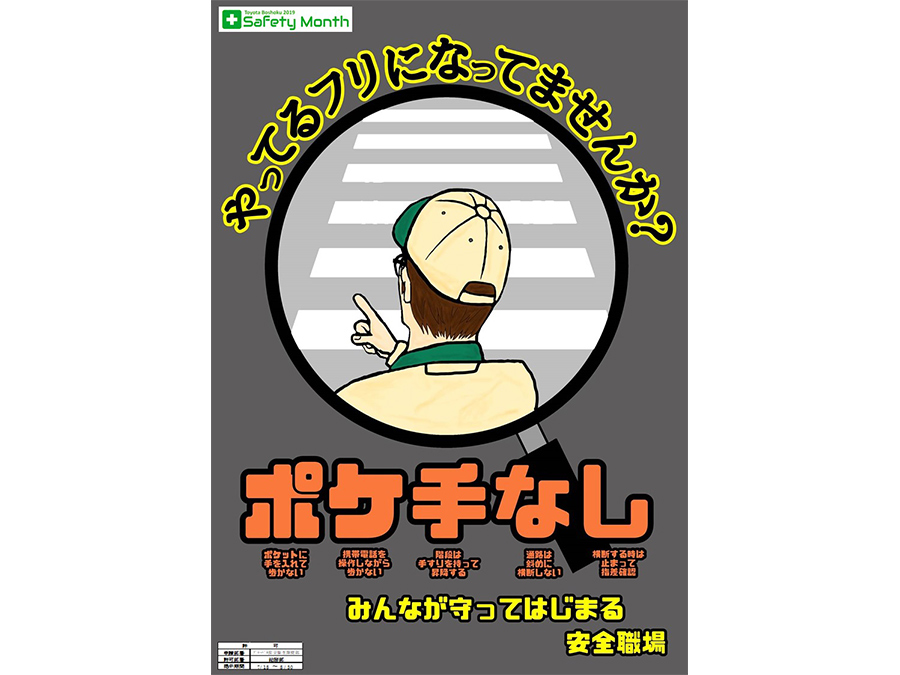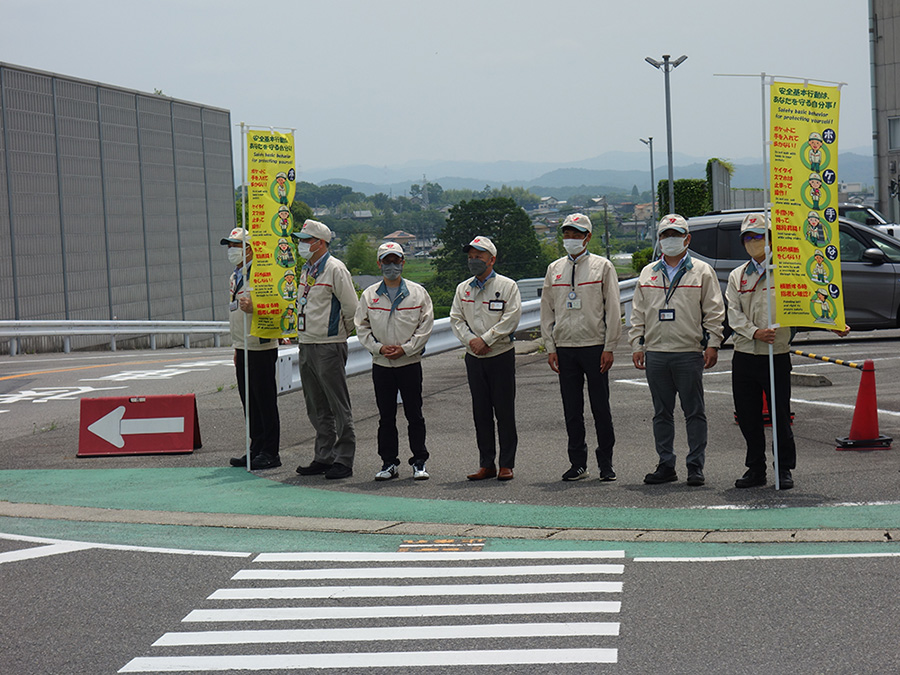 Safety Inspections
With the aim of preventing accidents, plant general managers have been performing safety inspections based on established safety standards throughout plants during FY2021, as well as implementing corresponding safety measures. These safety inspections involve simultaneously checking whether safety devices, protective fences, and protective covers are properly installed, and whether they are being utilized correctly.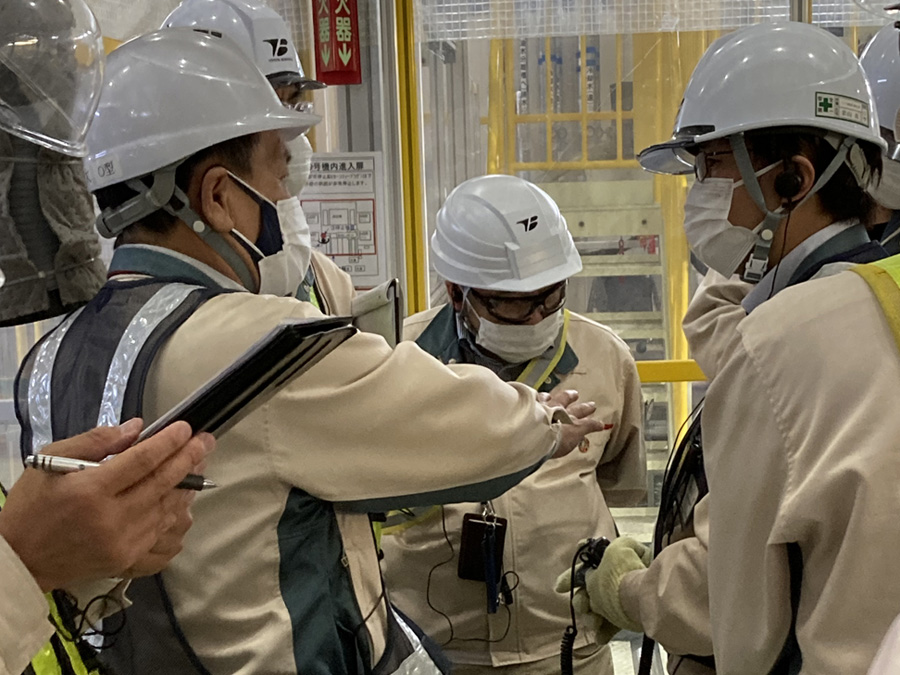 Fostering safety among company members
We believe education is vital for fostering safe behavior among company members.
In order to promote the development of human resources and workplaces in which fatal accident does not occur, the Toyota Boshoku group is systematically implementing relevant activities on a global scale, such as enhancing education for acquiring knowledge and skills, holding safety inspections, and conducting activities to entrench a culture of risk assessment.
Moreover, in FY2021, we established the Safety Health Environment fruitful Think and Act Center (SHE-TAC) within the MONOZUKURI Innovation Center with the aim of promoting the development of people who know the background and causes of past occupational accidents, consider countermeasures, take individual responsibility for matters of safety, and take initiative to implement preventive measures..
The Safety Health Environment fruitful Think and Act Center (SHE-TAC) fosters the development of safety and accident prevention-focused company members, carrying out training at various levels, including for newly-hired and newly-promoted company members.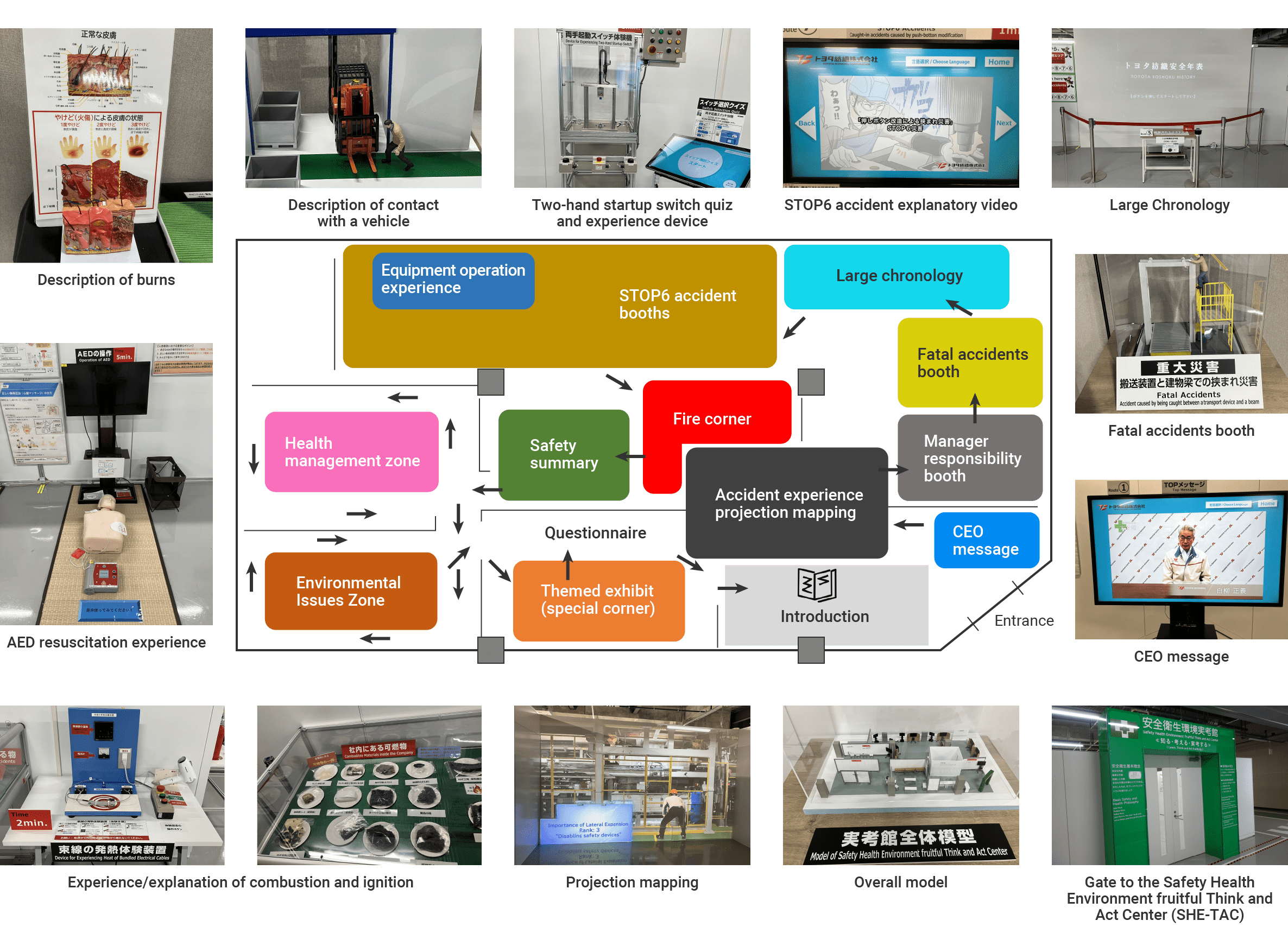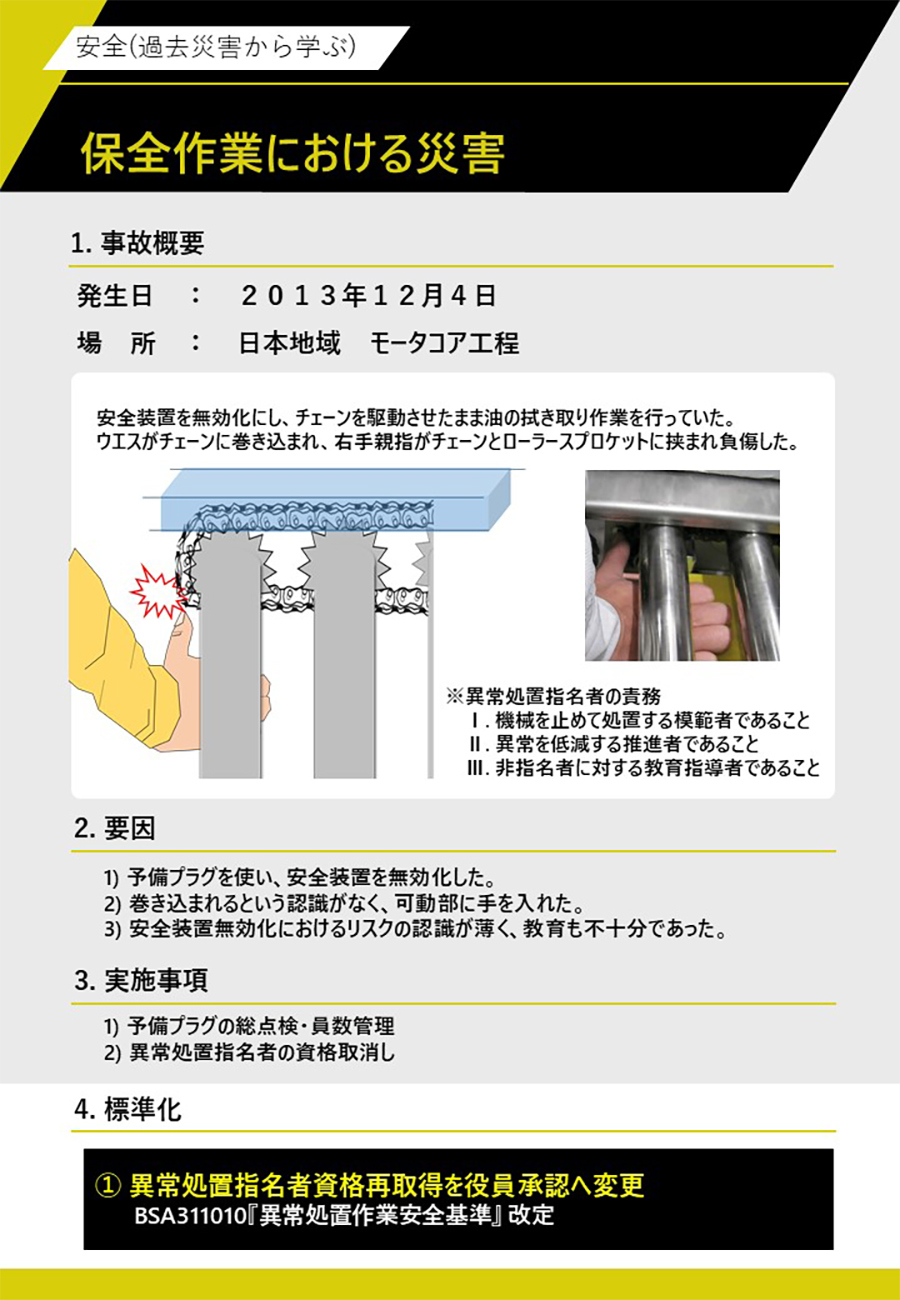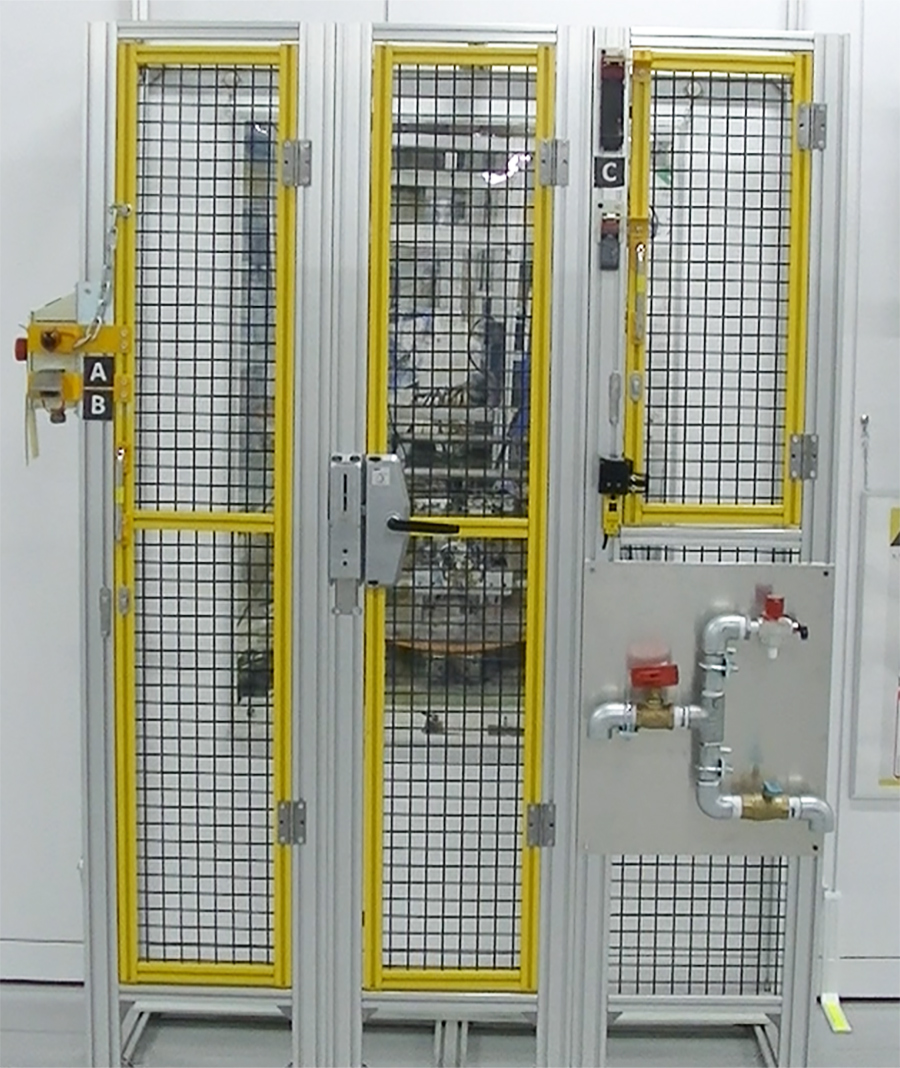 Ensuring safety in outsourced construction
Toyota Boshoku conducts activities together with the Toyota Boshoku Safety and Health Association (including 47 companies) with the aim of ensuring safe construction management where there is no fatal accident on premises for anyone.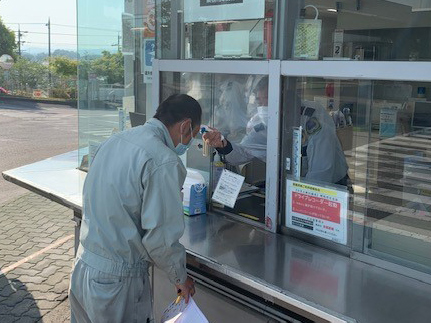 Information sharing in Toyota Boshoku Safety and Health Association
In order to improve safety, a total of 47 companies jointly operate the Toyota Boshoku Safety and Health Association. Information is shared, and concerns discussed at workshops held twice annually and large-scale safety events held before lengthy holiday periods, with the aim of sustaining joint awareness of the necessity of preventing any and all accidents.
Outsourced construction Patrol
The Safety and health executive office, the Toyota Boshoku Safety and Health Association, and the Construction planning department work together, each taking their own role in outsourced construction patrol activities. Patrols don't simply involve identifying unsafe behavior, but also listening to concerns, and creating an even better environment for construction workers.
System for Construction Observer Qualification
Outsourced construction is observed and managed for safety by holders of internal qualifications, each of whom has received specialist training.
Observer training (recalling and reflecting training)
Goal: to improve observers' awareness of safety-related issues
Result: raising of danger awareness, identifying important issues for suppliers, cultivation of talented personnel capable of instilling caution
Examples:

Was the number of work supervisor appropriate?
Were the measures resulting from the risk assessments appropriate?
Do you know the appropriate way of using this protective equipment?
Introduction of Five-step Toolbox Meeting
We are introducing five-step toolbox meetings (TBM) with the aim of preventing accidents resulting from changes during construction or awkward-to-perform work.
Toolbox meetings consist of five meetings held throughout the day (after morning greetings, at 10am, after lunch, at 3pm, and after work has finished), which allows confirmation of the contents of work instructions, sources of potential danger, as well as changes to company members' physical conditions and other similar issues.

Fire and disaster prevention initiatives
Past fires
At 2pm on April 29, 2018, a large-scale fire broke out at Tsutsumi Plant, causing a great deal of trouble and concern for the local community, our business partners and our shareholders. To ensure this kind of issue does not reoccur we hold the worldwide Toyota Boshoku Group Fire Prevention Day annually on April 29.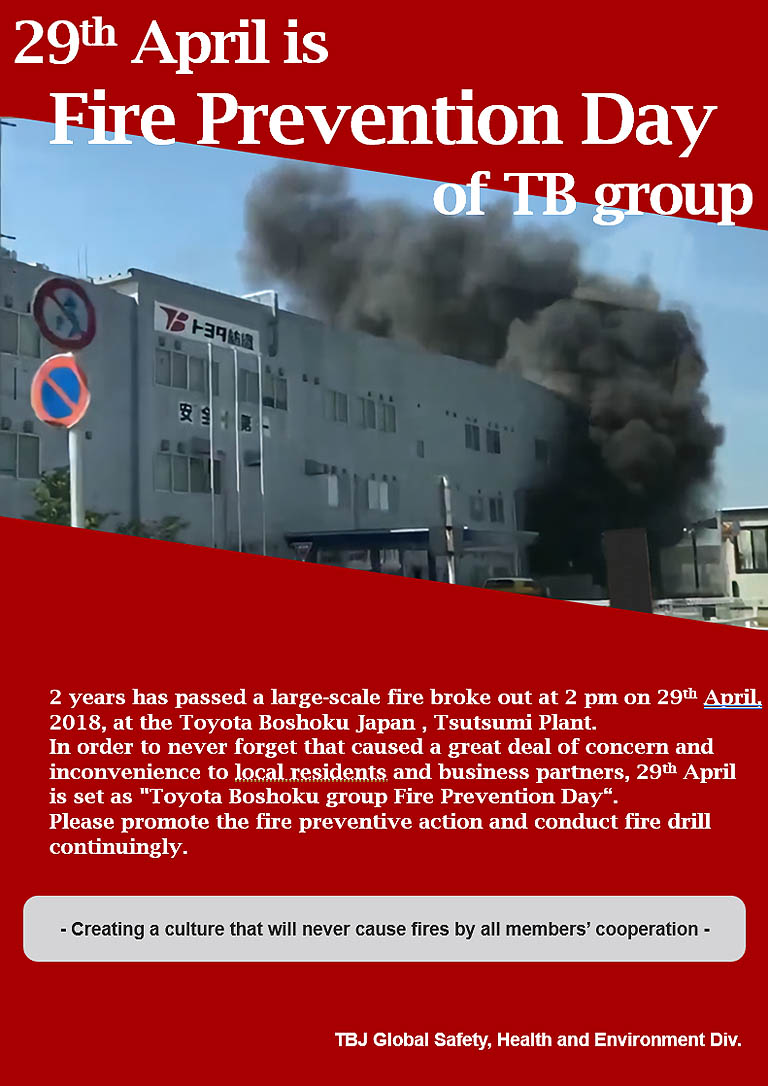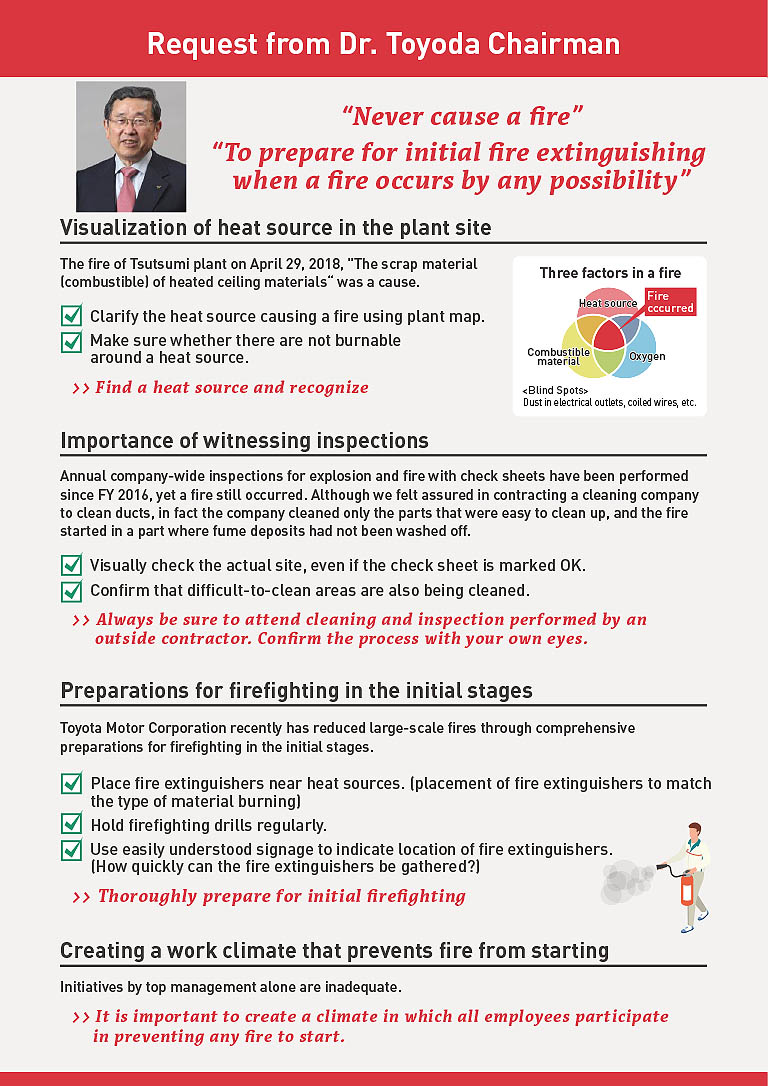 Fire safety inspections performed by top management
In response to the 2018 fire at Tsutsumi Plant, we have created heat source maps to identify any potential fire origin points for all our plants. Company presidents and chief plant general managers at all our plants, as well as at domestic affiliated companies, perform fire safety inspections on a continuous basis to check the handling and conditions of heat sources and other areas of potential danger.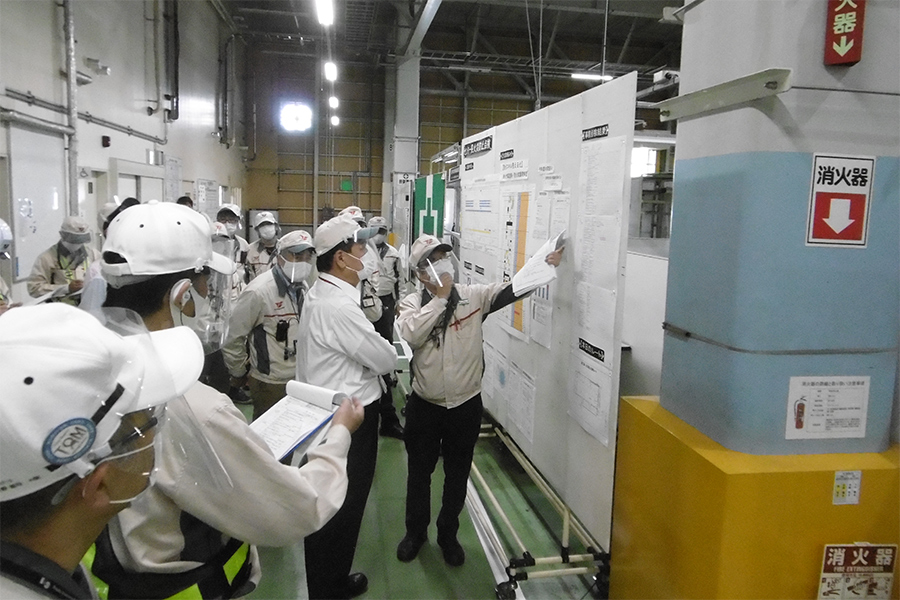 Firefighting training
Firefighting training is performed at each of our plants on an annual basis. Using the 2018 fire at Tsutsumi Plant as an instructional example, during the FY2019 and FY2020 Global Weeks* leaders, management, and staff in charge of safety at overseas business sites performed firefighting training. This led to a better awareness of the difficulty and importance of initial fire response, which could be taken back with them to their respective business sites.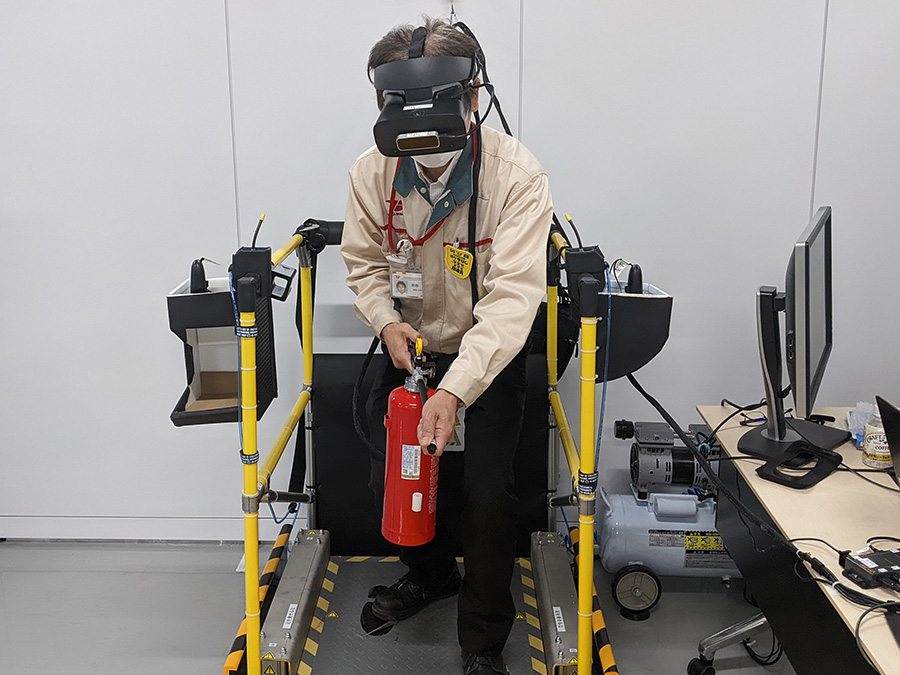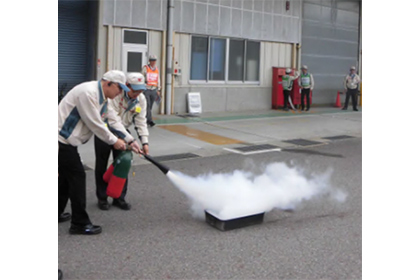 Top management, as well as the next generation of leaders, from different countries and regions meet in person to discuss issues affecting the Toyota Boshoku group, as well as its future direction.
Our Basic Health Management Policy
We understand that promotion of improved health among our company members is an important corporate issue. Thus, in 2019 we established and released the Toyota Boshoku Health Declaration with the aim of promoting health-improving activities on a mid-term basis.
Labor and management will continue working together to build a corporate culture and working environment where company members can perform their work with more energy and more ease, and can stay healthy in all aspects of their lives.
Our Health Management Promotion System
We have long been promoting health management, with the CEO holding chief responsibility for such issues. However, in order to spur further health-related activities throughout the company we have reformed our health promotion system and appointed a Health Activities Promotion Leader for each division.
At safety, health and environment meetings, as well as COVID-19 countermeasure meetings, we share information concerning health management promotion with overseas business entities and affiliated companies. Additionally, we are working hard to strengthen our cooperation with labor unions and external organizations.
The four entities which make up the Promotion Division (the Vibrant Global Health & Safety Division, the Vibrant Global HR Development Division, the Global Management Strategy Division and the Health Insurance Association) have had their respective roles clearly defined, and hold periodic meetings to ensure both that we engage in initiatives in line with our targets and yearly plans, and that we are continuing to build an environment where people can lead healthy lives, and continue performing their work with energy and with ease.
Employee Assistance Program: a program that supports company members in dealing with issues which affect productivity.
Our Health Management Strategy
Health Management Targets
To enable each and every company member at Toyota Boshoku to perform at their best, we have defined the Health Challenge Eight—eight items which can affect a company member's productivity, as well as their physical and mental health.
Setting a company-wide average score of 5 as our Health Challenge Eight target, we are continuing with measures to both improve awareness and encourage healthy activity among individuals, as well as improve productivity and reduce health risks.
The eight items of Health Challenge Eight:
① BMI: less than 25%
② Breakfast: eating breakfast every day
③ Alcohol: no drinking, or at most one drink a day
④ Snacking: limiting snacking after dinner to twice a week or less
⑤ Smoking: not smoking
⑥ Exercise: 30 minutes or more of exercise at least once a week
⑦ Sleep: sufficient, good-quality sleep
⑧ Stress: not being affected by high stress
Succeeding at one item gives one point
Analyzing company members' Health Challenge Eight scores along with health checkup results and productivity-related index of presenteeism*, it can be seen that individuals with a higher average Health Challenge 8 score performs better, and have overall better health.
Being unable to perform to one's full ability due to working while dealing with health problems, leading to a loss of productivity
◆ Learning from the results of the April-July 2021 Health Challenge Eight survey
The company-wide average score was 4.54 points (i.e. succeeding at, or meeting the criteria for 4.54 of the 8 items)
The Health Challenge Eight score linked to health checkup results showing no health issues is 5.04 points or above
A Health Challenge Eight score that would improve the company-wide average 37.96% loss of productivity resulting from presenteeism is 5 points or above.
Health checkup x Challenge Eight score
Ratio of presenteeism-induced loss, categorized by Challenge Eight score
Health Management Strategy Map
We performed a detailed cross examination of the above analysis and the eight items of Health Challenge Eight, along with the results of health checkups and stress checks. From the resulting data we found that the items which affect both productivity and health check results were stress, sleep, eating habits and exercise habits. As a result, in the future we will prioritize engaging with these points, and are already promoting activities in line with our new strategy map, which can be seen below.
Data confirmation
Results of stress check, morals survey and vibrant KPI
Results of health checkup survey and interview
Cultivating Healthy People, Building a Culture of Health
Certified as an Excellent Enterprise of Health and Productivity Management
Our aim is for all company members to be able to live in complete physical and mental health, both during their career and after retirement. As such, we are engaging in activities to cultivate healthy people and build a culture of health. Our occupational physicians and health promotion staff work together to provide physical and mental health support to all company members.
These activities were evaluated, and in FY2022 Toyota Boshoku was recognized in the large enterprise category of the 2022 Certified Health and Productivity Management Organization Recognition Program (White 500).
At this point in time, group companies are also engaging in their own activities, certified as a Health and Productivity Management Organization Recognition Program : large enterprises Toyota Boshoku Kyushu and Toyota Boshoku Tohoku, as well as small-to-medium enterprises Toyota Boshoku Shiga, TB Corporate Service, TB Engineering, ARACO,TB SEWTECH Tohoku, Technogreen, TB Kawashima, and Toyota Boshoku Health Insurance Association.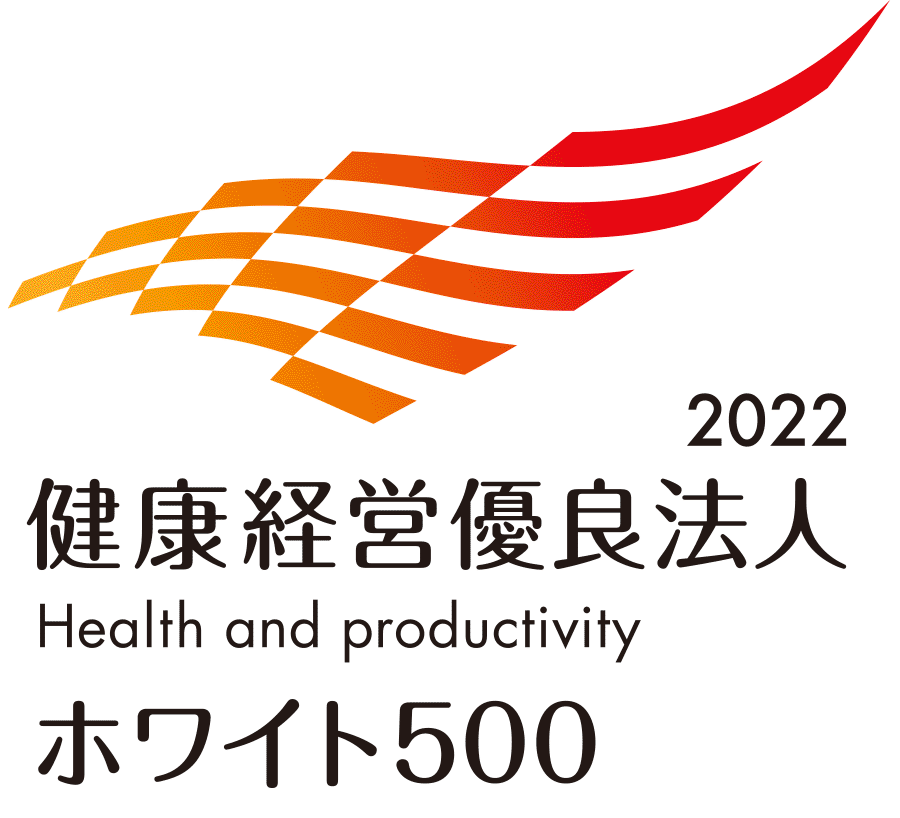 Cultivating Good Mental Health
Activities to cultivate good mental health
At Toyota Boshoku, we engage in mental health education for new company members, as well as for newly promoted managers and supervisors. We also offer support for company members when taking a leave of absence, and when later returning to work. Additionally, we operate both internal and external consulting services, and are working to coordinate with human resources to engage in activities designed to maintain good mental health among our company members.
Since FY2017 all Toyota Boshoku company members receive an annual mental health check. We run in-person meetings and other forms of counselling for high-stress individuals, and make great efforts to prevent mental health issues from arising. Our internal counselling psychologist works together with external organizations, and support the promotion of actions to improve the workplace.
From the stress check results, it can be seen that matters such as the proportion of high-stress individuals and stress response*1 have continually not been a major issue.
The deviation value for engagement*2 in 2016 was a relatively low value of 45. However, we have been engaging in mental health care activities based around the central principle "thorough self-care, regardless of employment rank." This has gradually improved the deviation value over time, resulting in a value of 48 in 2021. We aim for a relationship where company member and organization can work as one—pushing each other forward, growing together, and contributing to mutual success. We are continuing with activities to build such a relationship, and are committed to further improving our engagement results.
We understand that a company member whose physical or mental health is suffering will not be able to make full use of their abilities. As such, we began measuring presenteeism in FY2022 in order to support each company member in performing to the best of their abilities. Presenteeism refers to a state of affairs where a company member is able to come to work, but due to health issues is unable to perform to the best of their abilities. It is expressed as the rate of lost productivity. Aiming to improve the problem of presenteeism, we are continuing support designed to promote and maintain good physical and mental health among our company members.
The long-term changes and restrictions to the way people live and work resulting from COVID-19 have had considerable effects on people's mental health, and we are working together with external organizations to engage in support measures to help company members feel less isolated. Some examples of these are our Supporters Letter, our Counselling Service and our posting of videos to help company members address issues of isolation. Since many aspects of mental health cannot merely be given a numerical value, we will continue our practice of listening closely and genuinely to our company members, and supporting them as much as possible.
Deviation value of psychological and physical conditions relating to stress, based on stress check answers
Company members' positive feelings and emotional attachment towards the company
Stress check response rate [Toyota Boshoku]
| Fiscal year | 2017 | 2018 | 2019 | 2020 | 2021 |
| --- | --- | --- | --- | --- | --- |
| Stress check response rate (%) | 90.5 | 92.3 | 95.8 | 96.5 | 95.5 |
Changes in stress response (deviation value) [Toyota Boshoku]
| Fiscal year | 2017 | 2018 | 2019 | 2020 | 2021 |
| --- | --- | --- | --- | --- | --- |
| Changes in Stress Response | 55 | 54 | 54 | 54 | 55 |
Scaled to a mean of 50, with higher values indicating a better result
Percentage of company members with high stress [Toyota Boshoku]
| Fiscal year | 2017 | 2018 | 2019 | 2020 | 2021 |
| --- | --- | --- | --- | --- | --- |
| Percentage of company members with high stress (%) | 3.6 | 4.5 | 5.4 | 5.2 | 4.3 |
Number of company members newly absent for a prolonged period, categorized by age (at least three months consecutive absence)
Mental health-related illness [Toyota Boshoku]
Number of people
| Year | 2016 | 2017 | 2018 | 2019 | 2020 |
| --- | --- | --- | --- | --- | --- |
| 29 years old and below | 9 | 7 | 5 | 8 | 15 |
| 30-39 years old | 16 | 23 | 14 | 19 | 19 |
| 40-49 years old | 23 | 22 | 32 | 31 | 26 |
| 50 years old and above | 12 | 13 | 19 | 23 | 22 |
| Total | 60 | 65 | 70 | 81 | 82 |
Engagement (deviation value) [Toyota Boshoku]
Fiscal year
2018
2019
2020
2021
Engagement
(deviation value)
46
46
47
47
Scaled to a mean of 50, with higher values indicating a better result. We aim to reach a deviation value of 50 by 2025.
Presenteeism (rate of lost productivity) [Toyota Boshoku]
Fiscal year
2018
2019
2020
2021
2022
Presenteeism
(rate of lost productivity)
-
-
-
-
37.9
Collection of data began FY2022
WHO-HPQ (Health and Work Performance Questionnaire)measures absolute presenteeism.
"Presenteeism" refers to a state of affairs where a loss of productivity occurs as a result of a company member's ability to work being impacted by health issues. Our aim is to reach 35% or lower by FY2026.
Absenteeism (absence from work due to injuries or sickness) [Toyota Boshoku]
| Year | 2016 | 2017 | 2018 | 2019 | 2020 |
| --- | --- | --- | --- | --- | --- |
| Absenteeism (days) | 2.8 | 3.1 | 3.1 | 2.7 | 2.7 |
Company member-wide average number of days or work missed due to injuries or sickness
Cultivating Good Physical Health
Health checkups held for all company members
Toyota Boshoku Group promotes holding health checkups at all business sites, and since FY2017 it is possible to receive a health checkup at every single Toyota Boshoku Group business site.
In response to a 2019 Ministry of Health, Labour and Welfare directive, we revised our internal regulations, and from 2020 carry out special health checkups for company members targeted by this directive - that is, company members who work with information technology.
In the future we will continue our health awareness activities, as well as follow-ups held in infirmaries and in the workplace, aiming for a 100% vaccination rate among company members in regions where receiving a health checkup is not mandatory.
Rate of company members receiving health checkups [Toyota Boshoku Group]
| Fiscal year | 2017 | 2018 | 2019 | 2020 | 2021 |
| --- | --- | --- | --- | --- | --- |
| Rate of company members receiving health checkup (%) | 100 | 100 | 100 | 100 | 100 |
Rate of company members receiving detailed examinations after general health checkup [Toyota Boshoku]
| Fiscal year | 2017 | 2018 | 2019 | 2020 | 2021 |
| --- | --- | --- | --- | --- | --- |
| Rate of company members receiving detailed examinations after general health checkup (%) | 91.5 | 90.5 | 82.4 | 94.7 | 84.4 |
Health-related guidance is given to 100% of company members whose health checkup results identify possible health issues
Number of company members newly absent for a prolonged period, categorized by age (at least three months consecutive absence)
Physical health-related illnesses [Toyota Boshoku]
Number of people
| Year | 2016 | 2017 | 2018 | 2019 | 2020 |
| --- | --- | --- | --- | --- | --- |
| 29 years old and below | 1 | 3 | 4 | 2 | 1 |
| 30-39 years old | 2 | 2 | 5 | 5 | 3 |
| 40-49 years old | 8 | 6 | 14 | 13 | 10 |
| 50 years old and above | 8 | 7 | 18 | 19 | 22 |
| Total | 19 | 18 | 41 | 39 | 36 |
Anti-smoking activities
31.7% of Toyota Boshoku company members smoke, which is higher than the national average (16.7%, in 2020). Understanding that this carries risks of future smoking-related illness among company members, activities to reduce the rate of smoking have become an important focus for us. We are currently considering enforcing a no smoking policy across the entirety of Toyota Boshoku premises by FY2026.
Other anti-smoking activities involve establishing an anti-smoking calendar complete with non-smoking days, providing nicotine patches to company members, and assisting company members in attending outpatient appointments with doctors to help quit smoking. As well as this, we run Quit Smoking Marathons, where company members who smoke are paired with a supporter, and challenge themselves to avoid smoking. Round one involves going 60 days without smoking, round two involves another 60 days, with round 3 involving 90 days without smoking, for a total of 210 days. Supporters provide support, including checking daily whether their partner is continuing to avoid smoking. Company members who manage to avoid smoking, as well as their supporters, are presented with presents based on the number of days they continue to avoid smoking. Since the FY2015 Quit Smoking Marathon, a total of 119 pairs have taken part. On average 70–100% of pairs succeed at refraining from smoking. Company members who were able to quit smoking gave positive reports, such as: "Thanks to my partner's support I was able to avoid smoking, even when I struggled with my personal motivation to quit smoking."
By continuing with this kind of anti-smoking support, we aim to reduce the rate of smoking among company members to 28% or less by FY2026.
Smoking rate [Toyota Boshoku]
Initiatives to prevent lifestyle diseases
"Lifestyle disease" is a general term for diseases caused by poor eating habits, insufficient exercise, excessive stress, alcohol consumption, smoking, or other poor lifestyle habits. Medical conditions classified under the term metabolic syndrome, such as obesity, high blood pressure and diabetes, are defined as lifestyle diseases.
Toyota Boshoku's initiatives to prevent lifestyle diseases see us engaging in the following health-cultivating activities, with the aim of establishing good lifestyles among our company members.
Health management using smartphones
We make use of the smartphone app PepUP to support health activities. We encourage company members to take part through an incentive system, and as of April 2021 there are a total of 2,303 registered users.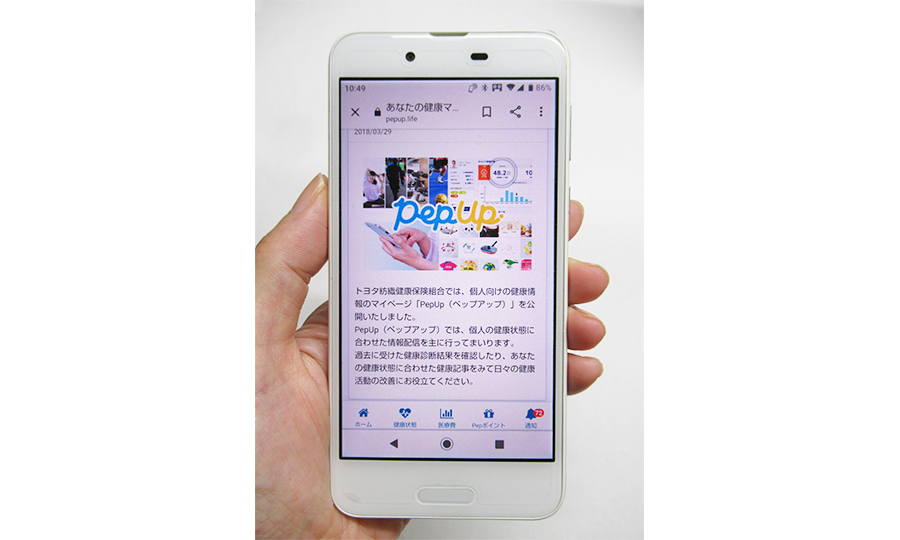 Fitness lessons
After-hours fitness training is held by external trainers twice annually. Serving as both an opportunity to build awareness around healthy lifestyles, and an impetus to get healthy, these fitness lessons help company members prevent lifestyle diseases, and work towards achieving their ideal body.
Due to the impacts of COVID-19, assembling large numbers of company members in one place for lessons has become a long-running issue. Additionally, the pandemic has led to wide-scale negative health impacts among company members, such as weight gain, worsening health checkup results and increases in feelings of anxiety, with many company members discussing their desire to reverse the trend of decreased physical activity.
In response, we have posted health-related columns and fitness videos on the company's intranet. This content draws approximately 700 viewers per month, pointing to true interest and engagement among staff.
Keeping a close eye on both COVID-19 infection numbers and the progress of vaccinations, we are aiming to reopen in-person fitness lessons as soon as is practical, and are currently making the necessary preparations to do so.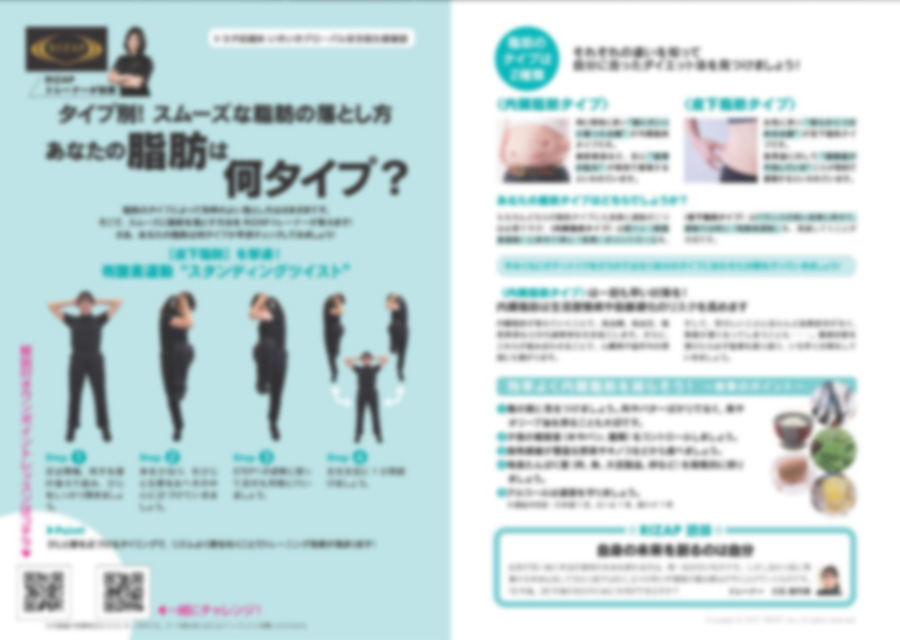 Light exercise seminars
A seminar is held once annually at workplaces by external fitness instructors, who coach company members in light exercise. In FY2021 32 departments took part in these seminars.
Health seminar for 35 year-old company members
We hold health seminars for 35 year-old company members in order to improve health literacy and prevent worsening of health checkup results. These put particular focus on blood sugar levels, including teaching about the mechanism linking damage to blood vessels caused by onset of diabetes or high blood sugar levels with heart attacks and strokes. 90% of participants have given positive feedback, such as "It really helped improve my understanding of health" and "It changed the way I think about my health".
Analysis of health checkup data revealed that company members' results generally begin worsening between 25 and 29 years old. As a result we are making efforts to improve pre-existing training for new company members, as well as introducing new seminars for 28 year-old company members. Through these we will support company members to improve and maintain their health from an early stage.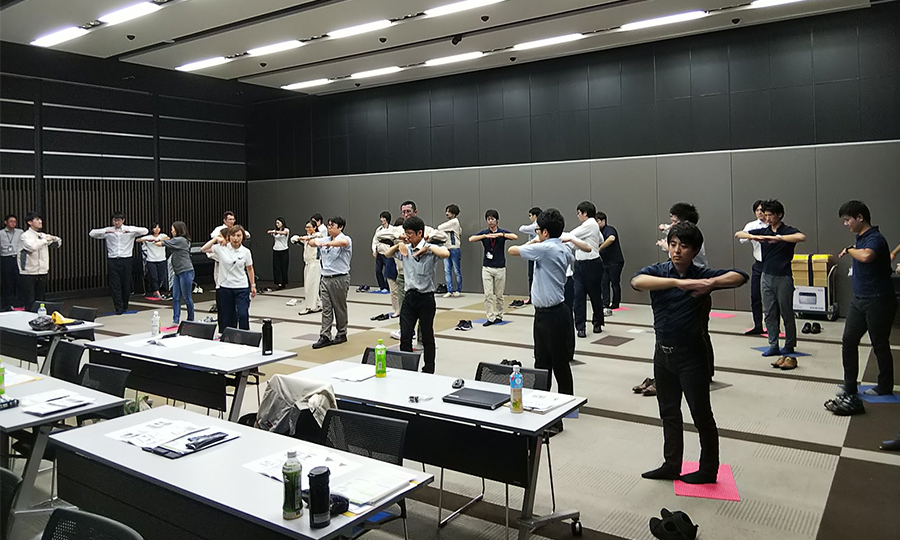 Women's health seminars
We hold seminars for learning about women's medical issues, such as breast cancer and menopause, as well as how to deal with these issues, and approaches to maintaining hormonal balance. The contents of these seminars are designed to respond to the needs of female company members, helping ease health issues uniquely faced by women, and supporting company members in leading high-quality, comfortable lifestyles.
COVID-19 measures
The Toyota Boshoku group has taken effective measures to manage and overcome epidemics in the past, including swine influenza and SARS. With COVID-19 we are doing just the same by taking measures to prevent infection among company members, and to stop the spread of the virus both within the Toyota Boshoku group and our local communities.
Definition of standards
Setting out and development of the COVID-19 response manual
Revision and further developed of the manual in response to changes in national and local government policy
Environmental improvements
Daily mask wearing requirement
Simultaneous wearing of face shield, where working environment conditions permit
Thorough outfitting and maintenance of room ventilation
Use of humidifiers and circulators where conditions permit, as well as ventilation and prevention of dry conditions
Limits to number of people in areas such as meeting rooms, elevators, cafeterias, and break rooms, as well as thorough compliance with such limits
Thorough daily cleaning and sterilization
Social distancing requirements, and installation of clear plastic barriers
Encouragement of working from home and staggered working hours
Enactment of "No Touching" measures
Transmission of messages to encourage caution through the safety confirmation system every Friday
Furnishing of special temporary housing for infected company members who must recover at home
Lending pulse oximeters to company members recovering at home
Anti-infection measures and traceability
Implementation of official numbering for smoking areas
Use of card readers to record trips taken on commuting buses
Central management of data for daily body temperatures and cafeteria usage in one shared system
Mandatory requirement of submission of 2-week follow-up forms for infected people, people in close contact with infected people and people reporting ill health, as well as central management of this data
Making workplace vaccinations available to all staff who wish to receive vaccines
Making PCR test kits available to staff in close contact with infected people who are unable to receive a COVID-19 test at a clinic
Information sharing with other companies
We are members of the All-Toyota COVID-19 Response Liaison Committee, and share situational information with other members. Good examples are incorporated into our manual
Our management report is prepared and adjusted based on this manual
Global information organization
Sharing of cluster definition between regions
Expansion of effective COVID-19 measures to other regions
Servicing of infrastructure for teleworking promotion
Strengthening of our IT tools, outfitting a working environment suitable for home working.
Community contribution activities
Our donations of masks and face shields to both regional governments and medical organizations has been recognized, and we have received an official letter of thanks from the Minister of Economy, Trade and Industry for our contribution towards increased production of medical supplies.