Human Resources Development
Basic stance
The Toyota Boshoku group is aiming to realize the status in which diverse human resources are drawn by the appeal of our group, with company members working vibrantly in all regions worldwide. We promote efforts to create a workplace in which all members in the group feel that they are part of "One Team" and can work with pride and dreams, and enjoy their job. The Toyota Boshoku group aims to grow toward our goal of enhancing corporate value together with all company members.
Global HR strategy
For the Toyota Boshoku group, an organization with many locations worldwide, a human resources (HR) strategy aimed at securing, assigning and fostering talents who can realize our growth strategy is a critical management challenge. We aim to recruit human resources with administrative and technical skills, specialized skills and advanced expertise; assign them to appropriate positions; and make sure they are compatible with our growth strategy in accordance with our "global medium-term HR plan" that looks ahead to fiscal 2026. This policy supports the development of business.
Our Global HR Platform seeks to harmonize competencies and job sizes of supervisory and management members and make the most of the merits of each. Through this platform, we can realize the optimal global allocation of human resources and promote their development in order to maximize global organizational capabilities.
Application of Global HR Platform
Global HR Platform
From fiscal 2021, we switched to a hybrid system that compensates company members based on their competencies and job sizes. Positions with a high level of responsibility receive higher compensation regardless of competency grade, making it easier to appoint the right people to the right positions, including the rapid promotion of younger talents. This has enhanced our organizational capability to respond to new management challenges.
Number of management positions globally
| Fiscal year* | 2018 | 2019 | 2020 | 2021 | 2022 |
| --- | --- | --- | --- | --- | --- |
| No. of users under the Global HR Platform | 1,301 | 1,353 | 1,377 | 1,381 | 1,411 |
Totals are stated as of April 1 of the following fiscal year
Proper manpower control, organization building, and human resources development
"We will nurture every individual in the Toyota Boshoku group, make maximum use of their competencies, and achieve the optimum results as an organization by having an appropriate organizational structure and span of control." We have been developing the systems to achieve these goals. In particular, in the area of building an appropriate organization, we employed our management span of control guidelines and organizational templates, and have been aiming to continuously standardize and streamline the organization since our organizational reviews in fiscal 2021 and 2022, including affiliates from countries other than Japan and domestic affiliates.
In fiscal 2022, round-table discussions were held between the company president and young members of staff, with space for questions about the company's activities in response to social changes, and discussions designed to foster a pleasant working environment.
We are currently continuing to implement human resources development and allocation, systems for building an appropriate organizational structure, and manpower planning that we have developed to date, while focusing on the following two points, especially in regard to human resources development.
First, to establish a process for ensuring that the skills necessary for business execution are properly developed by enhancing and strengthening the links between the division of duties, important requirements for posts, skill maps, and development plans at an individual level.
Second, to ensure that the department managers and direct supervisors think through the development plan and how it is implemented, assign challenging tasks, and develop talents together with senior company members in the workplace.
Through these efforts, we will continue to foster a culture of on-the-job training where each member can grow and maximize their competencies.
As well as this, we will promote diversity through the cross-regional appointment of executive candidates based on discussions at the GSCT*1 and GSC*2, as well as the development of these talents in global executive training programs (GEDP*3 and GLDP*4).
Global Succession Committee by Top Executives: Executive management successor development committee comprising members at the CXO level and above
Global Succession Committee: Global key post (site chief, director, division chief, etc.) successor development committee comprising members at the segment chief and field chief level and above
Global Executive Development Program: Selective training for mid-level executives
Global Leader Development Program: Selective training for key talents and young executives
Specialized Skills related education
The Technical Skills Training Center supports improvement of workplace capabilities by providing knowledge-based education and practical training in order to develop members who can achieve a high level of safety, quality, delivery, and cost performance on a global level.
One specific example of our activities would be the classroom training we offer on Safety, Quality, Toyota Production System (TPS), and TPM*1 as part of Technical Skills Acquisition training, and Safety Sensation Dojo (simulated accident dojo) training for hearing-impaired workers with sign language interpretation. In fiscal 2022, we identified those training programs that need to be conducted in person and those that can be conducted online, and arranged sessions accordingly. We will expand the educational opportunities we provide with a view to global expansion, in conjunction with the shift online.
Total Productive Maintenance: Productive maintenance in which everyone participates
Divisions and organizations targeted by technical skills training
Training system
FY2022 technical employee training attendance results
Name of training
Staff targeted by training
Total number of trainees
Technician training (34 classes)
Skilled employees
130
Engineer training (4 classes)
Administrative and technical employees
15
Qualification certification training (12 classes)
All employees
266
Promotion training
New plant managers
69
New supervisors
205
New team leaders
394
General technicians
144
FY2022 number of company members who passed the skills test
Expert level : 0 person
Level 1 : 16 people
Level 2 : 22 people
Outstanding Technician Awards
Medal with Yellow Ribbon (Metalworking Machine Workers): 1 person
Aichi Prefecture Outstanding Technician Award (Master Craftsperson of Aichi): 3 people
Minister of Education, Culture, Sports, Science and Technology Award for Distinguished Creativity and Originality: 8 people
Establishing Excellent Manufacturing Skills
Karakuri
Karakuri refers to the manufacturing of a device employing simple mechanisms to solve problems and issues at the work site, created with wisdom and ingenuity while using as little artificial energy as possible. At Toyota Boshoku, we have implemented Karakuri training to instill a culture of Karakuri improvement. In fiscal 2022, the Toyota Boshoku group exhibited six items at the Karakuri KAIZEN® Exhibition held online, in which two items were awarded prizes - our first time winning multiple prizes at a single exhibition. This was the nine consecutive years that we have won a prize at this event.
In addition, in fiscal 2021 we launched the Karakuri Training Program. The Manufacturing Skills Development Center provides training on Karakuri improvement through Genchi-Genbutsu (go, see & study) to support the realization of workplace improvements. Trainees are accepted from each plant to study Karakuri for one year, and then return to their own workplaces to develop "evangelists" of Karakuri improvement who can use Karakuri to make improvements, give advice, and lead their workplaces. By fiscal 2022, six students have completed their study and are already active in the workplace as evangelists, while in fiscal 2023, five students are currently receiving training, with plans for accepting students from overseas in the future.
The use of Karakuri reduces the energy consumption of equipment, contributing significantly to reducing our environmental impact as we work to achieve carbon neutrality.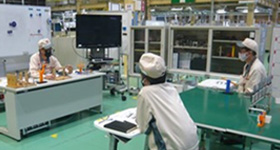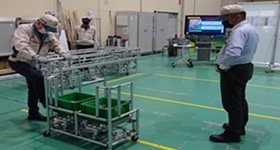 All Toyota Boshoku Skills Competition
The All Toyota Boshoku Skills Competition has been held annually since 2006, but was canceled in fiscal 2021 due to the COVID-19 pandemic. In fiscal 2022 the competition took place once again - this time on a trial remote basis, with associate companies from around the world taking part via live streaming.
The remote nature of this year's event enabled competitors in the Koma Taisen* to participate not just from the main venue, but also from various plants and business entities around the world. As always, the competition was fierce, and exciting for all involved.
a competition in which the participants make use of their creativity and ingenuity to design and fabricate their own "koma" spinning tops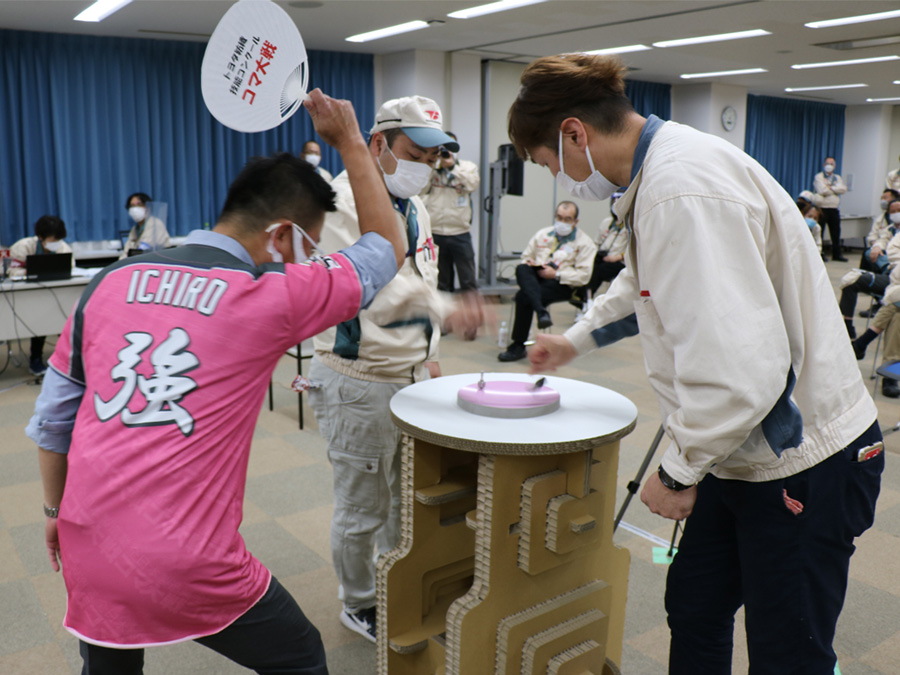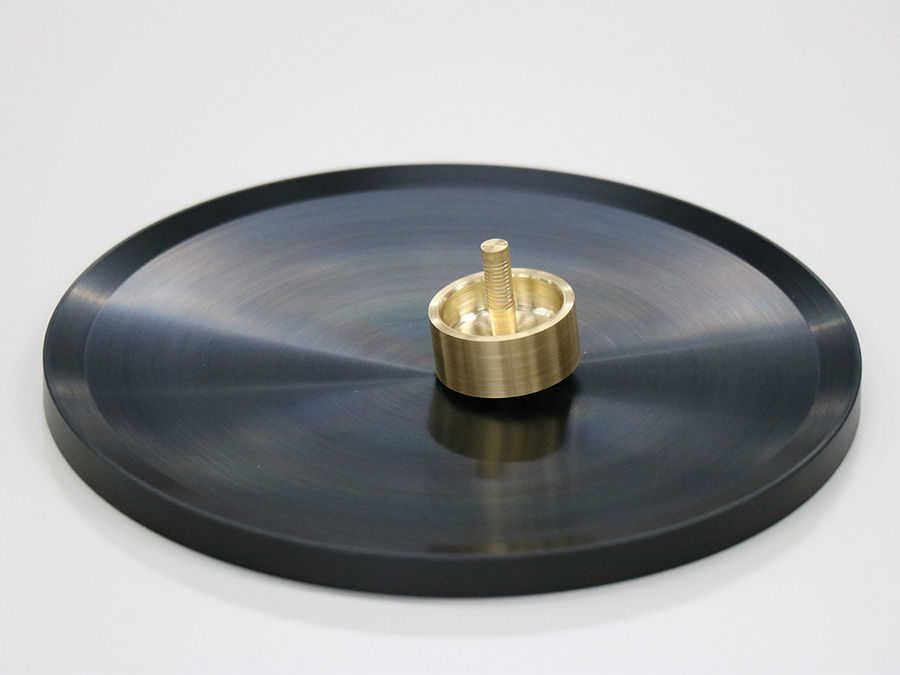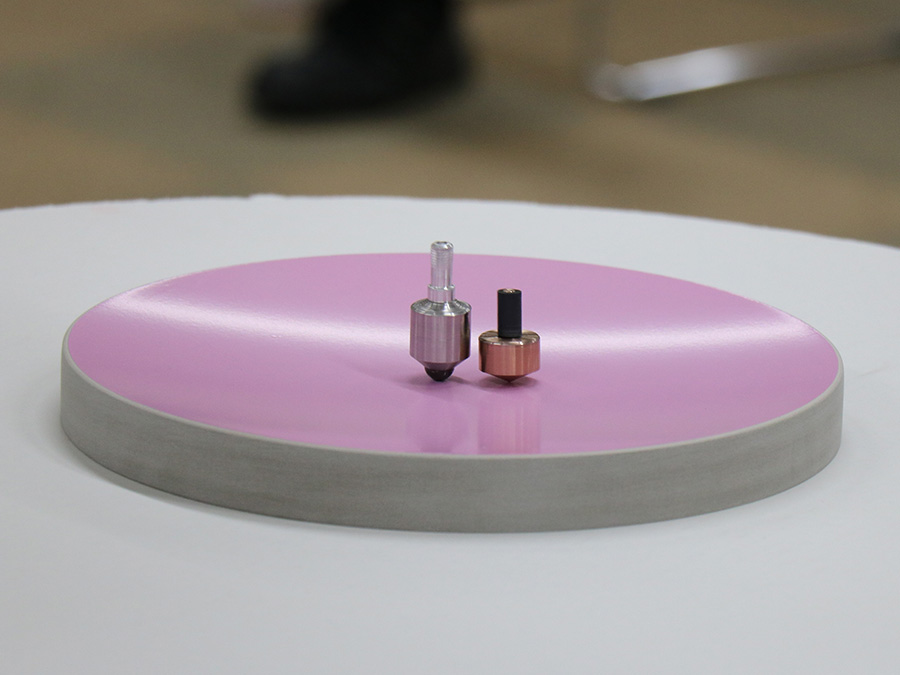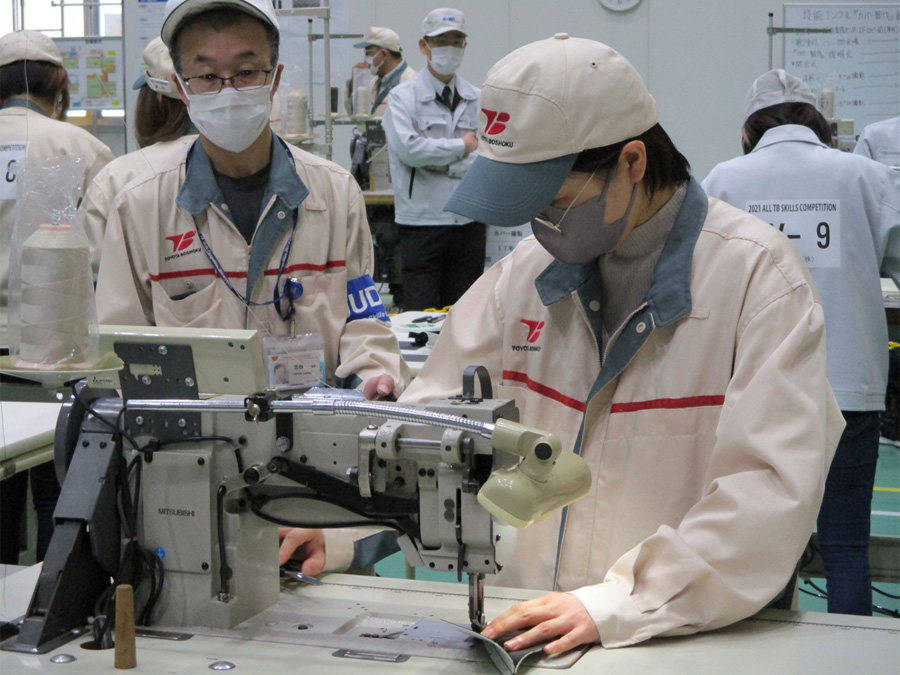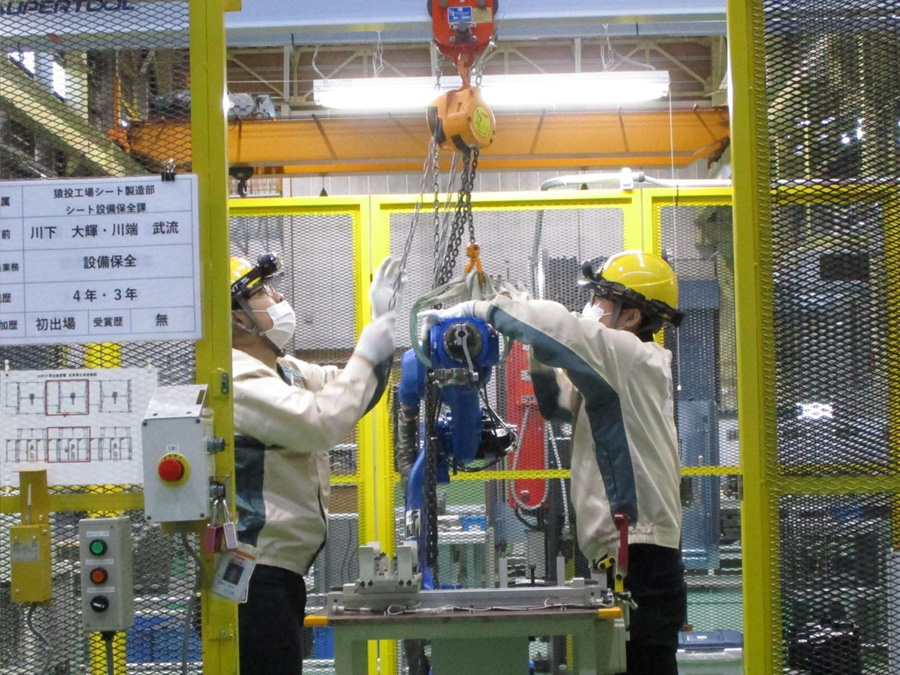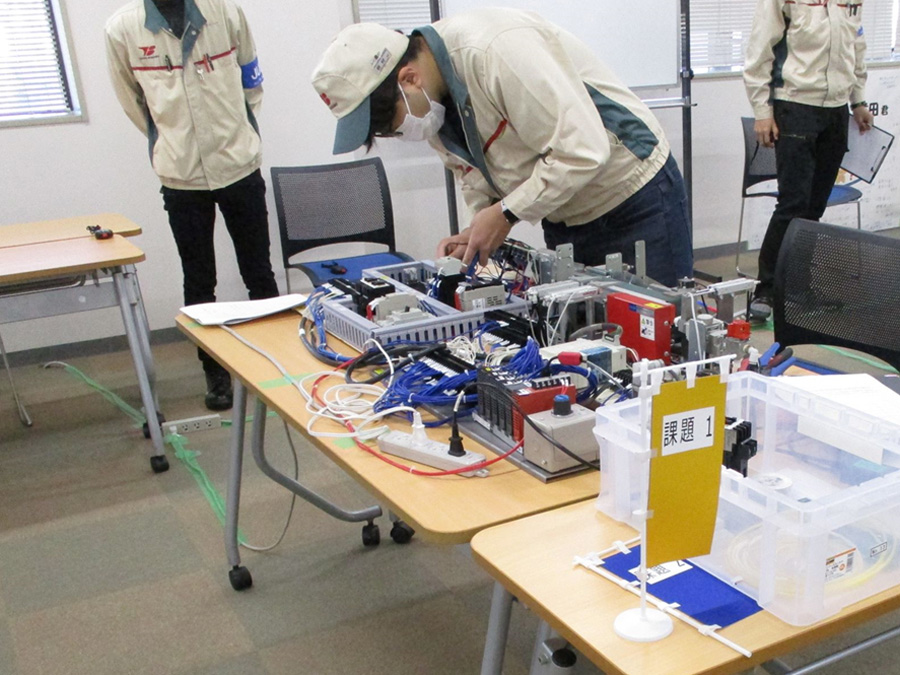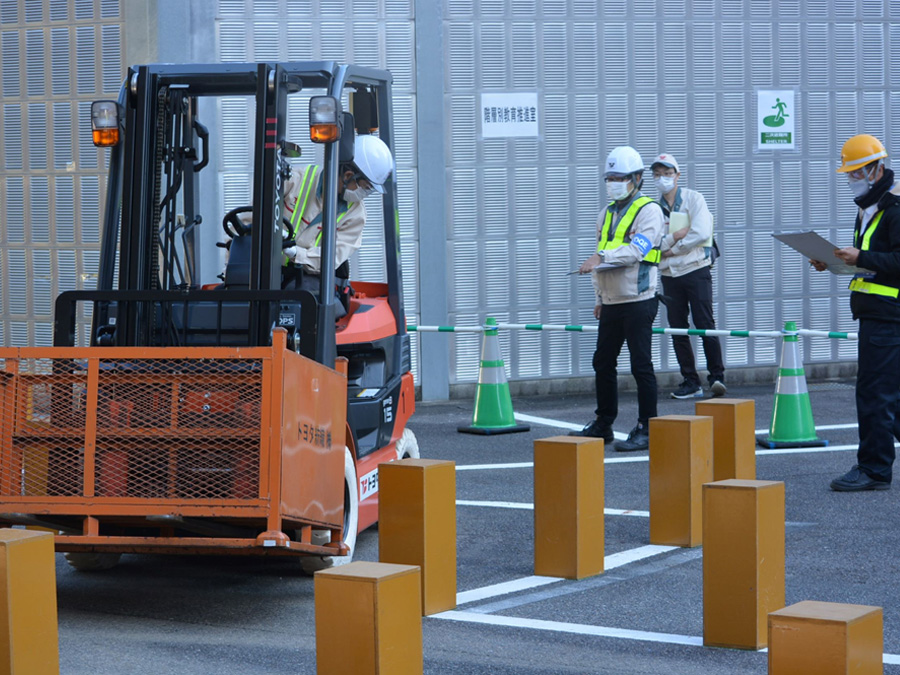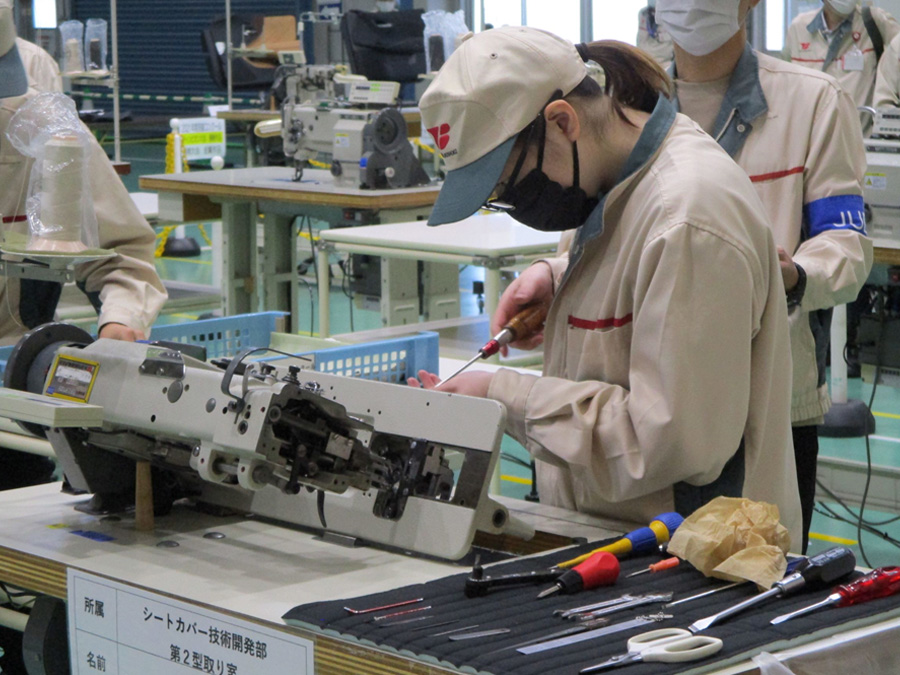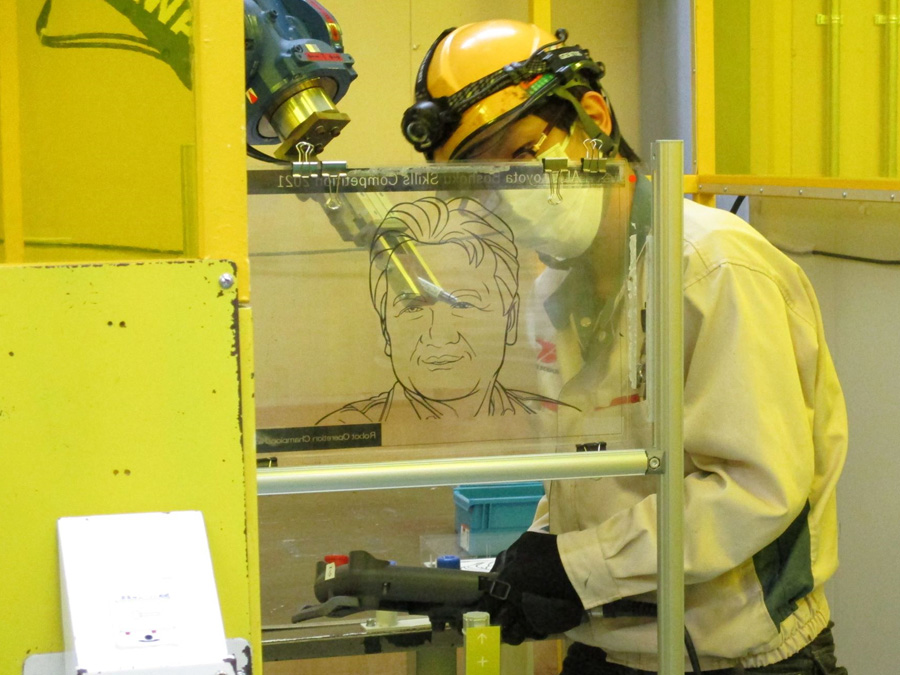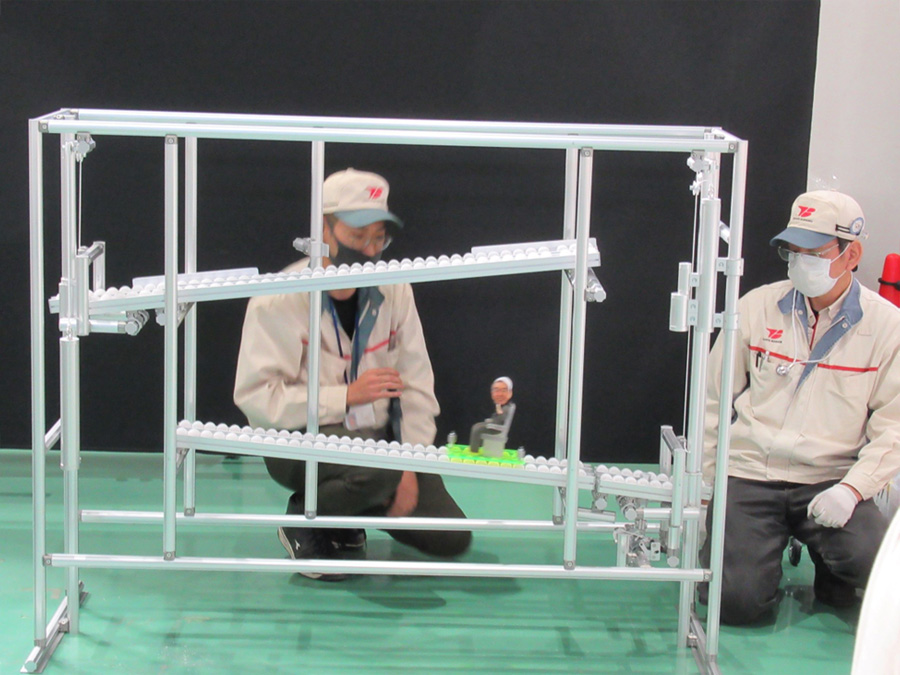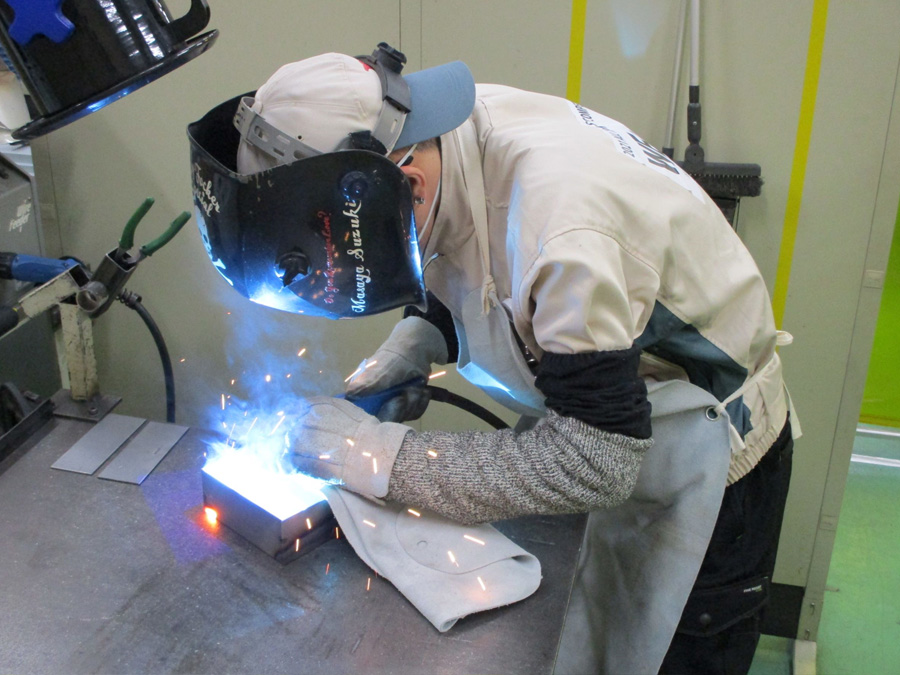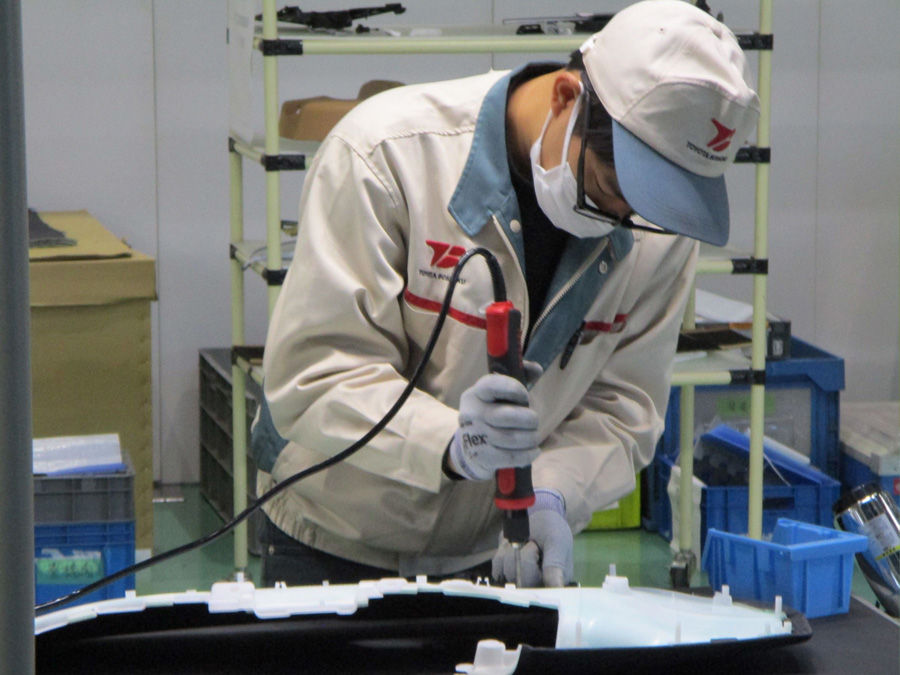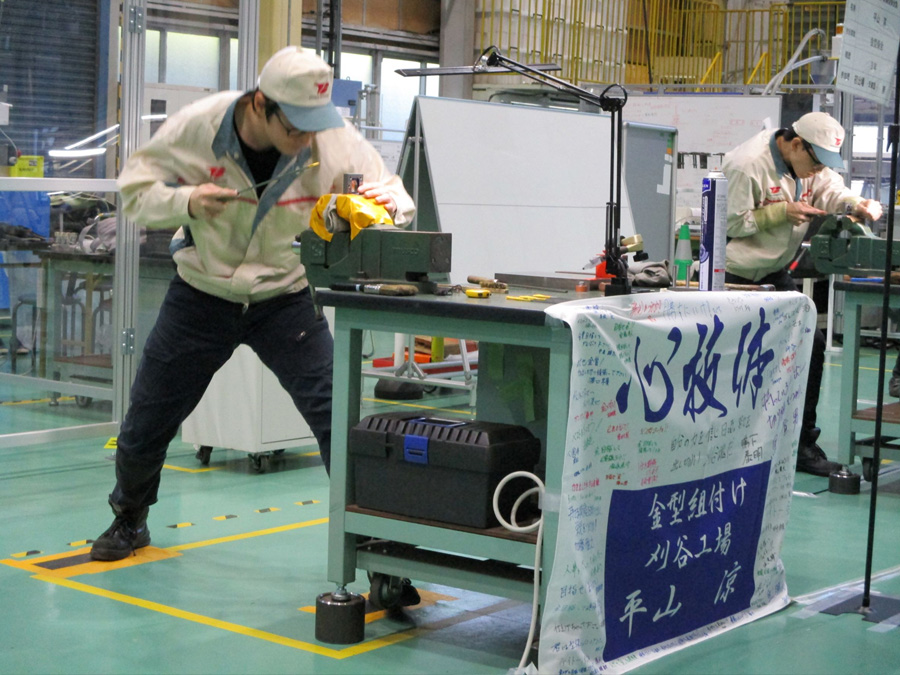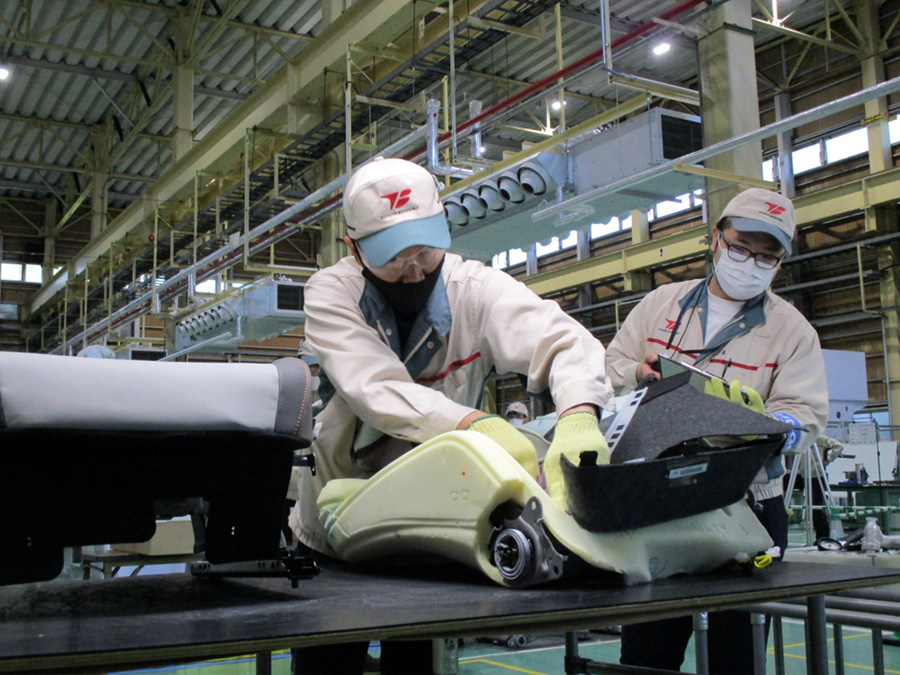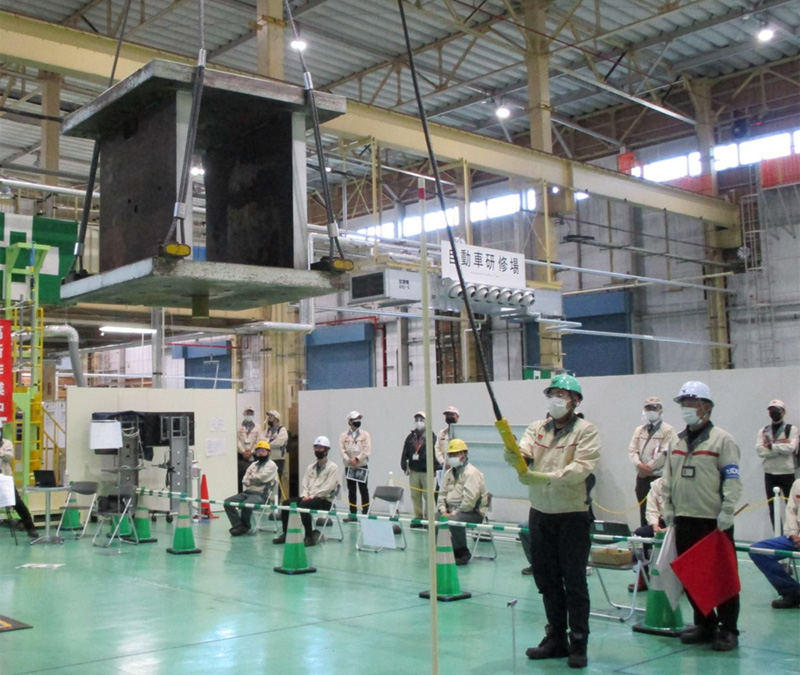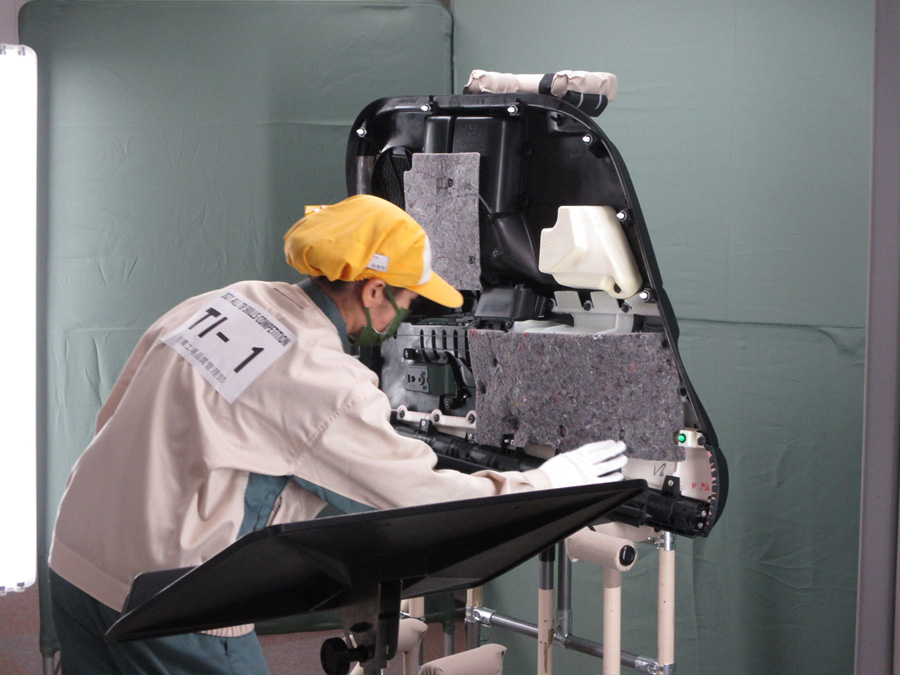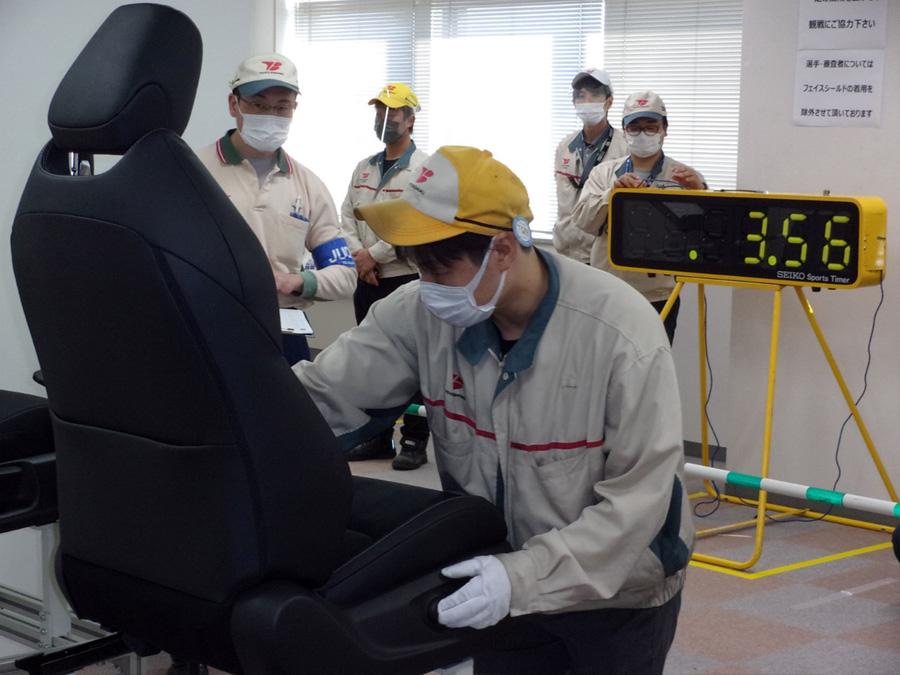 Developing strong managers and supervisors
In addition to promoting the global rollout of training for managers and supervisors, we are also promoting the development of an environment in which basic skills training and maintenance education that reflect the changing manufacturing workplace can be provided at each regional site.
Strengthening Maintenance Skills
The Toyota Boshoku group is striving to improve maintenance skills through short courses for specialized skills such as mechanical systems, electrical systems and mold and die maintenance. We are also working to develop maintenance training in accordance with needs. The creation of a Maintenance Dojo in the United States in fiscal 2019 has led to steady improvement of our maintenance capabilities in that country. We will continue to strengthen our maintenance capabilities on a global scale.
Developing Members Who Always Work Safely
In the Safety Sensation Dojo (simulated accident dojo), we have recently introduced equipment simulating work in high places as part of an initiative to implement lessons learned from actual accidents and prevent future incidents in fiscal 2019. We continue efforts to prevent accidents by enhancing members' sensitivity toward risks in order to achieve zero industrial accidents. Since the course began in fiscal 2013, it has been taken by over 10,000 workers from affiliated companies, including from regions outside Japan and outside contractors.
Toyota Boshoku Technical Skills Academy
We are promoting the development of a core of young skilled human resources who can work globally with a good balance of mind, body, skills and knowledge. Every year, we nurture company members who can thrive in the workplace through various experiences such as training in Canada and exchange programs with other academies. As well as within Japan, younger company members from regional entities outside Japan are learning, and in this way, we are developing human resources for the whole of Toyota Boshoku.
Consecutive wins at the National Skills Competition
In December 2021, six members of the Toyota Boshoku Technical Skills Academy participated in the 59th National Skills Competition held at Tokyo Big Sight, two of whom won silver prizes in the mechatronics categories. We have won prizes for six consecutive years since 2016, including at the WorldSkills Competition.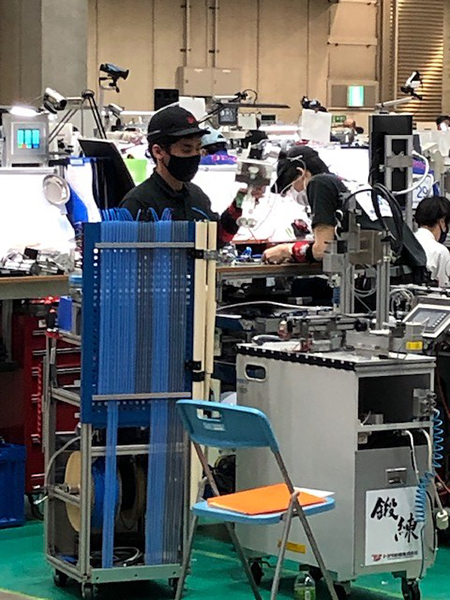 Graduates association "Kibo-no-kai"
In 2014, five years after the establishment of the Toyota Boshoku Technical Skills Academy, we established the graduate association "Kibo-no-kai" to help graduates develop ties with both older and younger graduates of the Academy as well as ties with classmates from the same generation, and for their mutual support. This has made it easier for the leaders of each workplace to collaborate and to make even greater contributions to the company. We also provide support for a wide variety of activities, including the self-development of members and the Academy's club activities.