Human Resources Development
Basic stance
In order to develop people capable of contributing to society, who have diverse values, a challenging spirit and understand the value of strong teamwork, we have formulated the "TB Way competencies (the type of people we are looking for and job performance standards), based on our management philosophy, as our basic approach to developing and appointing human resources. We train and appoint people globally who can demonstrate well-balanced abilities in the four areas of "strategic planning," "carries out the plan," "strengthens talents and organization power," and "humanity."
TB Way, problem solving, on-the-job training (OJT), and policy management are the four Global Core Contents for sharing common values globally, and we are training and developing human resources on a global basis.
For human resources who will be the managers of the future, we provide global executive development program training, and training/placement as presidents of business entities outside Japan.
In addition, we conduct 360-degree evaluations and training assessments in the hiring process to carefully identify human resources, before making assignments and promotions. The human resource committee then holds discussions on succession plans for department managers, presidents of overseas entities, and top functional positions.
Global HR strategy
For the Toyota Boshoku group, an organization with many locations worldwide, a human resources (HR) strategy aimed at securing, assigning and fostering talents who can realize our growth strategy is a critical management challenge. We aim to recruit human resources with administrative and technical skills, specialized skills and advanced expertise; assign them to appropriate positions; and make sure they are compatible with our growth strategy in accordance with our "global medium-term HR plan" that looks ahead to fiscal 2026. This policy supports the development of business.
Our Global HR Platform is a global common platform for management members and above. Through this platform, we realize the optimal global allocation of human resources and promote their development in order to maximize global organizational capabilities.
Application of Global HR Platform
Number of management positions globally
| Fiscal year* | 2019 | 2020 | 2021 | 2022 | 2023 |
| --- | --- | --- | --- | --- | --- |
| No. of users under the Global HR Platform | 1,353 | 1,377 | 1,381 | 1,411 | 1,427 |
Totals are stated as of April 1 of the following fiscal year
Proper manpower control, organization building, and human resources development
"We will nurture every individual in the Toyota Boshoku group, make maximum use of their competencies, and achieve the optimum results as an organization by having an appropriate organizational structure and span of control." We have been developing the systems to achieve these goals. In particular, in the area of building an appropriate organization, we employed our management span of control guidelines and organizational templates, and have been aiming to continuously standardize the organization and strengthen human resource development since our organizational reviews in fiscal 2021, including affiliates from countries other than Japan and domestic affiliates.
'We are currently continuing to implement human resources development and allocation, systems for building an appropriate organizational structure, and manpower planning that we have developed to date, while focusing on the following two points, especially in regard to human resources development.
First, to establish a process for ensuring that the skills necessary for business execution are properly developed by enhancing and strengthening the links between the division of duties, important requirements for posts, skill maps, and development plans at an individual level.
Second, to ensure that the division general managers and direct supervisors think through the development plan and how it is implemented, assign challenging tasks, and develop talents together with senior company members in the workplace.
Through these efforts, we will continue to foster a culture of on-the-job training where each member can grow and maximize their competencies.
As well as this, we will promote diversity through the cross-regional appointment/assignment of executive candidates based on discussions at the GSCT*1 and GSC*2, as well as the development of these talents in global executive training programs (GEDP*3 and GLDP*4).
Global Succession Committee by Top Executives: Executive management successor development committee comprising members at the Chief Officer level and above
Global Succession Committee: Global key post (president of affiliate company, director, division general manager, etc.) successor development committee comprising members at the segment chief and field chief level and above
Global Executive Development Program: Selective training for mid-level executives
Global Leader Development Program: Selective training for key talents and young executives
Specialized Skills related education
The Technical Skills Training Center supports improvement of workplace capabilities by providing knowledge-based education and practical training in order to develop members who can achieve a high level of safety, quality, delivery, and cost performance on a global level.
We have a system in place to ensure that all company members, including those with disabilities and those working reduced hours, have equal access to training.
We are also enhancing online training and strengthening global deployment.
Divisions and organizations targeted by technical skills training
Training system
FY2023 technical employee training attendance results
Name of training
Course content
Staff targeted by training
Total number of trainees
Technician training (48 classes)
Sequence, hydraulic and pneumatic control, Karakuri, etc.
Skilled employees
291
Engineer training (6 classes)
Seats, trims, sewing, welding, etc.
All employees
64
Qualification certification training (13 classes)
Industrial robot instruction, low-voltage electricity handling, high-elevation work, etc.
All employees
874
Promotion training
Safety, quality, TPS, TPM
New plant managers
28
New supervisors
172
New team leaders
335
General technicians
132
FY2023 number of company members who passed the skills test
Expert level : 4 people
Level 1 : 27 people
Level 2 : 31 people
Outstanding Technician Awards
Aichi Prefecture Outstanding Technician Award (Master Craftsperson of Aichi): 3 people
Minister of Education, Culture, Sports, Science and Technology Award for Distinguished Creativity and Originality: 8 people
Establishing Excellent MONOZUKURI Skills
Karakuri
Objectives
Karakuri refers to the manufacturing of a device employing simple mechanisms to solve problems and issues at the work site, created with wisdom and ingenuity while using as little artificial energy as possible. At Toyota Boshoku, we have implemented Karakuri training to instill a culture of Karakuri improvement, and are working to develop human resources.
Checking the degree of development
<Karakuri Training Program / 1 year>
In order to promote Kaizen improvements and advice, etc. using Karakuri at each workplace, we started accepting trainee members in 2020, and had trained six members by 2021 and five members in fiscal 2023. From fiscal 2024, we are rolling out a short-term Training Program for domestic affiliates and affiliates outside Japan.
<Karakuri Kaizen Technician certification program>
This program has been in operation since fiscal 2023 and has certified 116 people to date. Skill evaluation leads to increased motivation at the work site and human resource development, and also contributes significantly to reducing the site's environmental impact with a view to achieving carbon neutrality.
Results
Toyota Boshoku group exhibited six examples of Karakuri improvement at the 27th National Karakuri Kaizen Kufu Exhibition, which was held online in fiscal 2023. One of our exhibits was awarded a prize, making it the 10th consecutive year that we have won a prize at this event.
National Karakuri Kaizen Kufu Exhibition
FY
Prize
2014
Prize for Excellence (2nd place nationwide)
2015
Association Special Technical Prize
2016
Grand Prize (1st place nationwide)
2017
Idea Prize
2018
Effort Prize
2019
Effort Prize
2020
Idea Prize
2021
Handcart Contest (Silver Prize)
2022
Constant and Fixed Quantity Extraction Contest (Gold Prize)
Association Special Prize
2023
Idea Prize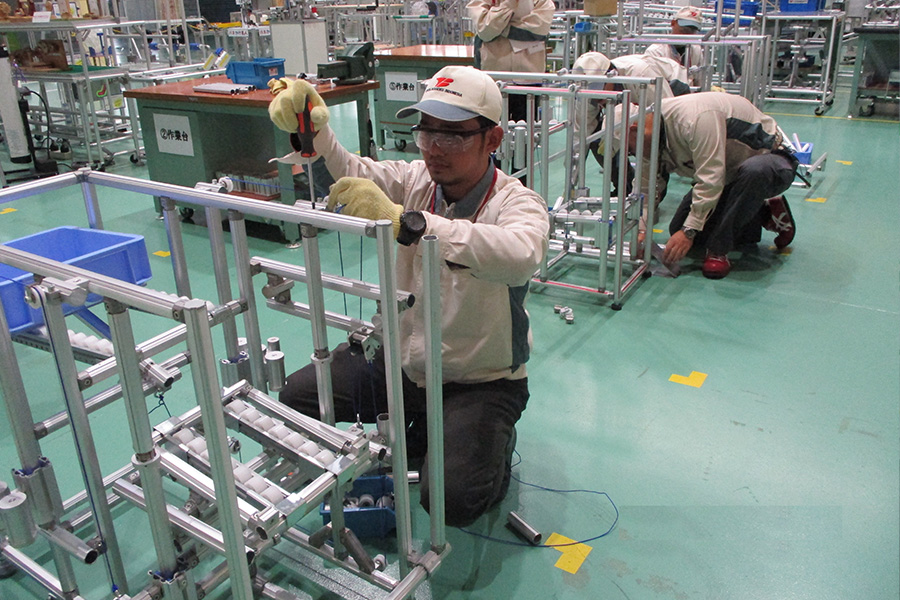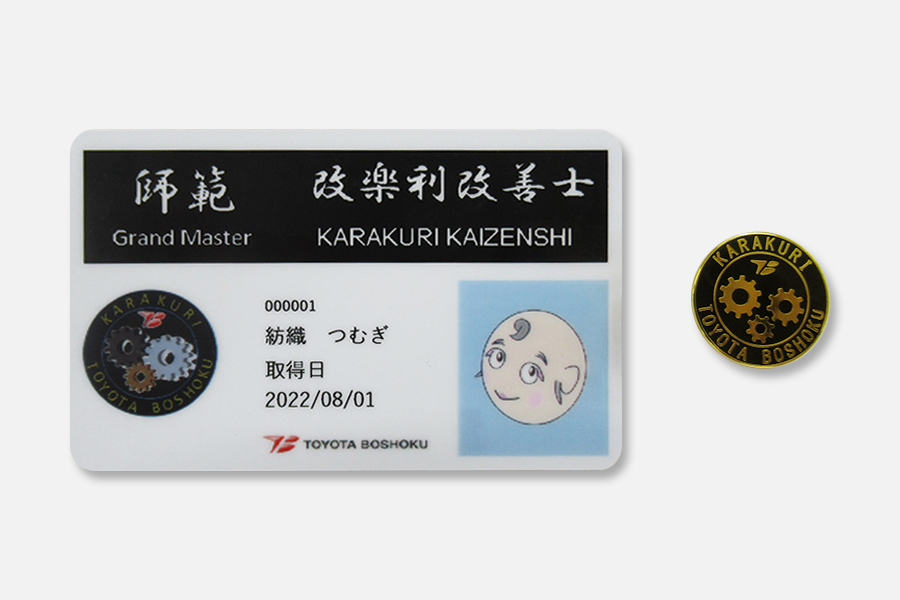 All Toyota Boshoku Skills Competition
The Skills Competition was held to verify the degree of development of technicians.
To prevent the spread of COVID-19, entry was again limited to the Japan region in fiscal 2023, with Japan-based subsidiaries and affiliates participating. However, as in the previous year, live-streaming allowed approximately 3,500 people worldwide to view the event.
Some affiliates outside Japan also competed remotely in the Time trial category of the Koma Taisen, winning top prizes.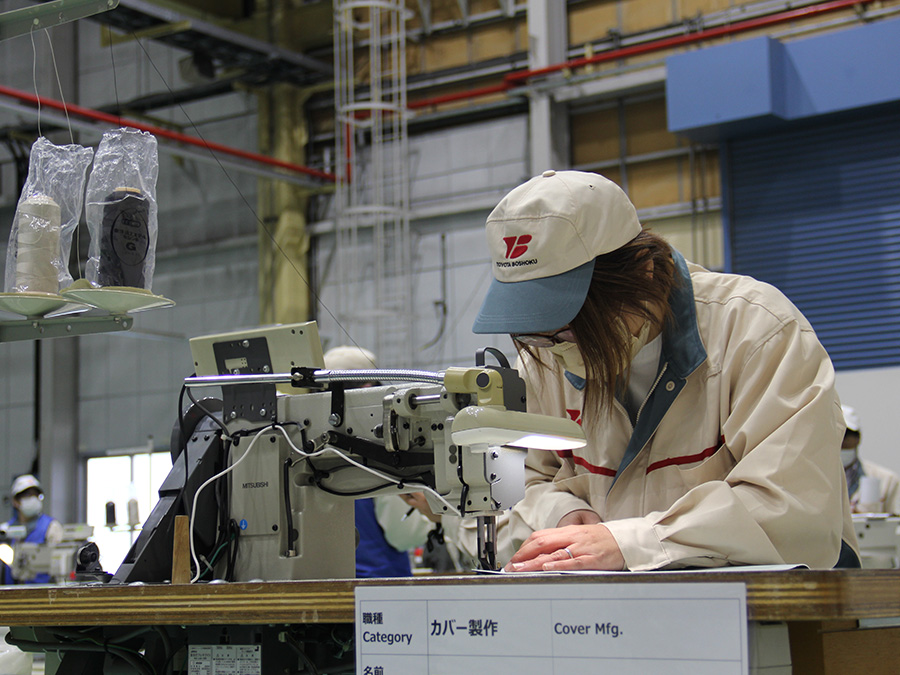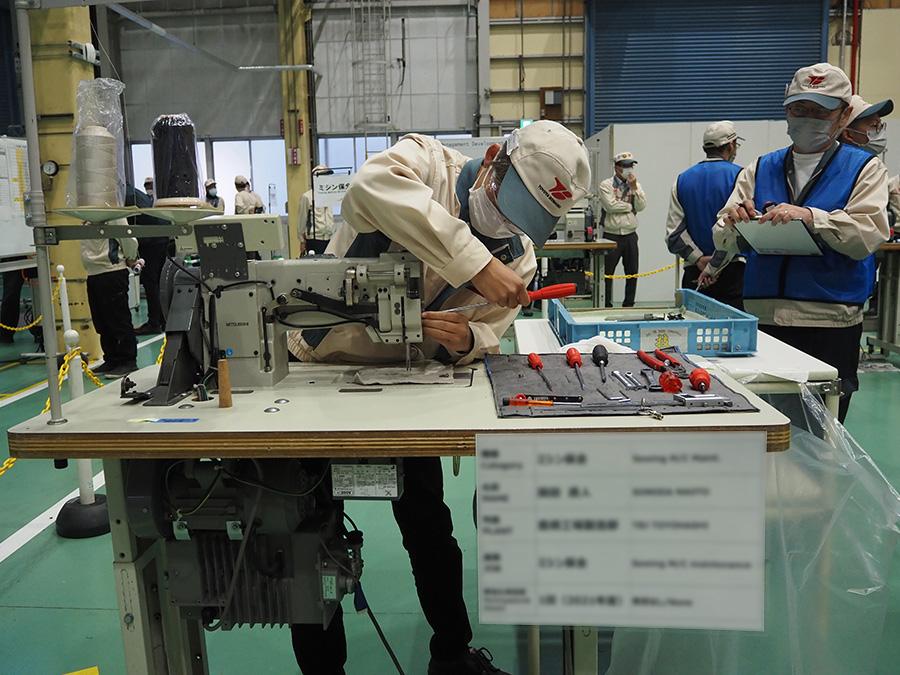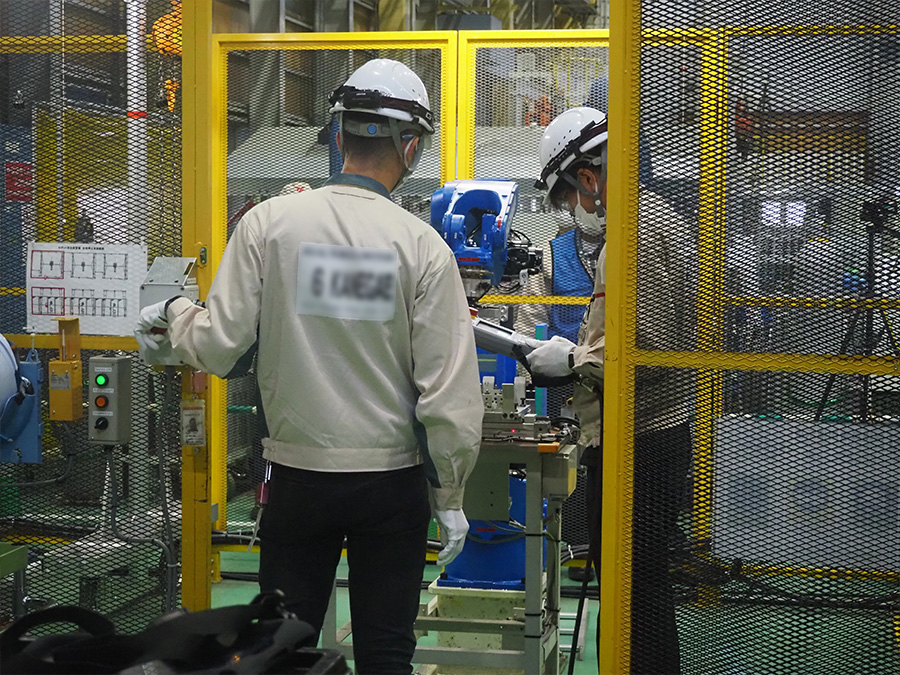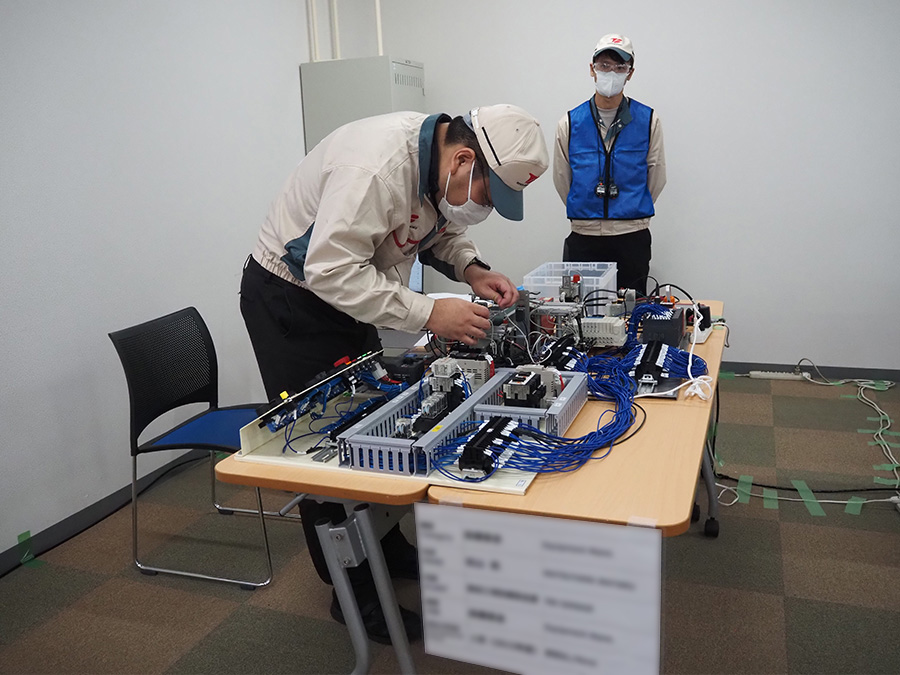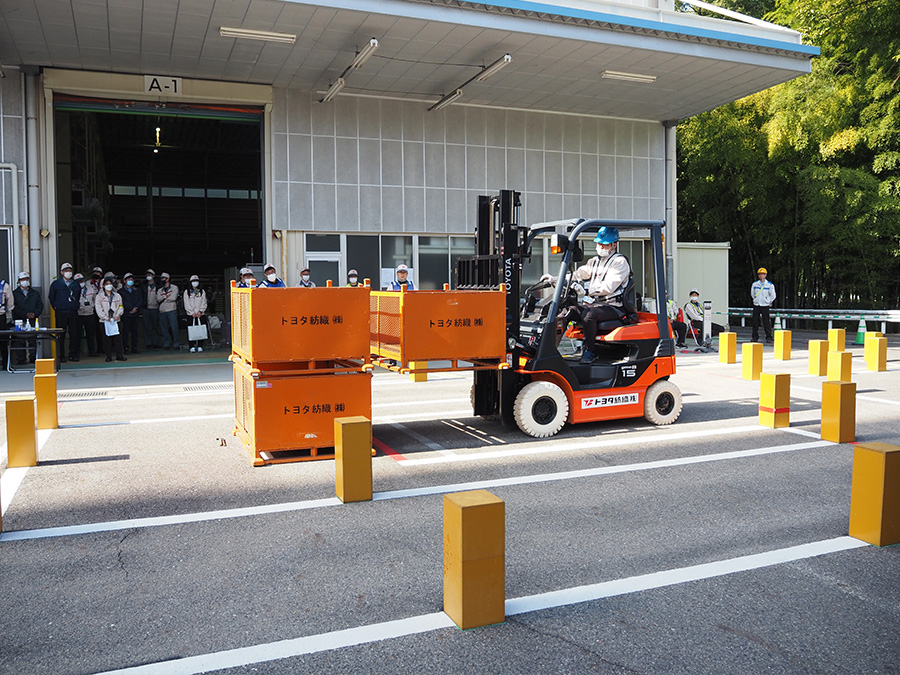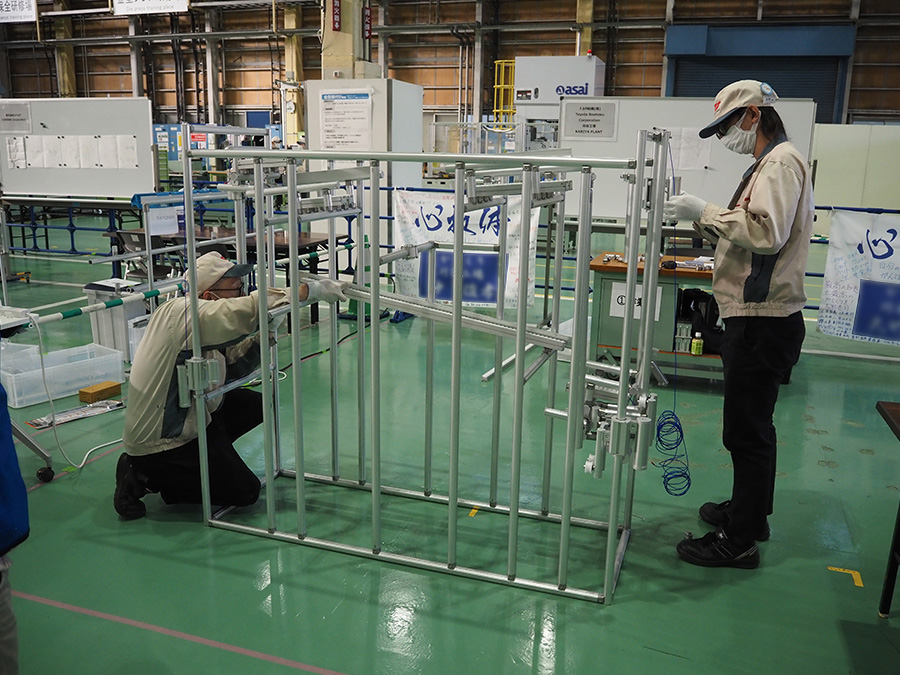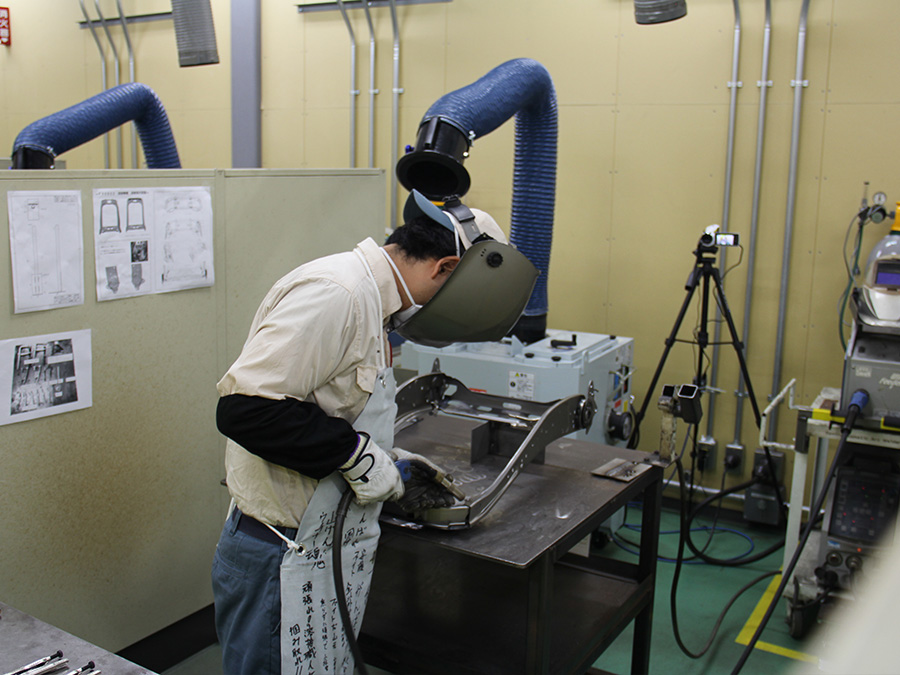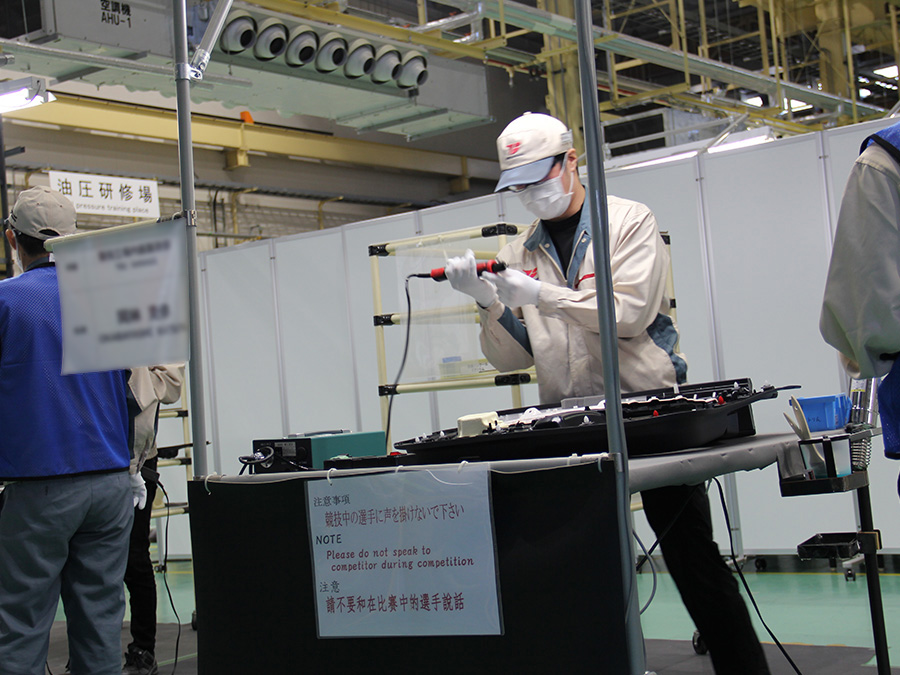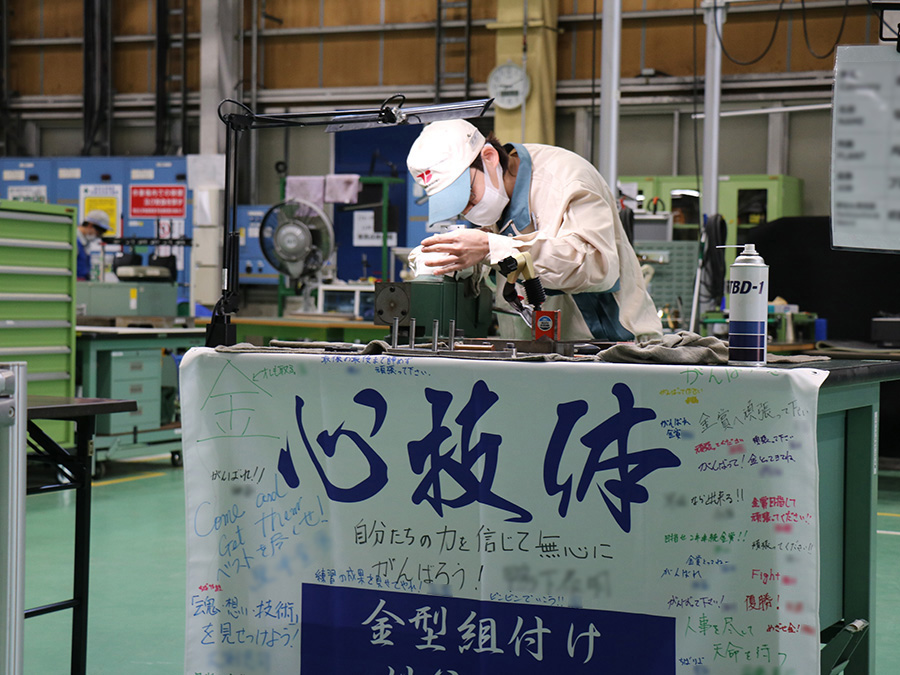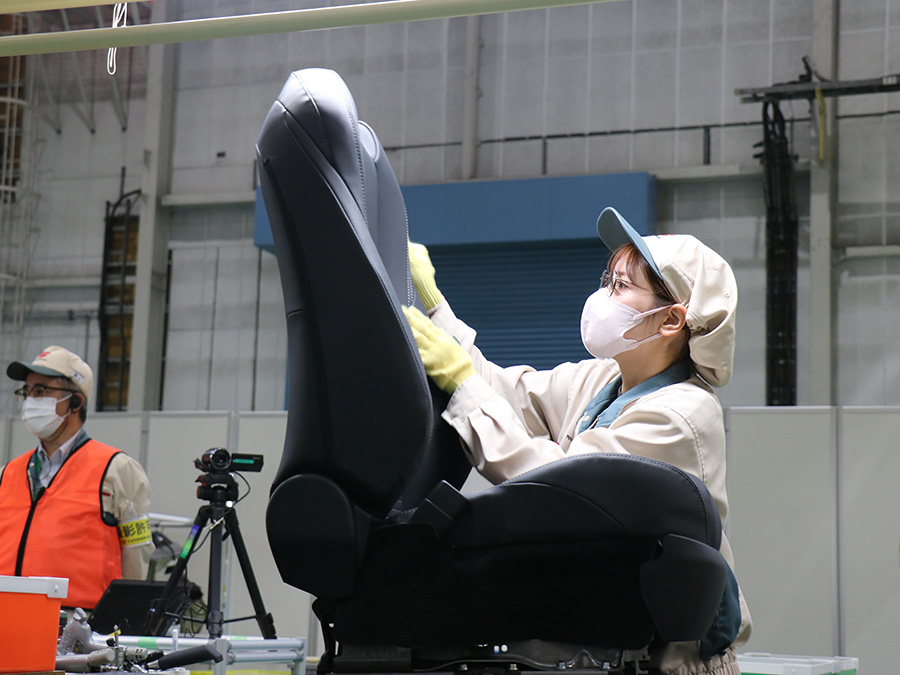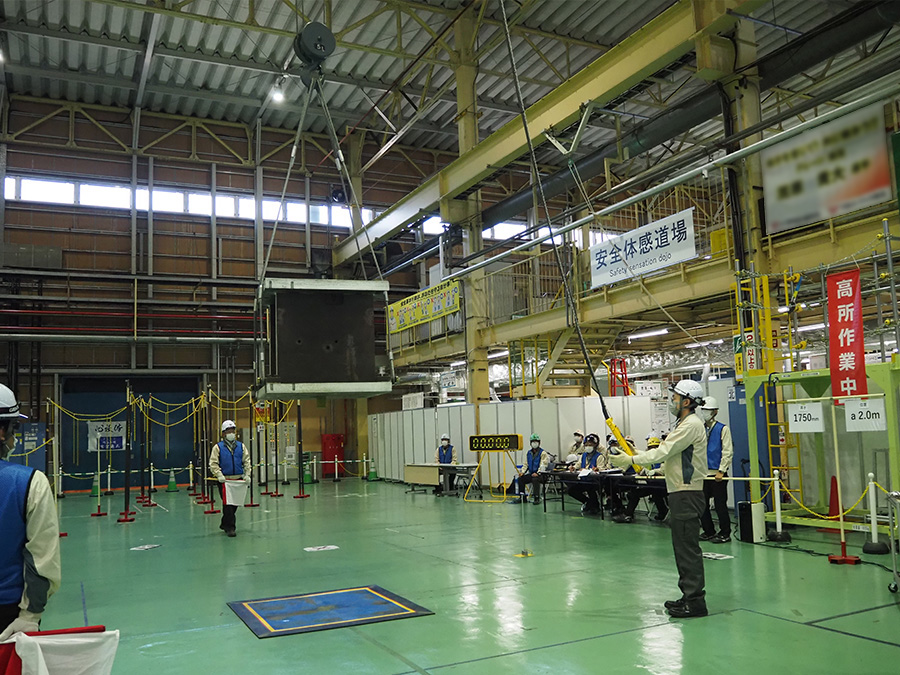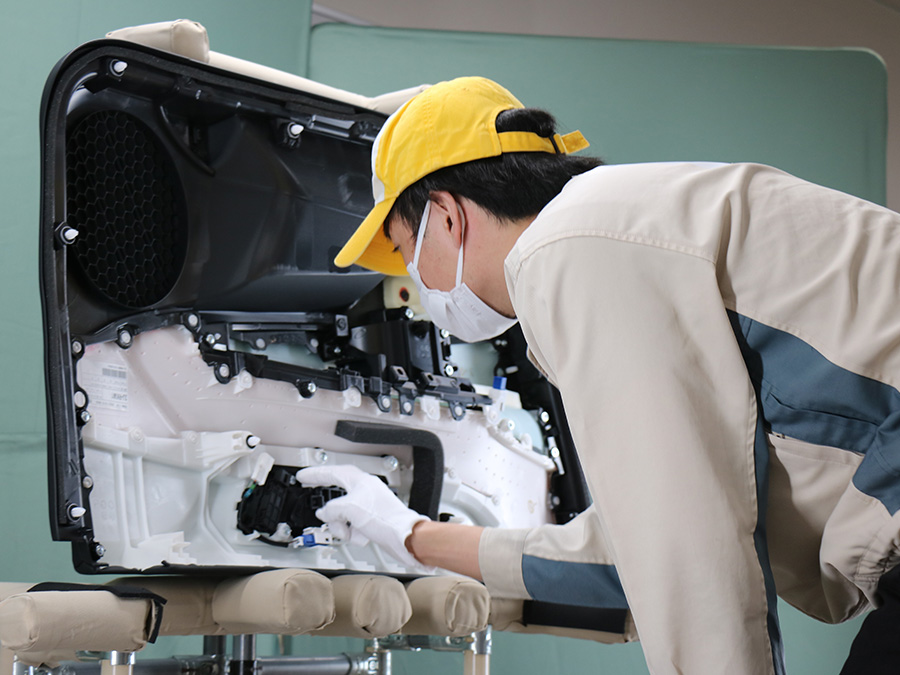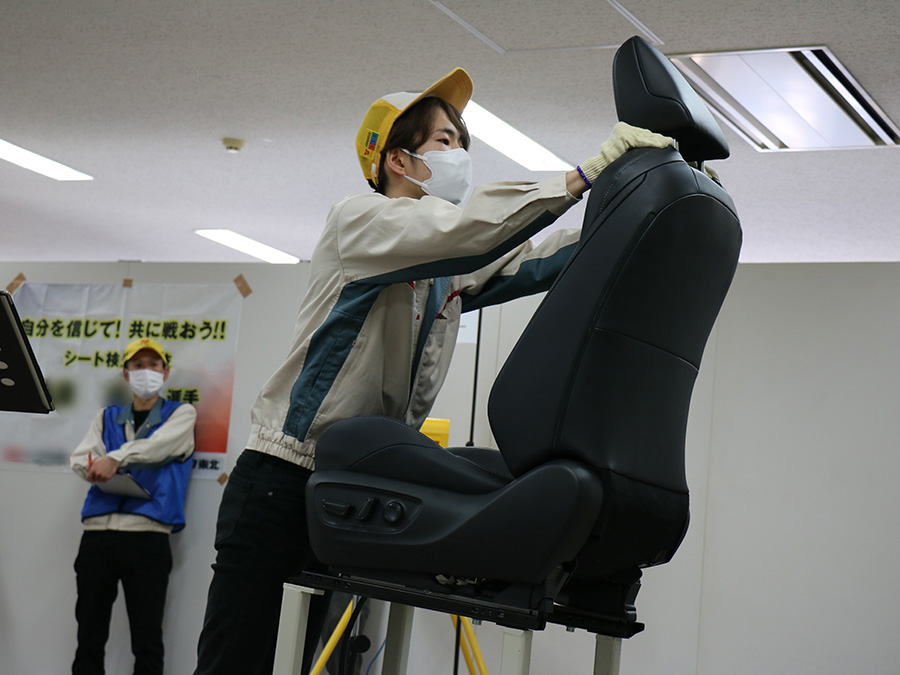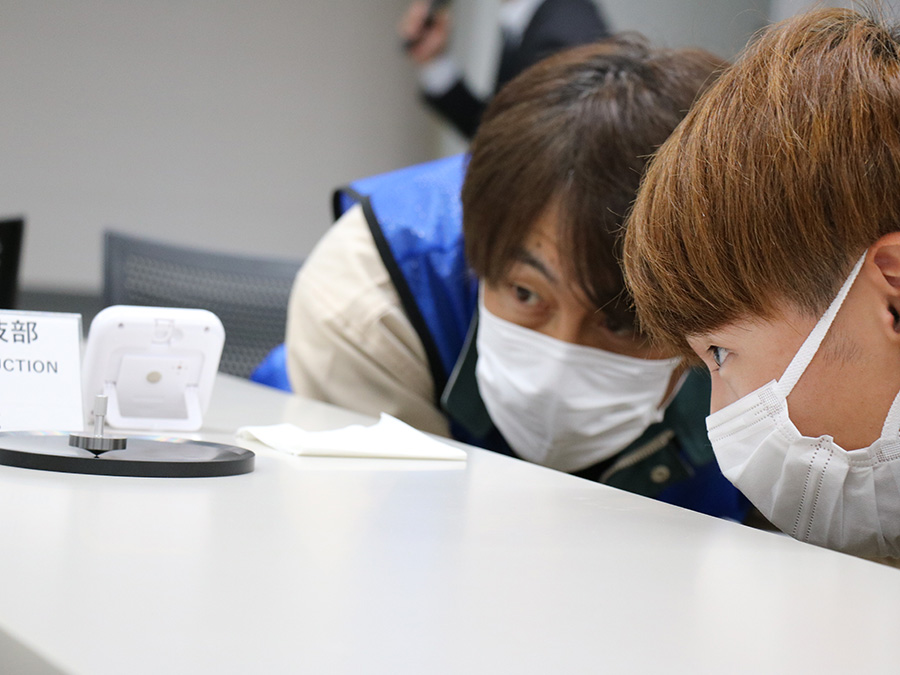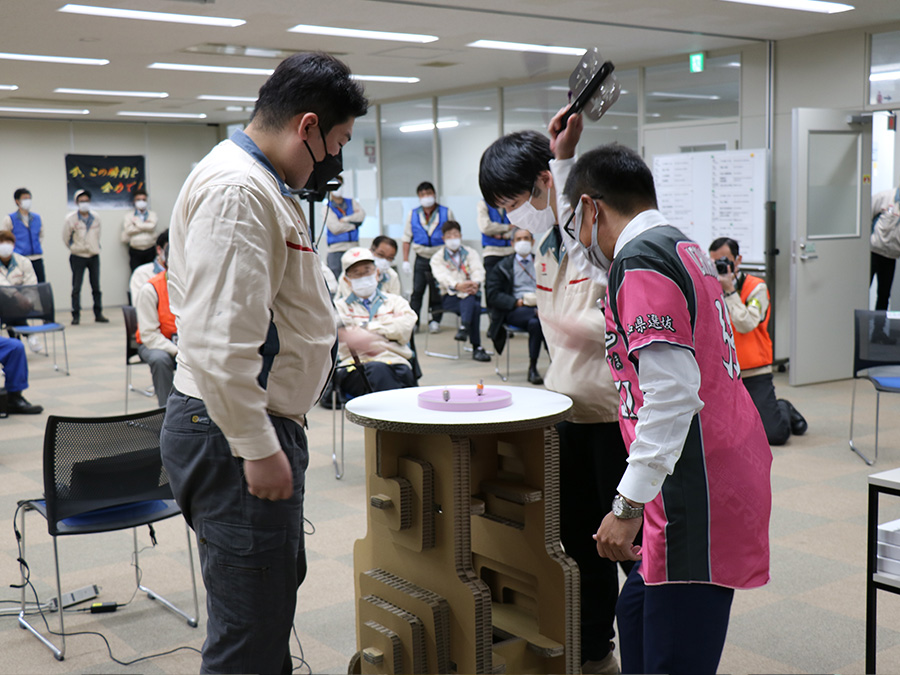 a competition in which the participants make use of their creativity and ingenuity to design and fabricate their own "koma" spinning tops
Developing strong managers and supervisors
In addition to promoting the global rollout of training for managers and supervisors, we are also promoting the development of an environment in which basic skills training and maintenance education that reflect the changing manufacturing workplace can be provided at each regional site.
Strengthening Maintenance Skills
The Toyota Boshoku group is striving to improve maintenance skills through short courses for specialized skills such as mechanical systems, electrical systems and mold and die maintenance. We are also working to develop maintenance training in accordance with needs. The creation of a Maintenance Dojo in the United States in fiscal 2019 has led to steady improvement of our maintenance capabilities in that country. We will continue to strengthen our maintenance capabilities on a global scale.
Developing Members Who Always Work Safely
In the Safety Sensation Dojo (simulated accident dojo), we have recently introduced equipment simulating work in high places as part of an initiative to implement lessons learned from actual accidents and prevent future incidents in fiscal 2019. We continue efforts to prevent accidents by enhancing members' sensitivity toward risks in order to achieve zero industrial accidents. Since the course began in fiscal 2013, it has been taken by over 10,000 workers from affiliated companies, including from regions outside Japan and outside contractors.
Toyota Boshoku Technical Skills Academy
We are promoting the development of a core of young skilled human resources who can work globally with a good balance of mind, body, skills and knowledge. Every year, we nurture company members who can thrive in the workplace through various experiences such as training in Canada and exchange programs with other academies. As well as within Japan, younger company members from regional entities outside Japan are learning, and in this way, we are developing human resources for the whole of Toyota Boshoku.
Consecutive wins at the National Skills Competition
We are participating in skills competitions with the aim of developing human resources who can serve as the future leaders of technical workplaces at Toyota Boshoku.
In November 2022, nine members of the Toyota Boshoku Technical Skills Academy competed in 4 categories at the 60th National Skills Competition held at Makuhari Messe in Chiba Prefecture. Two members of the Mechatronics category A Team won silver prizes for the second year running.
"Fighting Spirit" prizes were also won in the Plastic Molding and Mechanical Engineering Design-CAD categories. This means that we have won prizes for seven consecutive years since 2016, including at the WorldSkills Competition.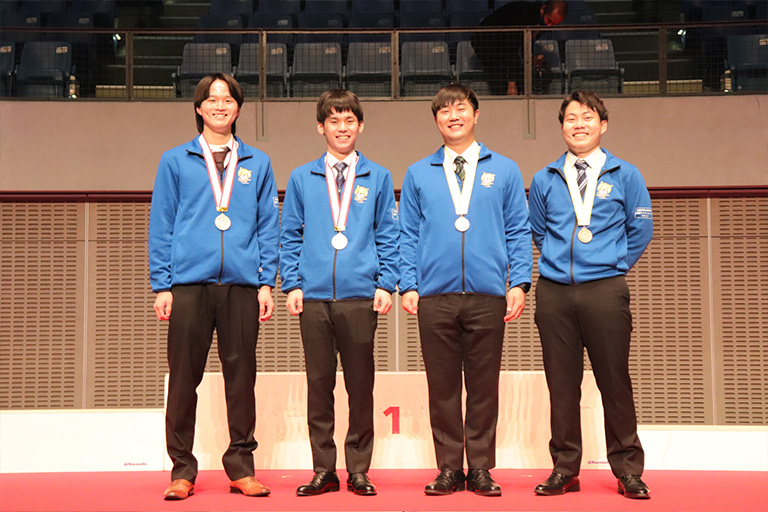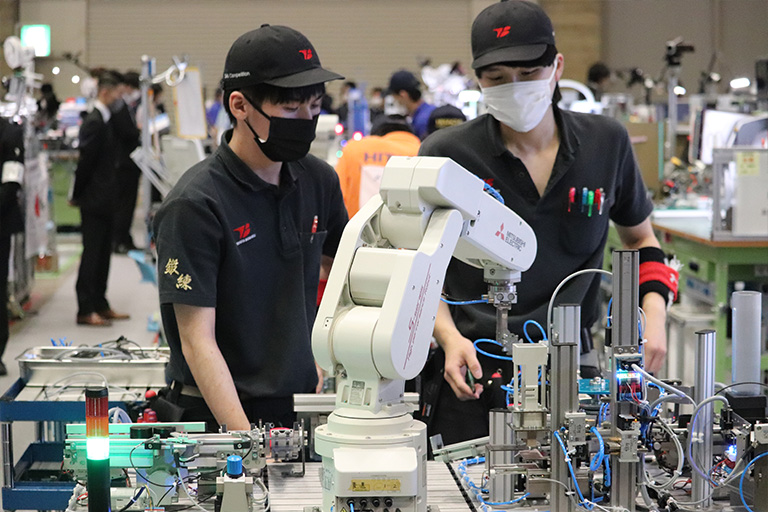 Graduates association "Kibo-no-kai"
In 2014, five years after the establishment of the Toyota Boshoku Technical Skills Academy, we established the graduate association "Kibo-no-kai" to help graduates develop ties with both older and younger graduates of the Academy as well as ties with classmates from the same generation, and for their mutual support. This has made it easier for the leaders of each workplace to collaborate and to make even greater contributions to the company. We also provide support for a wide variety of activities, including the self-development of members and the Academy's club activities.