Challenge of achieving zero CO2 emissions in the product life cycle
Basic approach
Instead of focusing only on the reduction of CO2 emissions during our auto parts production process, the Toyota Boshoku group takes on the challenge of "achieving zero CO2 emissions" in all stages of the product life cycle from production to use, disposal and recycling of products.
Reduce CO2 emissions in the life cycle of Toyota Boshoku products by reducing weights
Toyota Boshoku ascertains CO2 emissions in the life cycle of core products, from their manufacture and sale to utilization and disposal, and then takes action to reduce these emissions as a means to promote more environmentally friendly products.
Reducing CO2 emissions through lightweighting
It is said that the majority of CO2 emissions throughout the life cycle of a vehicle are accounted for when driving. Therefore, we conduct development and design based on the conviction that reducing weight and creating compact designs will contribute to increasing the fuel efficiency of cars and reducing CO2 emissions. In fiscal 2021, our one-motor power seat was installed in Toyota's new Yaris Cross. The one-motor power seat consolidates the motors that were previously installed for each adjustment function into a single motor, making it possible to operate the slide, lifter, and recline with a single motor. The consolidation of motors has reduced the number of parts used, leading to weight reduction.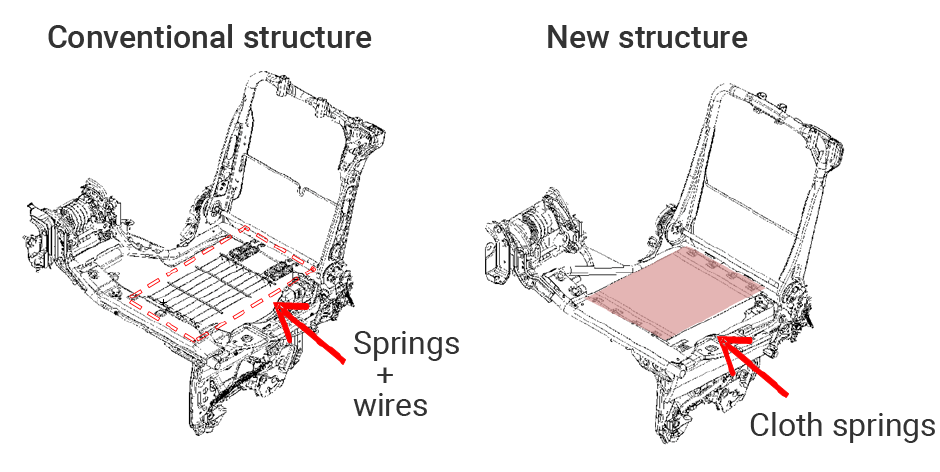 Product life cycle assessment (LCA)
As part of these efforts, we are working hard to reduce the weight and size of products since CO2 during the utilization period accounts for the majority of total emissions, and these initiatives are contributing to an increase in fuel efficiency and a reduction in CO2 emissions in automobiles.
Reduction in LCA CO2 emissions in the life cycle for seat and door products (medium class sedan hybrid vehicles)
Graph data compares Toyota Boshoku products against a standard of 1.0 for previous models.
Figures for "utilization" are calculated by determining CO2 emissions for the entire vehicle during the utilization stage and apportioning the amount for Toyota Boshoku products based on the percentage of weight.