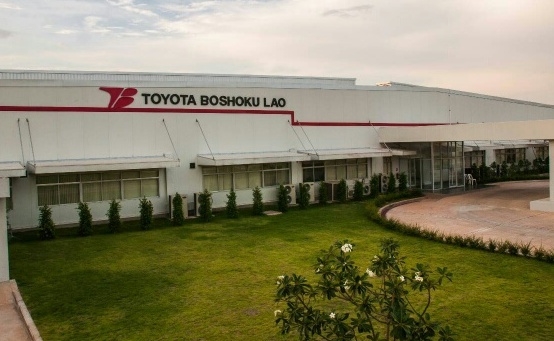 Kariya  (JAPAN) – May 19, 2014 – Toyota Boshoku Corporation (TOKYO:3116, President: Shuhei Toyoda) has begun manufacturing automobile seat covers in the Lao People's Democratic Republic. Manufacturing is being undertaken by TOYOTA BOSHOKU LAO CO., LTD., which was recently established as a satellite to support automobile seat production in Thailand. The seat covers will be supplied to the Thai production base.
As a member nation of the East-West Economic Corridor*1, Laos is convenient for distribution to Thailand, and has stable electricity supply and other infrastructure. As well, because of the similarities between the Thai and Lao languages, Thai managers will be able to provide work-site instruction and training.
As the Toyota Boshoku group further optimizes production and distribution in the crucial Asia and Oceania market, the company will be able to offer worldwide customers appealing, comfortable and safe automobile interior spaces.
Overview of Toyota Boshoku Lao
1.
Company name
TOYOTA BOSHOKU LAO CO., LTD.
2.
Location
Savannakhet Province, Lao People's Democratic Republic
3.
Representative
Mr. Shinichi Yamanouchi, President
4.
Date established
April 2013
5.
Capital
Approx. 5.6 million US$
6.
Ownership
TOYOTA BOSHOKU ASIA CO., LTD. *2
90%
TOYOTA TSUSHO ASIA PACIFIC PTE. LTD.
7%
TOYOTA TSUSHO CORPORATION
3%
7.
Products
Automobile interior components including seat covers
8.
Production capacity
200,000 units/year
9.
Production (scheduled)
April 2014
10.
Site area
Approx. 80,000m2
11.
Building area
Approx. 7,000m2
12.
Investment
Approx. 5.6 million US$
13.
Number of employees
Approx. 180 as of starting production
*1: A 1,500 km corridor stretching across the Indochina peninsula, connecting Vietnam, Laos, Thailand, and Myanmar.
*2: Regional management company (hub) for the Asia and Oceania region of the Toyota Boshoku group.