Toyota Boshoku starts demonstration experiments of a newly developed anti droplet partition
Product, Technology, Event
Kariya (JAPAN) - April 16, 2021 - Toyota Boshoku Corporation has developed a partition that can be retrofitted to the driver's seat of vehicles as a splash shield in the passenger cabin. We start full-scale demonstration experiments using approximately 50 commercial taxis in April.
The developed partition is designed for attachment to the driver's seat. In addition to preventing the dispersion of droplets, attaching a blower fan with a filter to the partition also supplies purified air to the driver's seat. An air shield is also formed as another measure for reducing the risk of droplet adhesion.
These features were designed based on technology that Toyota Boshoku has cultivated through our experience in the development of human-centered spaces. By retrofitting the partition to the driver's seat of taxis and other shared vehicles, we will provide a comfortable, safe, and secure cabin space.
Toyota Boshoku will exhibit the partition for reference at the 19th International Automobile Industry Exhibition (Auto Shanghai 2021), which will be held from April 19 to April 28, 2021.
Note: Some changes were made to describe effects more accurately on July 9.
Partition Installation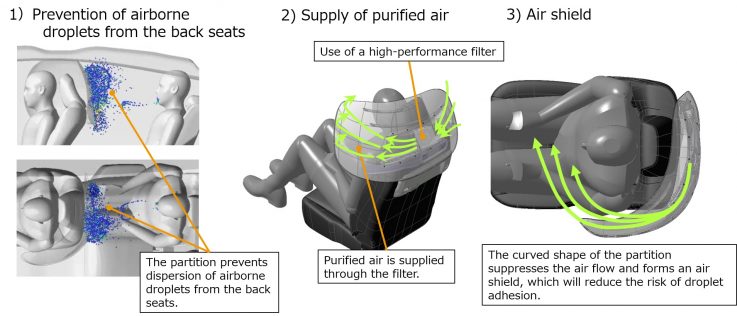 Installation in vehicle (in the driver's seat)