New Toyota Boshoku Products Used in All-New MIRAI FCEVs to Help Reduce Environmental Impact
Product, Technology, Event
Kariya (JAPAN) - January 18, 2021 - Fuel cell vehicle products developed by Toyota Boshoku Corporation are now being used in the new MIRAI models released by Toyota Motor Corporation.
1.UNIT COMPONENTS
[High-Performance Air Filter Enables Negative Emissions]
Toyota Boshoku developed PM 2.5 air filters of the world's highest-level efficiency as Toyota's first with a new concept of Minus Emissions: The more you drive the cleaner the air is.
Addition of electrostatic charging to a conventional particulate filter results in highly efficient PM 2.5-level filtering (Fig.1), while incorporating an adsorbent-coated chemical filter provides highly efficient removal of SO2, NO2, and NH3, the three main precursor gasses responsible in generating PM 2.5 pollution. The honeycomb structure of the chemical filter's base material reduces airflow resistance and provides the surface area required for high-performance filtering. The adsorbent applied to the base material is a proprietary blend designed to adsorb the three main factors of PM 2.5 generation (Fig. 2).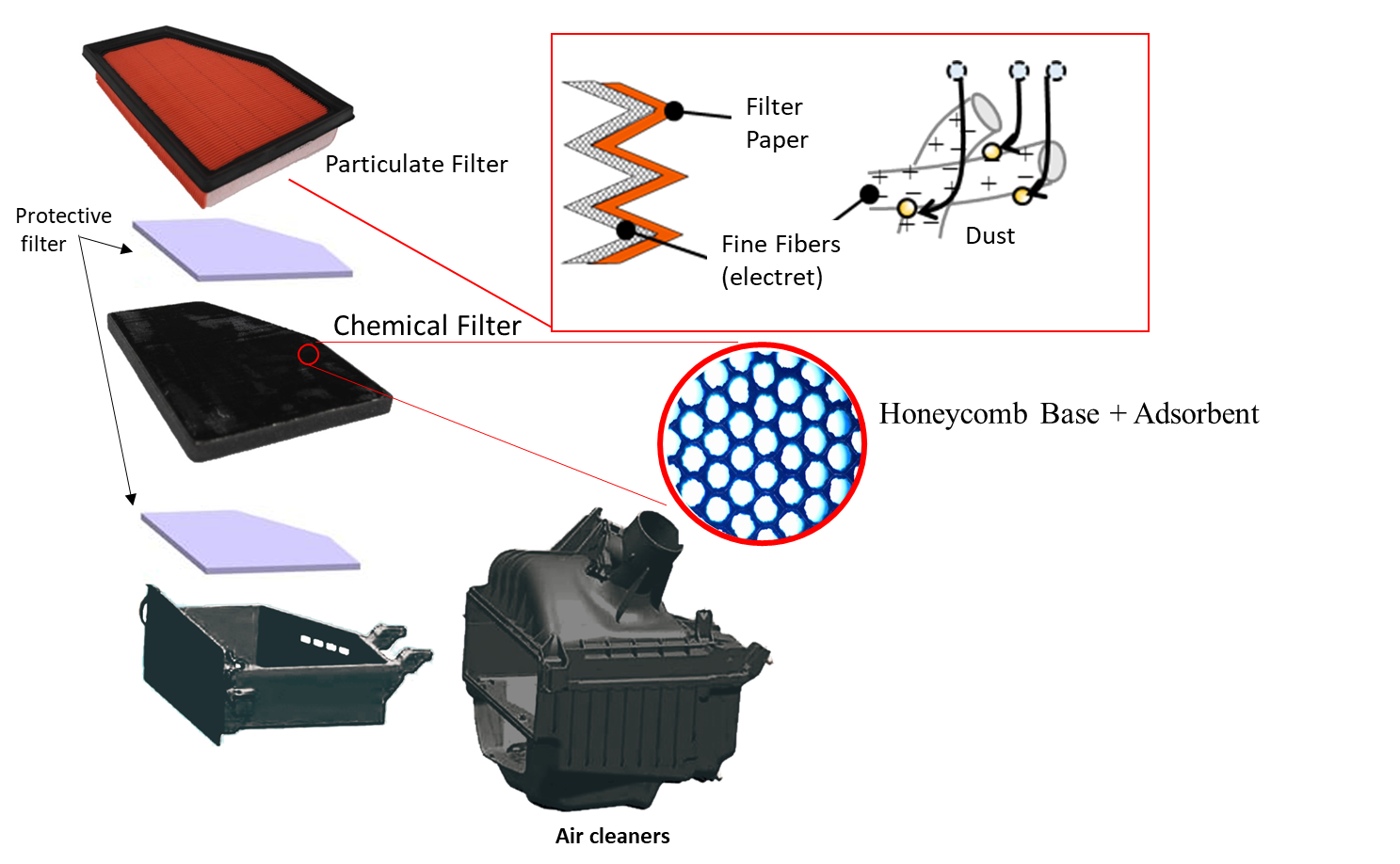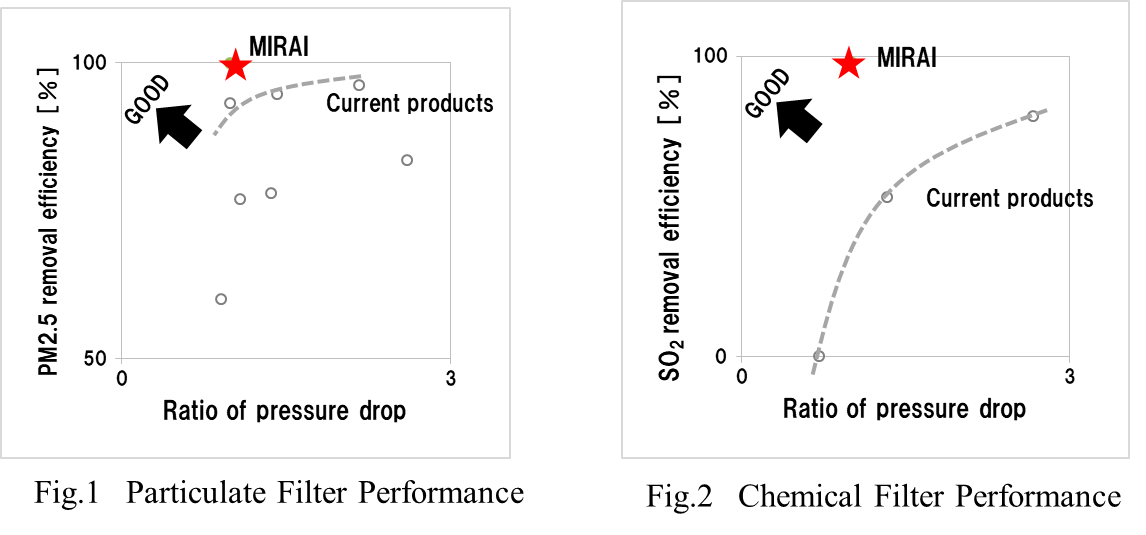 Lower values on the horizontal axis indicate better airflow; on the vertical axis, higher values indicate higher efficiency in removal of PM 2.5 and SO2. These figures demonstrate this product provides better airflow and higher removal efficiency than conventional products.
[New Method of Producing Fuel Cell Stack Separators Increases Production Volume*]
Toyota Boshoku has developed a new method of stamping separators for fuel cell stacks using the company's proprietary precision stamping and molding technologies. This enables high-speed production by vastly shortening the conventional multi-stage process of forming the channels used for the hydrogen and coolant flowing through the separators. Furthermore, addition of a new line at the Kariya Plant has enabled us to achieve ten times our previous production capacity.
*Titanium sheet metal parts

In addition, the design also utilizes an ion exchanger, improving adsorption of ions in the cell fuel cell stack coolant by 130%.
2.SEAT , INTERIOR
We have created a comfortable and premium cabin interior space with features including seats designed for complete comfort and headliners and door trim that incorporate multiple functions.

[Front Seat]
Applying the expertise and know-how developed in manufacturing luxury car seats, we have created a seat with superior functions and texture providing fit and hold that help reduce fatigue, even on long drives.
[Rear Seat]
With roomier cabins leading to a change from conventional two-person to three-person rear seat arrangements, the highly functional center area now includes retractable rear armrest housing cup holders and operation switches.
[Far-Infrared Reflective Headliner]
We have developed a headliner that reflects radiant heat (far-infrared rays) from sunlight by backing the headliner with a reflective layer. The reflective layer uses a discontinuous aluminum particle film, in which the particles aluminum do not contact each other, resulting in both high far-infrared reflectance and electrical insulation. This cuts the amount of heat entering the cabin, thus helping to reduce air conditioner load and fuel consumption.