Clean Air Filter Premium
Clean Air Filter Premium
—Providing you with the finest in luxury spaces—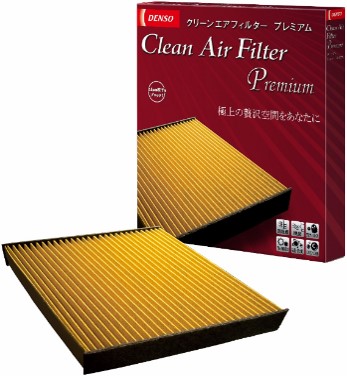 Cabin air filters (for use in car air conditioners) are fitted inside the air conditioner and remove dust, pollen and other particles before they enter the car interior. Additionally, they also absorb odors from exhaust fumes and other sources to ensure clean air inside the car interior.
Toyota Boshoku engages in consistent production from development of core filter materials to development of production technology and facilities, and finally to assembly.
In order to meet society's needs we have assembled a wide lineup with various different functions.
Below we will introduce the functions of Clean Air Filter Premium—Toyota Boshoku's highest grade of air filters.
High-Efficiency Dust Removal
Blocks PM 2.5 pollen and particles
The 3-layer structure of this filter intercepts particles such as dust and pollen from outside the car thanks to highly efficient dust removal capabilities.
Note: The removal percentage listed in this graph is based on the results of internal company testing where test powder was passed through a filter a single time and the percentage of powder removed was observed.
Deodorization
Removal of odors from exhaust fumes and pets
Makes for a more comfortable car interior through the use of newly-developed activated carbon for powerful absorption of unpleasant odors, such as exhaust fumes odor (acetaldehyde) from nearby traffic, as well as pet odors (ammonia).
Notes:

Image is for illustrative purposes
Ability to deodorize various odors is based on Toyota Boshoku internal test results
Antiviral Performance
Reduces virus on surface by 99.9%
Treatment of the filter's surface with antiviral agents reduces the number of viruses sticking to the filter.
Note: It does not guarantee results for all viruses or environmental conditions.
Antiviral performance
(Testing agency)

Japan Food Research Laboratories (JFRL)

(Testing method)

TCID50 assay

(Testing conditions)

Sample size 3x3cm
Virus type: ATCC VR-1469
A viral suspension is applied onto a sample piece of filter, with viral infectivity measured after 24 hours of storage at room temperature
Allergen Suppression
Filters ticks and pollen by at least 90%
Anti-allergen material ensures a 90% or greater reduction in allergens such as pollen and dead ticks sticking to the filter over a 24 hour period.
Note: It does not guarantee results for all allergens, viruses, molds, bacteria or environmental conditions.
Anti-Allergen Performance
(Testing method)

Sandwich ELISA test

(Testing conditions)

Sample size 8x8mm

Allergen concentration:

Cedar pollen 1ng/ml
Ticks 100ng/ml

Allergen solution volume: 0.3ml
Allergen contact period: 24 hours
Anti-bacteria & Anti-Mold Performance
Guards against bacteria and mold
Treatment of the filter's surface with an anti-mold agent prevents reproduction of mold sticking to the filter, and reduces unpleasant odors from emanating from the air conditioner.
Anti-bacteria performance
Note: The graph is for illustrative purposes
Anti-mold performance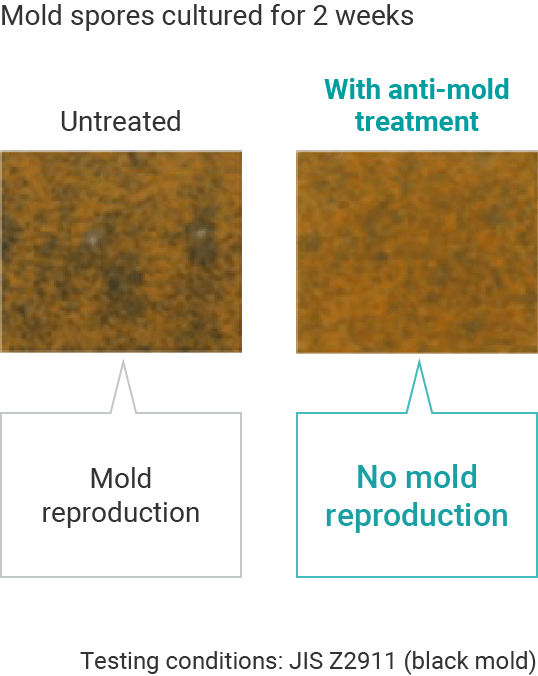 Note: The data from JIS standards inspection test
Vitamin C Release
Vitamin C to moisturize the skin
Application of vitamin C ceramic to the filter allows vitamin C to be released alongside refreshing air to help moisturize the skin.
Note: Results may vary between individuals
Vitamin C contents by percentage
Skin moisture level measurement results
Skin moisture level measurement results
(Testing method)

Measured electrical conductivity of skin on inner part of test subjects' upper arm after exposure to air passed through filter

(Location tested)

Inner part of upper arm

(Testing subjects)

30-39 year-old women (20 persons)

(Testing conditions)

Tested in room at 25°C with 50% relative humidity