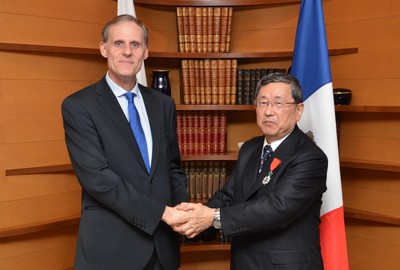 On December 10, 2013 Toyota Boshoku Corporation's President, Dr. Shuhei Toyoda, was awarded the "Legion d'honneur" (Legion of Honor)* and appointed the rank of Chevalier from the French Republic.
The award was bestowed upon Dr. Shuhei Toyoda in recognition of his distinguished service in promoting the automotive industry and for contributing to the economy and culture of France. Dr. Toyoda became President of Toyota Boshoku Corporation after his post at Toyota Motor Corporation's European regional headquarters. In 2008 Toyota Boshoku purchased a plant from Faurecia, the seat manufacturer, in the city of Somain in the province of Nord-Pas de Calais. In addition to starting its seat manufacturing business Toyota Boshoku re-hired all of the employees at its new company and this action received high commendation within the French government.
The Toyota Boshoku group will continue to strengthen its production bases in each region around the world and offer customers across the globe appealing, comfortable and safe automobile interior space.
* The "Legion d'honneur" (the National Order of the Legion of Honor) is a French order established by Napoleon Bonaparte in 1802. The order is the highest decoration awarded by the French government to individuals who have given outstanding public service in the military, culture and arts, science, industry and commercial sector.