Kariya (JAPAN) – August 5, 2021 – In the midst of the pandemic that severely impacted the aviation market globally, it is more crucial than ever to leverage new innovation to invigorate the industry. Crystal Cabin Award, the most prestigious innovation award for aircraft interior products and designs in the aviation industry globally, has chosen two innovation concepts by Toyota Boshoku Corporation as the finalists for its Crystal Cabin Award 2021.
The Two submissions by Toyota Boshoku were selected as the finalists for the Judges' Choice Award category. The winner will be selected from among the finalists and is set to be announced on September 15th during Aircraft Interiors Expo Virtual.
Submissions selected as finalists
1. Cloud Capsule Concept
This concept, inspired by Japanese capsule hotels, features capsule beds above the window seats so that economy class passengers will be able to enjoy their flights in a safer and more comfortable manner. It allows passengers to have their own private space in which to relax or to focus on work.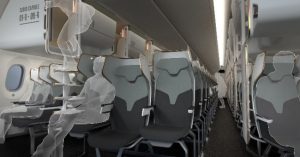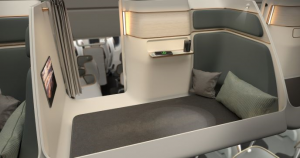 The capsule is used when the aircraft is in the cruising altitude, and it can be purchased in addition to the economy class seat, to allow the passenger to have more relaxing experience in long international flights. To offset the lack of overhead luggage space, the seats are designed with higher sitting position and allow the carry-on bags to be stowed under the seats.
2. Positively Economy Concept
In this concept, three travel classes are located in a single passenger cabin. The window seats are economy class, while the center seats are the Premium Economy or the Premium Economy Plus seats that offer more privacy and are located so all seats have an aisle access, much like more expensive business class seats. Also included in the concept are other features that could make their way into aircraft design in the near future, such as in-flight meal service carried out by autonomous robots.