Kariya (JAPAN) – November 6, 2020 – On August 17, Toyota Boshoku Corporation commenced operations at its New Main Building of the Global Mainstay Hub in Kariya, Japan, which was completed in May 2020. Toyota Boshoku will accelerate to accomplish its growth strategy using the facility as a base for corporate functions and collaboration for further strengthening its global business foundation.
Outline of the building
| | |
| --- | --- |
| Global Mainstay Hub | 1-1 Toyoda-cho, Kariya-shi, Aichi |
| Building structure | Six stories above ground, with a total floor area of 12,800 square meters |
Major features
1) Design concept
-This building was constructed with an emphasis on fibers and fabric, representing the origin of the company. The building is enveloped with screens boasting high sunlight shading performance, evoking an image of spinning and weaving. The lobby interior and other areas are decorated with fabric screens that create a gentle atmosphere.
2) Collaboration Area for nurturing both internal and external cooperation
-Discussion areas and terrace seats are provided, which offers special space for creating new ideas
3) Office space available for various work-style options
-Encourages employees to telework by facilitating a free address environment and more, promoting effective and productive methods of work regardless of workplace
4) Health-promoting offices with state-of-the-art energy-saving systems
-Helps reduce environmental impact by introducing systems that actively utilize natural energy, such as natural lighting, natural ventilation, rooftop greening, and the use of geothermal heat
-Promotes health of office workers by adjusting the light color in the morning, afternoon, and evening in accordance with human biological rhythms, as well as maintaining comfortable room temperature through the air-type radiation air conditioning system*1 without air flow
(Adopted as a leading project of sustainable housing and building that introduces CO2 reduction technology by the Ministry of Land, Infrastructure, Transport and Tourism*2)
5) Contribution to local communities
-Equipped with power and water supply functions, it can be used as an emergency shelter for local communities in the event of a disaster
*1: System using far-infrared rays for direct transfer of energy between ceiling radiation panels and personnel
*2: Certified as a leading housing and building project that introduces energy-saving and CO2 reduction technologies
<Outline of New Main Building>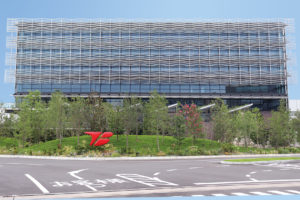 External appearance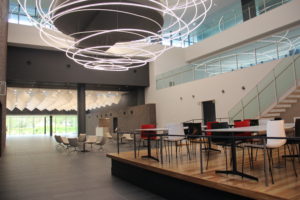 Visitor area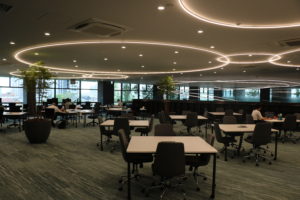 Collaboration area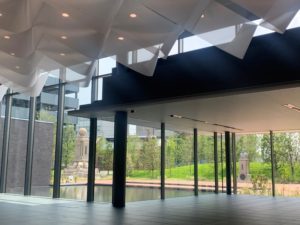 Lobby entrance