Promoting interdisciplinary research and development to improve comfort in automobile interior spaces in the near future
Kariya (JAPAN) – March 1, 2018 – National University Corporation Kanazawa University and Toyota Boshoku Corporation (Tokyo:3116) signed an agreement on March 1 to promote comprehensive industrial-academic collaboration.
 
Kanazawa University and Toyota Boshoku have collaborated previously with research in the fields of automotive air filters and the evaluation of fiber materials. This new agreement advances fuller cooperation, with Toyota Boshoku aiming to pursue research and development to improve automotive comfort, safety, and environmental friendliness that will be required of vehicles in the near future, while Kanazawa University hopes to further strengthen links needed to promote utilization of Kanazawa University's research results and to train and develop promising engineers.
  
At the signing ceremony, Toyota Boshoku Vice President Kohei Hori noted, "In addition to the technical perspectives in researching air quality and ride comfort in moving spaces, we want to continue pursuing interdisciplinary research incorporating the aspects of psychological space recognition and other approaches, allowing us to rapidly develop new products that satisfy the latest requirements and expectations resulting from the changes occurring in our world. This will surely stimulate our innovation mind."
  
Commented Chisato Mukai, Kanazawa University Vice President and Trustee (Research), "Not only do we expect this agreement to produce a quantitative increase in collaborative research, we also have tremendous hopes it will contribute to mutual human resource development and boost us to a new stage."
 
Over the next three years, both organizations will move forward with joint research on the theme of achieving comfortable vehicular spaces in the near future and further deepen their cooperative efforts.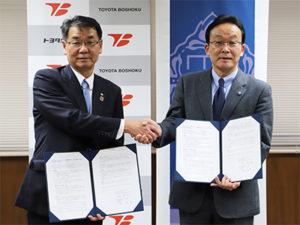 From the left: Toyota Boshoku Vice President Hori and Kanazawa University Vice President Mukai