Kariya (JAPAN) – October 20, 2017 – Entrants fielded by Toyota Boshoku Corporation (TOKYO:3116), won the Gold Medal in the Mechatronics sector at WorldSkills Abu Dhabi 2017, held from October 14th to October 19th in the United Arab Emirates, in what was the company's very first appearance in this competition.
The company has taken on the challenge of reaching the Skills Competition since 2012 as a way to give young technicians and engineers the opportunity to achieve "mastery in the skills of craftsmanship." Participating in this year's international event were members of Toyota Boshoku Technical Skills Academy, Shoma Okano (22) and Kenta Sato (22), who utilized their particular strengths in work accuracy and problem-handling skills and amply demonstrated the results of daily training to win the gold medal.
Held once every other year, the WorldSkills Competition attracts young technicians from around the world. Participating in the Mechatronics sector at this year's event were 37 teams from 37 different countries and regions.
Toyota Boshoku will continue to foster young engineers through our efforts with the Skills Competition, not only in the Mechatronics sector we entered this year, but also challenging other sectors such as Plastic Die Engineering and Mechanical Engineering CAD, while focusing further efforts to improve the company's technical capabilities.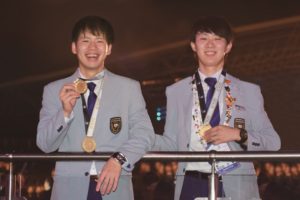 Mr. Okano (left) and Mr. Sato (right), who won the gold medal
[About the Mechatronics Sector]
This competition comprises skills in the three fields of mechanics (mechanical engineering), electronics, and computer technology. Using FA (factory automation) models of the same type at actual production sites, the competition involves designing, assembling, adjusting, programming, and troubleshooting equipment.