Toyota Boshoku Corporation's Management Committee (1) (Headquarters: Kariya City, Aichi, Japan; President: Shuhei Toyoda) collaborated in the construction of a new building for an elementary school in Occidental Mindro province in Philippine as part of its social contribution activities.
A completion ceremony was held on January 16(Sat). The students and teachers of this region's elementary schools, related parties from local NGOs, Toyota Boshoku's Management Committee, representative from Toyota Boshoku Philippine, and local people, all took part (250 attendance).
At the ceremony, Yuji Hisada representing Toyota Boshoku's Management Committee made a congratulation speech, 'I hope a lot of children to learn hard in this new school building and everyone to live happily'. Kazuki Miura, a manager of Toyota Boshoku Philippine also made a speech representing Toyota Boshoku Philippine, 'For the future of children, I wish the continuous support from those connected to the school and local people', and gave stationeries to the children who are delighted with completion of the new school building.
The Toyota Boshoku Group supports activities that contribute to society through the development of local regions, under a basic philosophy of aiming for the Group's development in harmony with society. In accordance with this philosophy, Toyota Boshoku's Management Committee had been working closely with the international NGO group Plan Japan (2) since 2006, and continuously carrying out the supporting activity to help repairing and constructing the elementary schools, in various places where it is necessary.
After supporting those activities in Indonesia and Vietnam, the 4th year's overseas supporting activity of Toyota Boshoku's Management Committee was placed in Philippine. Toyota Boshoku's Management Committee intends to continue providing support to offer safe and comfortable learning environments to the children in various places where it is necessary, and contribute to the future development of those local societies.
Notes:
(1) 482 members. A voluntary organization of Grade 3 managerial class personnel in Toyota Boshoku. This organization puts emphasize on global activities that contribute to society, carrying out a number of volunteer activities such as cleaning local areas, and managing local welfare events in Japan, as well as helping construction of elementary schools abroad.
(2) The Japan office of Plan International (International Headquarters: England), established in Setagaya Ward, Tokyo, Japan, in 1983. Plan International was established in 1937 as an NGO that promotes child-centered community development. At present its activities are spread throughout 65 countries worldwide, providing assistance in 48 countries by 20 supporting countries.
< Outline of the construction of the school building >
(1)
Elementary School:
The Nayong Kalikasan Elementary School
(2)
Address:
Village of Poypoy, Calintaan town, Occidental Mindoro province, Philippine
(3)
Number of students:
129
(4)
Contents:
Construction of a building equipped with 2 classrooms.
First graders (26 students) and second graders (24 students) will use the new classrooms.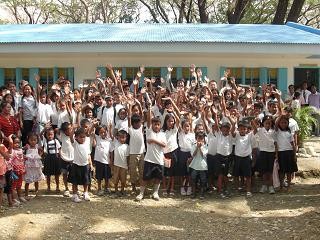 The happy faces of the children and those concerned 
with Toyota Boshoku in front of the completed elementary school

Members of Toyota Boshokus Management Committee and of Toyota Boshoku Philippine giving 
stationeries to the children