Toyota Boshoku Mississippi(TBMS) which is planning production start in the second half of 2011, determined to make a 15,000 U.S.dollars donation to the Greater Mantachie Volunteer Fire Department. TBMS plans to donate 5,000 U.S. dollars per year, for 3 years until FY2012, and this donation will be used for the purchase of new fire truck.
A ceremony to present the first check of donation was held on the 7th of February 2011, and Plant Manager Brian Malinao said, "This is the beginning of TBMS as a company that is rooted, and gives back to the community. We will continue to build trust through joining this community's disaster prevention activity"
Reference: Please refer to the news release "Toyota Boshoku America Moves Forward in Mississippi" (3.Dec.2010) for the outline of TBMS.
https://www.toyota-boshoku.com/global/news/release/detail.php?id=2188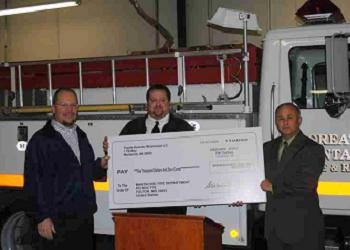 Plant Manager of TBMS, Brian Malinao (left)
presents a check to Mantachie Fire Chief Jim Roberts (center)
and Mantachie Mayer Jeff Butler (right)