Kariya (JAPAN) – November 26, 2012 – Toyota Boshoku (head office Kariya, Japan, President Shuhei Toyoda) and the Toyota Boshoku's Managers' Association*1 as part of social contribution activities have constructed a new primary school in the Samar Province of the Philippines.
An inauguration ceremony was held on November 22 to mark the opening of the new school and was attended by people involved with the project from the local government, school, pupils who will attend the new school and their guardians as well as employees from Toyota Boshoku Philippines Corporation for a total of around 200 participants. In his congratulatory address the Chair of the Toyota Boshoku Managers' Association,
Mr. Tomoyasu Fujita, stated, "I hope that everyone will enjoy the new school and study hard". To help children fully benefit from their studies many school supplies and sports equipment such as a ping-pong table, paddles and basketballs were also donated. Children attending the ceremony shared their joy and said, "We are grateful for the new school and will take good care of it".
Since 2006 the Toyota Boshoku Managers' Association has been cooperating with Plan Japan*2, an international NGO, to construct primary school in areas where Toyota Boshoku has business entities, particularly in Indonesia, Vietnam, Thailand and the Philippines. Activities in the Philippines this year focused on needs to improve educational environments and this year marks the association's third year of collaboration. Replacing an older, run-down school the new school allows for each school grade to have their own classroom and offers a much safer environment that will allow children to focus on their studies.
Toyota Boshoku group will continue to undertake activities based on our principle of "aiming to promote corporate growth while fulfilling our responsibilities as a good corporate citizen" and to meet the needs of individual regions to promote global social contributions.
*1: The Toyota Boshoku Managers' Association comprises of 437 members (excluding employees on overseas assignments). The association undertakes regional cleanup campaigns, cooperates with the building of primary schools in developing countries and other global activities aimed at contributing to society.
*2: Plan Japan headquartered in the United Kingdom, which is a global NGO that promotes children and regional development.
Overview of construction of the Primary School
| | | |
| --- | --- | --- |
| 1. | Name: | Ubo Primary School |
| 2.  | Location: | Ubo Village, Daram town, Samar Province, Republic of the Philippines |
| 3. | No. of students: | 151 students |
| 4. | Details: | Donated approximately 2,000,000 Japanese yen towards construction to cover the costs of the one-room school house. Around 38 3rd graders are scheduled to utilize the new school. |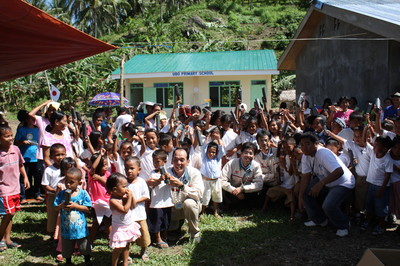 Ubo Primary School children and members of the Toyota Boshoku Manager's Association show their delight with the completion of their new school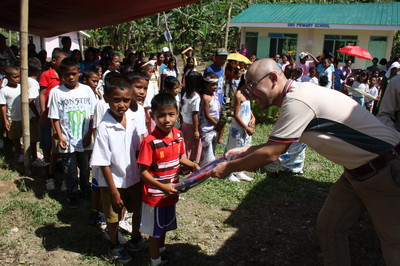 Member of the Toyota Boshoku Managers' Association and a TBPC employee donate school supplies to children