Exhibition Information

Motor Show

*The information shown here is current as of the date of publication. Please note that some parts may differ from the latest information.
The 41st Tokyo Motor Show 2009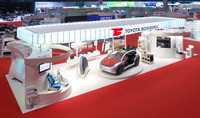 Official name
The 41st Tokyo Motor Show 2009
Venue
Makuhari Messe International Convention Complex (Chiba, Japan)
Dates
October 24(Sat) 2009~November 4(Wed) 2009
Schedule
Press days: Oct. 21 (Wed), 22 (Thu)
Special guest day: Oct. 23 (Fri)
General public days: Oct. 24 (Sat), -November 4 (Wed)
Booth number
Center Hall "Exterior and Interior Parts/Accessories" Corner ( Booth No. C107 )
Exhibition concept
The Pursuit of Comfort
Products
1) Model
Vehicle Interior Space Model "T-Buffet Concept"
Vehicle Interior Space Model "Freedom Compact"

2)Environmental Technologies
Injection Molded Parts made from Kenaf and Polypropylene
Door Trims Base Material made from Kenaf and Polylactic Acid
Molded Surface Skin of Ecological Plastics
Bio-Urethane Seats

3)Fabrics
Replaceable Fabrics and Seat Covers

4)Interior trims
Instrument Panel Mystic Illuminations
Overhead consoles

5) Seats
Slim Style Seat Concept S
New Generation Seat Frame TB-NF100, TB-NF110(MANUAL), TB-NF110(POWER)
Toyota concept seats

6) Safety technology
Luxury headliners
Low friction seatbelt webbings
Curtain-shield airbags

7) Filtration and power train components
High-performance air cleaners
Hydro carbon Adsorption filters (gasoline vapor adsorption filters)
Full-fabric air filters
Highperformance air filters
Resin cylinder head covers with OCV
Compact cylinder head covers / Compact intake manifolds
Plastic intake manifolds for horizontally opposed engines
Replaceable element oil filters
Fine dust cut cabin air filters
Pollen cut cabin air filters
Anti-bacterial, mold resistant cabin air filters (for the after market)
Anti-allergen and deodorising cabin air filters
Melt blow construction method
News releases
https://www.toyota-boshoku.com/global/news/release/detail.php?id=2210
Official website
http://2009.tokyo-motorshow.com/en/index.html
We at Toyota Boshoku constantly aim to develop leading-edge technologies and manufacture high-quality products as a top-tier global interior system supplier and filter maker. We have operations at over 70 sites in 21 countries worldwide and believe we can benefit society by delivering excellent quality, cost-competitive products required by customers anytime and anywhere they are needed.

President
Shuhei Toyoda