Kariya (Japan) May 9, 2013 – Toyota Boshoku Corporation (President, Shuhei Toyoda) has concluded an agreement to establish a joint venture in Pakistan with Pakistani automotive component maker, Thal Limited (CEO, Asif Rizvi) and Toyota Tsusho Corporation (President, Jun Karube). The new company, THAL BOSHOKU PAKISTAN (PRIVATE) LIMITED, will manufacture automotive components and is Toyota Boshoku group's first production base in Pakistan.
Pakistan's population continues to increase and is an attractive market for the automotive industry as production of automobiles is expected to expand exponentially. Recognizing the potential of Pakistan, Toyota Boshoku group is proactively setting up a new production structure. Until now various Toyota Boshoku group companies produced and supplied seat frame components and air cleaners to Pakistan. One portion of production processes will be transferred to the new company and production will start from July 2014. In the future, the new company aspires to expand business to include seat assembly.
By participating in this new venture, the Toyota Boshoku group is seeking to further optimize production and distribution in the Asia and Oceania region, which is a crucial market.  Toyota Boshoku will continue to offer customers worldwide appealing, comfortable and safe automobile interior spaces.
Overview of new company
1. Company name
THAL BOSHOKU PAKISTAN (PRIVATE) LIMITED
2. Location
Karachi, Islamic Republic of Pakistan (within the grounds of Thal Limited)
3. Representative
Asif Rizvi, CEO, Thal Limited
4. Date Established
August 2013
5. Capital
190 million Pakistani rupee*2 (approx. 160 million JPY)
6. Ownership
Thal Limited                                55%
Toyota Boshoku Corporation         35%
Toyota Tsusho Corporation           10%
7. Products
Components for automobile seat frames and air cleaners
8. Production capacity
Approx. 50,000 units/year
9. Start of production
July 2014
10. Site area
Approx. 800m2
11. Investment
Approx. 140 million Pakistani rupees (approx. 110 million JPY)
12. Number of Employees
Approx. 30 (at start of production)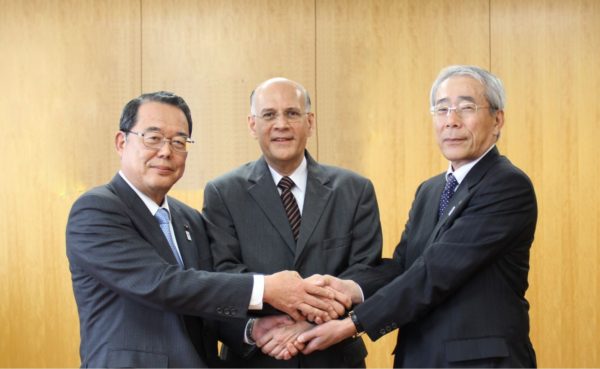 From left to right: Toyota Boshoku's Vice President Iida, Thal's CEO Rizvi
and Toyota Tsusho's Vice President Asano
| | |
| --- | --- |
| *1 | Subsidiary company of the conglomerate, House of Habib; production company that manufactures car air conditioners and wire harnesses |
| *2 | Exchange rate: 1 Pakistani rupee / 0.83 JPY |