– Seeking increased competitiveness in seat production as a supplier for Toyota and Mazda –
Kariya (JAPAN) -September 3, 2019- Toyota Boshoku Corporation (TOKYO:3116), Delta Kogyo Co., Ltd., and Toyo Seat Co., Ltd. have completed their preparations and established the joint venture company in the United States.
TOYOTA BOSHOKU AKI USA, LLC is the new company established as a joint venture by Toyota Boshoku America, Inc., which is the North & South America Regional Management & Collaboration Hub of Toyota Boshoku, and AKI USA Corporation, which is the US joint venture between Delta Kogyo and Toyo Seat.
TOYOTA BOSHOKU AKI USA, LLC was established to produce automotive seats for delivery to Mazda Toyota Manufacturing, U.S.A., Inc.* (Alabama, USA) and is scheduled to begin production in 2021.
The new company seeks to achieve increased competitiveness in seat manufacturing by efficiently utilizing the production know-how and resources of Toyota Boshoku, Delta Kogyo, and Toyo Seat.
*A joint venture between Toyota Motor Corporation and Mazda Motor Corporation. Scheduled to begin production of automobiles from 2021.
Overview of New Company
| | | |
| --- | --- | --- |
| 1. Company Name | : | TOYOTA BOSHOKU AKI USA, LLC |
| 2. Location | : | Athens, Alabama, U.S.A |
| 3. Representative | : | President Shinichi Yamaguchi |
|   |   | (current Executive Vice President of Toyota Boshoku America) |
|   |   | Vice President Koji Wakida |
|   |   | (current Staff Manager of Delta Kogyo, Alabama project leader) |
| 4. Established | : | September, 2019 |
| 5. Capital | : | 60 million US$ |
| 6. Ownership | : | Toyota Boshoku America: 50%, AKI USA: 50% |
| 7. Number of employees | : | Approx. 400 |
| 8. Business | : | Manufacture and sales of automotive seat |
| 9.Production start | : | 2021 |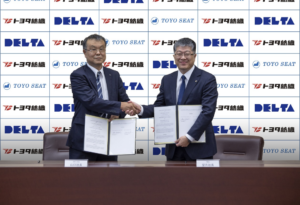 AKI USA President Yamaguchi (left) and Toyota Boshoku America President Mochizuki (right)