Toyota Boshoku Corporation (Headquarters: Kariya-city, Aichi, Japan President: Shuhei Toyoda) announced the holding of Ground Breaking Ceremony of Toyota Boshoku Canada, Inc. (hereinafter referred to as TBCA), at the site of a plant on September 13th from 10:30 in the morning.
Ontario Minister of Economic Development and Trade Joseph Cordiano, Woodstock Mayor Michael Harding, Toyota Motor Manufacturing Canada President Ray Tanguay and Toyota Boshoku President Shuhei Toyoda attended the ceremony.
During the ceremony, Toyota Boshoku Corporation announced the donation of $10,000 CAD to the local welfare organization, Woodstock and District Development Services (WDDS) who supports people experiencing disability.
In addition, TBCA will produce the RAV4 seat, door trim and carpet for Toyota Motor Manufacturing Canada's 2nd plant, which will begin operations in 2008.
<The outline of TBCA >

| | |
| --- | --- |
| 1. Company name | Toyota Boshoku Canada, Inc. (TBCA) |
| 2. Data established | July 2006 |
| 3. Location | Woodstock, Ontario CANADA |
| 4. Investment | $65M Canadian dollars |
| 5. Ownership | Toyota Boshoku America, Inc. 100% |
| 6. Products | Vehicle Seat, Door trim, Carpet |
| 7. Start of operation | 2008 (Plan) |
| 8. Annual volume | 150,000 units/year |
| 9. Number of associates | Approximately 330 |
| 10. Lot size | Approximately 145,000 square meters |
| 11. Building size | Approximately 25,000 square meters |
<The outline of Toyota Boshoku Corporation >
1. Company name
TOYOTA BOSHOKU CORPORATION
2. Location
1-1, Toyoda-cho, Kariya, Aichi, Japan
3. Capital
8.4 billion yen
4. President
Shuhei Toyoda
5. Business operations
-Development of automotive interior systems; manufacture and sales of automotive interior products.
– Manufacture and sales of automotive filters and power train components.
– Manufacture and sales of other automotive components.
– Production and sales of fabric goods.
6. Consolidated sales
877.596 billion yen (Fiscal year ended March 2006)
7. Establishment
May, 1950
8. Employees
Approximately 6600 (Fiscal year ended March 2006)
9. Fiscal year
Ends March 31
<Ground Breaking Ceremony of TBCA >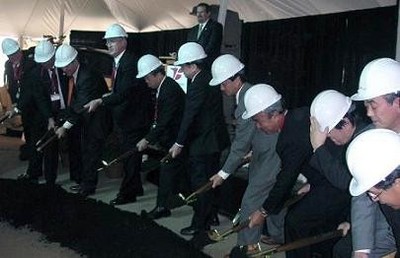 Toyota Boshoku President Shuhei Toyoda (6th from the left)