Toyota Boshoku Corporation (Headquarters: Kariya, Aichi Pref., President: Shuhei Toyoda) has recently started the construction of the "Global Learning Center," which is intended to develop and strengthen the human resources of the Toyota Boshoku Group, that covers 21 countries around the world.
This Learning Center is being constructed as a base for the training of foreign executives of overseas entities, the pre-assignment training for employees assigned overseas, and for the training for domestic managers/employees by duty position, etc. The Center will be well-equipped with ancillary facilities including a seminar room, with a simultaneous interpretation booth to allow the use of multiple languages in the meetings/training of foreign employees from overseas entities; an accommodation facility; a restaurant which will also be open to the general public; and others.
The building is also designed to be environmentally-friendly with all-electric in-house equipment, a rooftop greening facility, light-shielding glass and water-permeable asphalt pavement.
It is scheduled to be completed in September 2008 and to start utilization in October.
1. Name of facility::
Global Learning Center, Toyota Boshoku
2. Location:
8-54-1 Obayashi-cho, Toyota, Aichi Prefecture
(Previous site of the Toyota Boshoku Parts Center)
3. Site area:
4,500m2
4. Total floor area:
6,883m2(planned)
5. No. of stories:
6 stories above the ground
6. Expected start of utilization:
October 2008
7. Investment:
Approx. 1.5 billion yen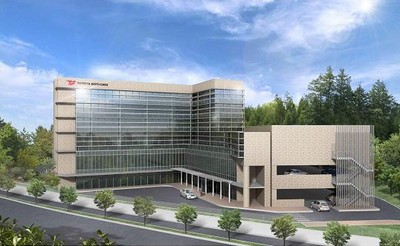 Global Learning Center