Kariya (Japan) 28th February 2013 – Toyota Boshoku Corporation is moving and expanding its regional headquarters, Toyota Boshoku (China) Co., Ltd. (Shanghai, hereafter, Toyota Boshoku China) for the purpose of strengthening its R&D development functions. In May 2013 Toyota Boshoku China will start construction on its new headquarters and R&D center and plans to move into the new facility in July 2014.
Toyota Boshoku started business in China in 1995 and set up its regional headquarters in Shanghai. Starting with Tianjin and Guangzhou, 12 sites throughout the country manufacture and supply seats, automotive interior components and filter and power train components to Toyota, GM and other auto manufacturers.
The new facility that will house the Toyota Boshoku China regional headquarters and R&D center will provide R&D floor space three times the current size. Additionally, testing facilities for ride comfort, safety, endurance and materials will be updated to create a regional R&D structure that will integrate all stages starting from design to evaluation. Furthermore, a more efficient office layout has been created to encourage active communication among the R&D divisions and production engineering, marketing & sales and purchasing departments. This is expected to facilitate the creation of proposals that will exceed our customer's expectations and lead to quicker development of products. Moreover, to assist with future business expansion Toyota Boshoku China plans to increase its current workforce and add 50 new employees by 2015 to strengthen its workforce to about 340 employees. 
In order to further strengthen its global R&D structure and fulfill regional needs, Toyota Boshoku will continue to develop attractive products that suit the lifestyles of customers around the world.
Overview of the new Toyota Boshoku China Headquarters & R&D Center
| | | |
| --- | --- | --- |
| 1. | Location | Shanghai, People's Republic of China |
| 2. | Floor space | Approx. 12,000m2 (3-storey building) |
| 3. | Construction | Starts May 2013 |
| 4. | Operation | Scheduled for July 2014 |
| 5. | Investment (land, building) | Approx. US$22 million (approx. 2 billion JPY) |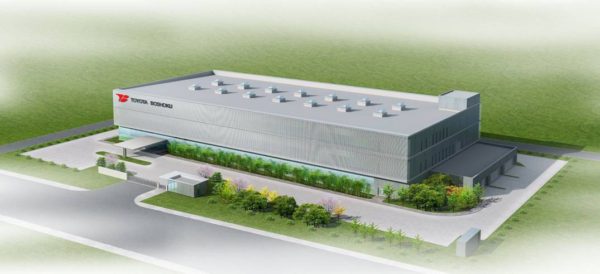 Overview of Toyota Boshoku China
1.
Company name
Toyota Boshoku (China) Co., Ltd.
2.
Location
Shanghai, People's Republic of China
3.
Representative
Mr. Fumitaka Ito, Chairman
4.
Established
March 2002
5.
Business activities

Regional management of business in China;
Development, design and sales of automotive seats and interior components

6.
Capital
Approx. US$72 million
7.
Employees
Approx. 290 (As of January 2013)