Corporate Social Responsibility
Corporate Social Responsibility
Toyota Boshoku Asia(TBAS) continues to focus on Corporate Social Responsibility (CSR) which advantage to social. We spend time assessing community needs such as children, philanthropy and environment. Moreover, supporting sports activities, religion, government policies, public benefits, among others, helps bring recognition to TBAS members and helps the community grow.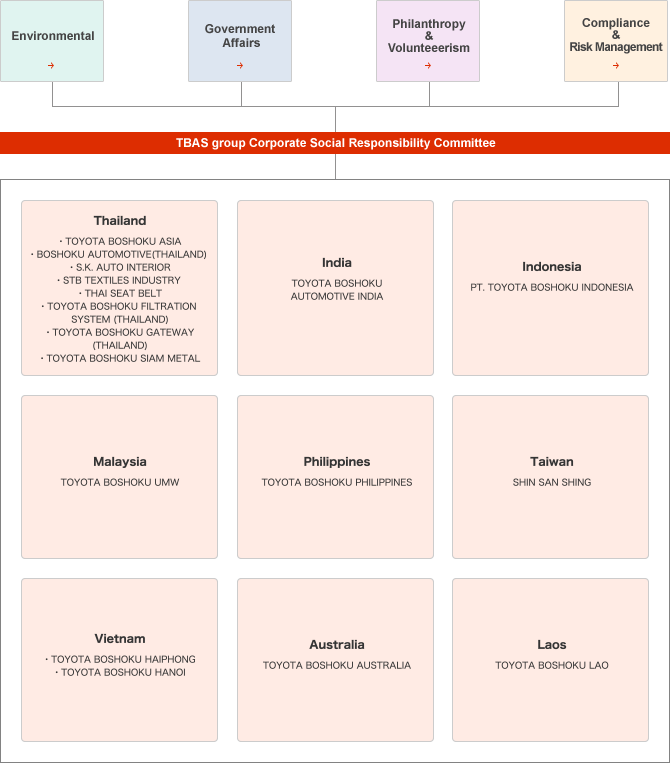 Environmental
Toyota Boshoku develops and supplies automotive interior components as well as filtration and powertrain components to create a cabin space that is friendly to people and to the environment.
Environmental Policy
Strict compliance with environmental laws and standards. In the case activities are not stated by environmental laws and standards, the company will determine its own standard to be the guidelines for launching its business activities in order not to affect the environment.
Prevent of below-standard air ventilation and water waste through research and development processes to protect the environment.
Prevent accidents from company activities that may affect the environment, including making preparations for emergency.
Reduce usage of energy in work activities by economical and efficient consumption.
Support regular revision and development of environmental plans.
Government Affairs
We strive to improve government agencies relation for propitiousness and keeping connection to the community.
Philanthropy & Volunteerism
TBAS group supports contributions to society, children, the community and the environment. Philanthropy and volunteering are important aspects to create and enhance business competitiveness and maximize the value of wealth creation to society.
Compliance & Risk Management
We are committed to complying, with all regulations and laws in order to prevent any legal risks or illegal matters regarding of the company. And we also issue internal measures to control legal matters within the company.