Shanghai (China) 17th December, 2014 – Toyota Boshoku (China) Co., Ltd., the leading manufacture of automobile interior systems, held the social contribution activity that gathers clothing and study goods from all employees, and donated 300 clothes and 60 study goods to the people of Guizhou province and Yunnan Province who are in need of those goods due to poverty and earthquake disaster.
Toyota Boshoku (China) has been engaged in holding various social contribution activities, based on the corporate vision 'Rooting in China, contributing to China'. When the Yunnan earthquake occurred in August, 2014, Toyota Boshoku group donated RMB 300 thousand yuan. And each entity of Toyota Boshoku group in China is also holding such voluntary activities.
In the future, Toyota Boshoku (China) will continue to hold the social contribution activities in which all employees can cooperate with each other.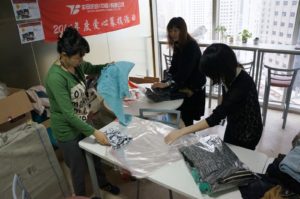 Toyota Boshoku (China) members who sort out gathered clothes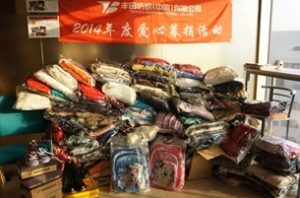 Donated relief goods gathered by Toyota Boshoku (China) employees