Kariya (JAPAN) – January 22, 2020 – Toyota Boshoku will participate in a demonstration experiment of autonomous driving to be held at Central Japan (Chubu Centrair) International Airport (Aichi Prefecture, Japan) from January 28th (Thursday) to 29th (Friday).
As one element of the Ministry of Economy, Trade and Industry's Smart Mobility Challenge Project conducted in preparation for the future progress of CASE this demonstration experiment will be held in collaboration with NTT Docomo Tokai Branch, Meitetsu Bus Co., Ltd., Aichi Steel Corporation, National University Corporation Gunma University, Nippon Mobility, Inc., and Central Japan International Airport Co., Ltd. Toyota Boshoku is supplying the Drowsiness Suppression Seat System that detects signs of drowsiness and prevents dozing, leveraging the company's strengths in physiological data-based technologies to control five human senses.
Drowsiness Suppression Seat System
This drowsiness inhibitory system comprises a smartphone application and a seat linked to the smartphone.
The smartphone's built-in camera monitors the face of the seated person and gauges the level of drowsiness in real time in response to the individual's facial expressions. Based on the estimated drowsiness level, the system intermittently plays and stops music from the seat's built-in speakers while vibrating the seat in time with the music to prevent the seated individual from falling asleep. A proprietary algorithm is used to select songs that elicit nostalgic feelings in the seated individual to inhibit drowsiness by prompting emotions without Discomfort.
Installing the system in the remote monitor seat of an autonomous vehicle enables the observer to concentrate and monitor safety at all times, thus contributing to safer and more secure operations.
Drowsiness Suppression Seat System: Drowsiness inhibitory from a remote monitoring room (concept)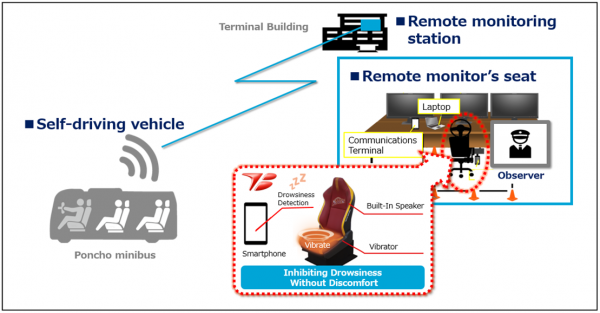 Drowsiness Suppression Seat
| | |
| --- | --- |
| | |
| Front | Back |

Outline of Demonstration Experiment (Reference)

1. Date:
January 28th (Thursday) to 29th (Friday), 2021
2. Site:
Drowsiness Suppression Seat System installed in rental conference room in Centrair Building 2 (Self-driving vehicles restricted to the specified area of Central Japan International Airport Terminal 2)
3. Vehicle Used:
Self-driving vehicle comprises the Poncho minibus equipped with automatic driving system from Nippon Mobility, Inc.
4. Content of Demonstration:

Guidance using magnetic markers and MI sensors from Aichi Steel Corporation
Driving using GPS/LiDAR-based location data and 3D map
Implementation of self-driving using commands through remote monitoring
Utilization of roadside cameras connected to NTT Docomo's commercial 5G network

5. Coverage of Demonstration:

January 28 (Thursday): Organizations involved in implementation of self-driving
January 29 (Friday): News media
* For press release outlines and other details, please check news releases issued by NTT Docomo Tokai Branch.