(Kariya, Japan) August 31, 2011- Toyota Boshoku group participates in the 5th China International Auto Parts Expo (CIAPE), which is held at the China International Exhibition Center (Beijing) from September 8th to 10th. This year marked our 2nd exhibition in the CIAPE, and at the expo, Toyota Boshoku introduces a wide range of product lineups featuring automobile interior components such as seats, and automobile components such as filter & powertrain components that Toyota Boshoku produces in China. Toyota Boshoku actively appeals its technical development capability to the Chinese market, which is expected to grow much further.
1. Highlights
1)
The Sports seat installed in the Lexus LFA racecars of Toyota's GAZOO Racing team, competed in the 24 Hours Nurburgring endurance race held in June 2011 in Germany is exhibited for the first time in China.
2)
Variety of Toyota Boshoku products such as seats and other automobile interior products are exhibited in a sample car model.
3)
Environmentally friendly products

Next-generation Seat Frame that pursues lightweight and energy saving as well as riding comfort.
Door Trim Base Material made from plant made plastic "polylactic acid" and annual plant "Kenaf" which has high CO2 absorbing capacity.
2. Introduction of Main Exibit
Automobile seat:
Sports seat, LEXUS brand seat, and Seats manufactured and delivered in China
Interior components:
Door trims
Filter and powertrain components:
Oil filters, Air filters, Cabin air filters, Cylinder head covers, and Intake manifolds
Textiles and exterior components:
Seatbelt webbings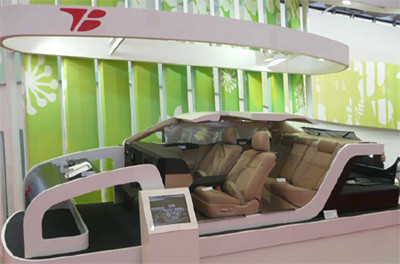 Sample car model introducing business field Toyota Boshoku