Shanghai (China) 12th September, 2014, – Toyota Boshoku (China) Co., Ltd., the leading manufacture of automobile interior systems, invited Toyota Boshoku scholarship students and teachers of Shanghai Jiao Tong University to visit Toyota Boshoku group's two plants in Tianjin, China from 10th to 12th of September.
The students visited Tianjin Intex Auto Parts Co., Ltd. and Tianjin Feng'ai Automotive Seat Parts Co., Ltd., and observed the manufacturing process of automotive seats and other interior components. Members of both companies introduced examples of improvement (Kaizen) made by themselves in the production process. The students said, "We were very delighted to directly see Kaizen and Toyota Production System that represent Japan's advanced performance."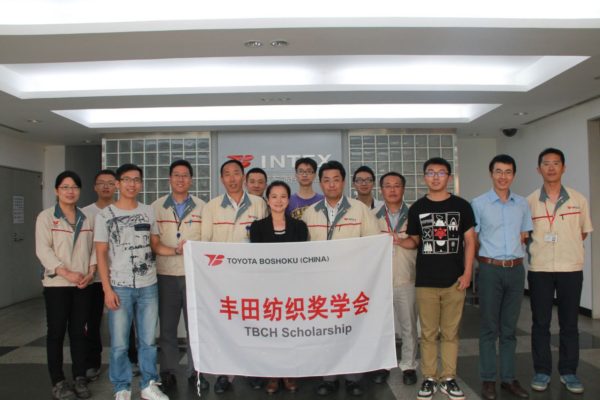 Toyota Boshoku scholarship students and Mr. Akio Enya, the president of Tianjin Intex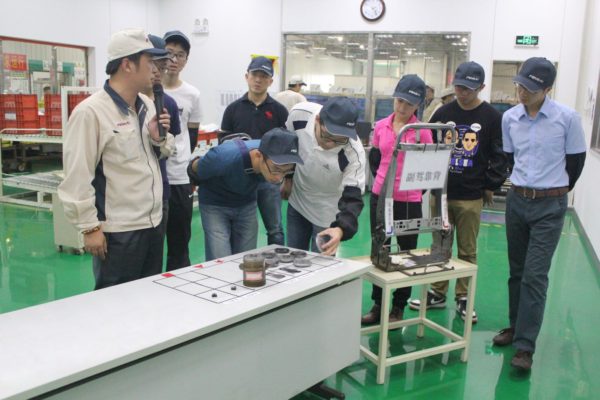 Tianjin Feng'ai member introduced products to the students
Toyota Boshoku scholarship was established for Shanghai Jiao Tong University's students in 2012. In addition to providing financial support for academically outstanding students, it also organizes Japan's automobile industry tour, internship and special technical seminars for the students, according to the characteristics and needs of students at different stages, to expand their wisdoms.
Toyota Boshoku group's development in China has been taking place for nearly two decades. With the goal to become a good corporate citizen, we actively carry out various social contribution activities. In the future, we will continue to strengthen our efforts to expand the scope and scale of social events, to contribute to the harmonious development of the Chinese economy and society.